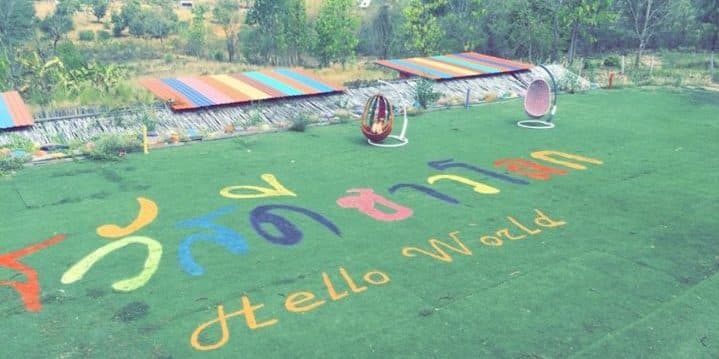 I'm starting to wonder if there's a city in Thailand that no one likes. If there is, I haven't heard of it. Just about everywhere in Thailand is magical. But Pai, located three-hours north of Chiang Mai, is especially so.
Quaint yet vast in land to explore, this small hippie town is a place that needs to be on your list.
1. The ride there is not for the weak of stomach
This journey is notoriously nauseating. But man, is it worth it!
The approximately three-hour minibus ride is jam-packed with over 750 twists and turns. Just the thought of this gives anyone who gets motion sickness, like myself, shivers. Nevertheless, I survived. A sleeping aid saved me during this trip. Being able to nap through the majority of the rough ride allowed me to arrive to Pai feeling surprisingly refreshed. If you're the type to get car sick, arrive to the bus early to get the first pick of your preferred seat and come prepared with sleeping aids or motion sickness remedies like dramamine or Reliefband.
Of course, for those who might be weak of stomach but not weak of heart, the winding journey can also be made on motorbike. If you're adventurous enough, this would be an amazing way to soak in the beautiful views that line the route from Chiang Mai to Pai.
2. The accommodations are beautiful
And cheap!
I booked a stay at Pai Village Boutique Resort & Farm. Not only was this one of my favorite accommodations during my two-week trip throughout Thailand, but it was also the cheapest—a perk of venturing a bit off the beaten path!
Pai Village was just that: a mini village comprised of a cluster of private bungalows complete with their own porches and hammocks. The cottages were set on a lush, green backdrop. It was quaint, quiet and perfect in every way. Just thinking of it puts a smile on my face. Beyond the the peaceful setting, the breakfast buffet was top-notch and best enjoyed sitting criss-cross by the pond, watching the koi fish swim aimlessly.
3. It's a hippie town
Backpackers and weed smokers are never too far away. And there are yoga studios and reggae bars galore. Although the Thai culture might by tainted by this strong hippie presence, it's part of the Pai magic. These two cultures compliment each other quite nicely and together create a unique, laid-back atmosphere unlike anywhere I've ever been.
During the day, my boyfriend and I would actively explore the outer edges of the town, but at night we'd embrace the hippie vibes. We'd pop in and out of the reggae bars, explore the thrift shops and pick up some artwork made by locals on the street. The main drag in town, the Walking Street, provides all of this. It's very easy to feel at peace here—no pot required.
4. There's tons to explore on a motorbike
Like I mentioned, aimlessly exploring Pai is what occupied our two days there. And the absolute best way to do it is by motorbike.
The roads are paved and pretty empty—a far cry from the chaotic streets of Bangkok. There's a perfect loop you can do with plenty of sights to stop at along the way. There are the classic Buddha statues, such as Wat Phra That Mae Yen (the Temple on the Hill), and the less classic (and more random) sites like The Container. Stop for lunch and a smoothie at Love Strawberry then go chase the waterfalls—assuming you're visiting during the wet season.
5. Getting lost is half the fun
Although you can pick up a map when renting your motorbike, half of the fun is getting lost and stumbling upon new hidden gems along the way. There are plenty to be uncovered in Pai.
We spent hours looking for a waterfall that ended up being pretty much completely dried up since we were there in May, but during our search we came across an awesome little swimming hole. We rented tubes and bought beers at a nearby hut and spent hours drinking and relaxing in the water.
6. There's plenty of opportunity for adventure
Probably the biggest draw for adventurers is Pai Canyon. This area is gorgeous but the trail is narrow and one misstep could have you falling up to 100 feet. Just walking one section of this skinny path made me dizzy and my sandals weren't appropriate footwear for the trail, so I stopped there while my boyfriend trekked on. He did a short 15-minute loop (although the full hike will take you much longer) and I enjoyed exploring the less treacherous areas and taking in the view in the meantime.
Even if you don't choose to venture out on the trail, the view is worth the stop!
7. The food is just alright
The traditional Thai food and mouthwatering food carts aren't found in abundance in Pai. Thailand in general sets the bar high for delicious dining, so it wouldn't be fair to say Pai has bad food; you'll just need to search a bit harder for authentic Thai dining.
That being said, there are lots of decent options that aren't Thai food. We even had pizza one night. So if you've been traveling for a while and are looking for a reprise from curry, rice and noodles, this would be your chance.
8. There's a party scene
One I admittedly didn't check out. But if it's a party you're after, one won't be difficult to find. Within hours of arriving, we were handed about three flyers for parties going on that night. There are plenty of bars to hop around to as well.
Pai was most definitely a highlight of my travels through Thailand. It's laid back with a dash of adventure—somewhere where free spirits will instantly feel at home.