Have you thought of visiting the alpine province of Tyrol (or Tirol, as the Germans spell it) in the summer? While it's a popular mecca of winter sports when it gets chilly, there is so much beauty to this place in the summer.
The inspiration for my visit to Austria was to explore the lesser-known summer season of this gorgeous mountainous region in the Alps. Think you've seen all of Austria if you've watched The Sound of Music? Well, the movie doesn't showcase this region at all. The movie is set in an Austrian city outside of the Alps and shows only views of the eastern Alps. Tyrol is on the other side of the country—yes, nestled directly in the Alps.
Tyrol is a western Austrian state in the Alps that's known for its ski resorts, historic sites and folk traditions. But in the summertime it also holds so much beauty (and it's not as crowded!). It has about 600 mountains over 9,800 feet high, with countless peaks. Only 12% of this true Alpine mountain region is even habitable because 88% is nature alone: 600 mountains, 57 lakes and five glaciers. How incredible!
In the summer, there's so much to do from experiencing culture, hiking up the mountains for lunch, seeing the beauty or relaxing at the spas. Here are seven reasons summertime is more than worth it in Tyrol (keep in mind there are so many more reasons!):
1. Picturesque St. Anton views, edelweiss & hiking to the Alpine hütten (hut)
St. Anton am Arlberg (St. Anton) is an Austrian village in the Tyrolean Alps that you don't want to miss while in Tyrol, not only because of the fame of the ski region but also for its beauty in the offseason. Hike 186 miles of marked walking paths and bike the 124 miles of tracks. You can rest at the mountain peak in an alpine hut with lunch or a beer (or both)! These hüttens (huts) are not really huts at all. They're more than just cozy hiking shelters. They have full restaurants. And best of all…the VIEWS! The summer really showcases the charm of the area, especially since it's not overcrowded.
Hike up to the start of the Wonder Walking Trail and make a pit stop at Senn Hütten for some great views and to check out the largest amount of edelweiss (over 20,000 grow in July!).
Tip: Edelweiss is a symbol in the Alpine region. They also say it's also a token of true love when plucked by a man from a steep rock face for his sweetheart. Women also treasure the flower for its anti-aging properties.
Hikers can take a break in lounge chairs next to the flowers before continuing up the mountain. You can also sit on the patio of the hut and snack on some of their amazing sauerkraut and a beer while overlooking the enormous group of flowers.
2. St. Anton cultural evening
To completely understand the traditions and culture of Tyrol, you must attend a "legendary local Tyrolean evening" usually held at a community center or school auditorium. (The hotels all know when and where the performances are, so your best bet is to ask at your hotel.)
This evening consists of folk music with some great local songs and dance. The men wear their traditional dress—lederhosen for the guys and a dirndl for the ladies—and dance the night away for guests. It may feel a little touristy at first since locals don't attend, but it will give you an understanding of the style of beer garden/festival that the townspeople attend—without feeling like you have to dress in their traditional outfits. The outfits are similar to what you might see at Oktoberfest in Munich.
3. Recharge in Kufstein with traditional country living
Kufstein is a region that offers a respite and traditional country living with its small villages and rolling landscape. Visit a spa resort like Hotel Armona for not only a perfect place to unwind, but a wellness retreat, as well. Hotel Armona is a medical resort so its healthy meal options, soothing massages and picturesque views will allow the stress to roll off you. Take a hike around Lake Thiersee (in front of Hotel Armona).
Even just breathing in the healthy mountain air will soothe! Hike the nature reserve at Kaisertal Valley for beautiful views and a cool, shady hike.
Tip: Stop at Hausmonnskost during the hike at Kaiserstal Valley for some spaetzle and apfelstrudel (apple strudel). Nice people and grand views!
The Kufstein Fortress is the main landmark of Kufstein. The fortress will transport you back through history with its the 60-meter deep "Deep Well" and the underground rock-cut passage. The fortress is well known for its opera in the summertime!
Check out the center town of Kufstein, which features some excellent restaurants like Auracher Lochl and boutique hotels like Hotel Traumerei. Hotel Traumerei is a great stop for a bite to eat along the water or for an extended stay (its rooms are in the theme of countries and states).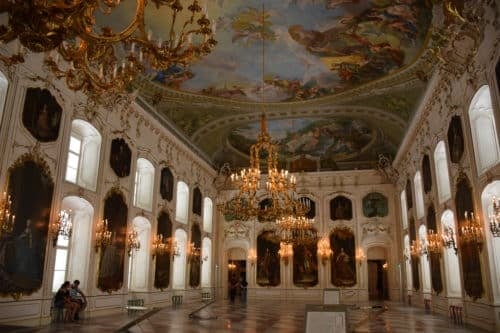 4. Innsbruck's historic beauty meshed with urban living
Innsbruck, hidden between two mountains, is the capital of the state of Tyrol and the largest of the Austrian Alpine cities. It's home to the Habsburg Empire landmarks like baroque-style Hofburg Imperial Palace and Gothic Hofkirche (church). Check out the Tirol Panorama for more of the city's history.
Take a day stroll around the town for some great shopping. Do not miss the summer Promenade Concerts outside in the courtyard of the Imperial Palace for some classical music. Get there early enough and snag a seat at Café Sacher (at the entrance of the courtyard) for a lovely Tyrolean meal and some wine to make the evening perfect.
Check out the Bergisel Olympic Ski Jump Tower to get a glimpse of the three-time host city of the Olympic Games. At select times each day, visitors can even watch show jumpers in action from May through October. Yes, they jump without snow! (It's quite the usual activity for kids growing up in their villages if they have a hill!)
Just south of Innsbruck, the beautiful romantic renaissance castle Ambras Castle Innsbruck is worth a visit with its beautiful gardens and wooded parks.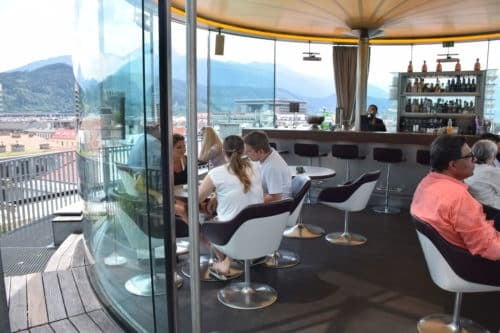 Tip: If you're interested in hitting the town for a beverage with a fantastic view, check out 360º Bar or the 5th Floor Bar at the PENZ.
5. Schnapps tasting and dinner, farm-style (Innsbruck)
You'll first be served a massive spread of meats like pork and beef and mountain cheeses at Hoferbauer in Amras. You'll sit inside next to the farm. While the friendly owners fill your tummies, you won't help but feel like you are one of the family, having a nice meal together after a long day.
Once you're nice and full, you'll taste and learn how schnapps is made. You'll understand how the different flavors can smell and taste. Think way beyond peppermint schnapps. Hoferbauer has every kind of fruit schnapps you can imagine!
6. Swarovski's sparkling clouds at Swarovski Crystal Worlds
Did you know Swarovski is owned by a Tyrolean family? The company celebrated 120 years in business last year and Swarovski Crystal Worlds in Innsbruck celebrated 20 years of showcasing the sparkle and dazzle of Swarovski. A favorite installation was the Crystal Cloud, which is literally what it sounds like…a sparkly cloud! The 600,000 hand-mounted Swarovski crystals are attached to a metal cloud-like structure that looks to be drifting over a black mirror pool. Before you leave, have lunch at Daniels Café & Restaurant on the premises. It offers amazing international food.
7. Tyrolean cuisine and drink
Yummy noodles and dumplings with some cold Austrian beer—it just can't get much better (especially when you're sampling it overlooking some gorgeous views on top of a mountain peak). If you can find these Tyrolean beers, grab them (they were a bit hard to find in some places):
Zillertal Bier
Starkenberg
And Austrian beers Stiegl and Zipfer were also great. On a hot, sunny day if you're feeling prosecco, order the Hugo, which prosecco and soda water with lime elderflower and mint. So refreshing.
Auracher Lochl in Kufstein had some of the best Tyrolean tapas: spinach dumplings with brown butter and parmesan, stuffed homemade ravioli, pasta cheese drops, and beef goulash. For dinner, order the sirloin steak "Strindberg" with crispy potatoes and snake beans with red wine sauce. Seegrube in Innsbruck at Nordette Mountain had some of the best spaetzle—traditional German dumplings—that I tasted in Tyrol. Wienerschnitzel is a national dish of Austria so you can't leave without trying it. My favorite version of Wienerschnitzel was at Café Sacher in Innsbruck. They also serve up an excellent goulash with chanterelles and beef steak.
When you're finished eating, head over to Gin-Bar Stollen in Kufstein. It has one of the largest selections of gin. (Even the vodka-drinker will be able to find a drink!) And it's so intimate and romantic inside!
My trip to Tyrol was truly like no other trip to the mountains because of the faces I met, the moments at the top of a mountain with good food and good people, and the charm of this mountainous province.
Tomorrow: Where to stay during your Tyrol visit.
---
For more on travel to Tyrol, visit tyrol.com.