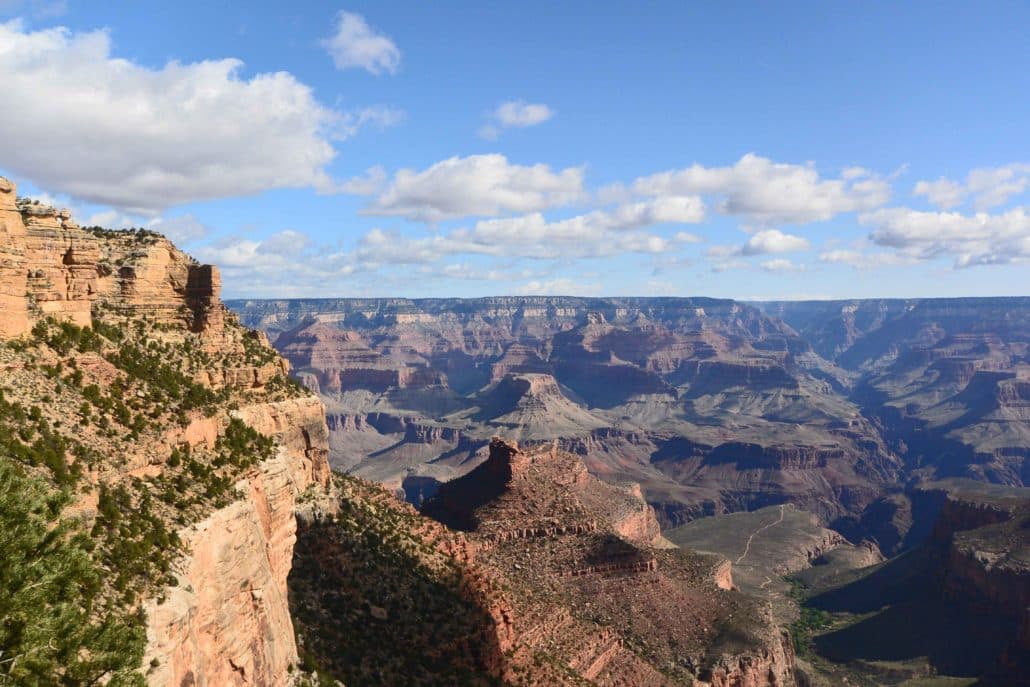 As part of a wonderful trip to Sedona, my family and I used a couple days to venture up to the Grand Canyon. Day-trips on a tour bus are available from Sedona, but we opted to drive up on our own and stay overnight, which gave us more time at one of the Seven Natural Wonders of the World. It was a trip long in the making.
Knowing we didn't want to do a quick drive-by, and aware of the weather risks in camping, I'd booked us a wonderful cabin on the rim of the Grand Canyon a year in advance! I'm a planner, and I think it's important to be one while arranging a trip to one of America's most visited National Parks. Here's our cabin—and six more Grand Canyon travel tips to consider when planning your next visit:
1. Get lodging on the rim from GrandCanyonLodges.com
Once inside the entrance gates to Grand Canyon National Park, there are six different lodging options to choose from, from cabins to a motor lodge to a suite in a historic hotel. A year before our trip, I called GrandCanyonLodges.com, where all can be booked, and spoke to a friendly woman who helped me decide which accommodation would be best for my family. She asked about our ages, medical conditions and physical abilities (you have to hike down the canyon, ride a mule or raft to get to one of the options!). Bright Angel Lodge was the choice she recommended and I took her up on it.
So you know, with GranCanyonLodges.com, you can book up to 13 months in advance and can cancel up to 48 hours prior to your check-in date. Summer is their busiest time, so reservations are a must if you plan to stay over.
Our cozy cabin at Bright Angle Lodge was pretty basic with a somewhat obstructed view of the canyon. However, in this case, first impressions don't tell it all. Our cabin's décor was western, had a modern bathroom and was just steps away from the rim of the canyon, which made all the difference on this trip. It's all about the location. We ended up loving our cabin on the edge of the south rim of the Grand Canyon.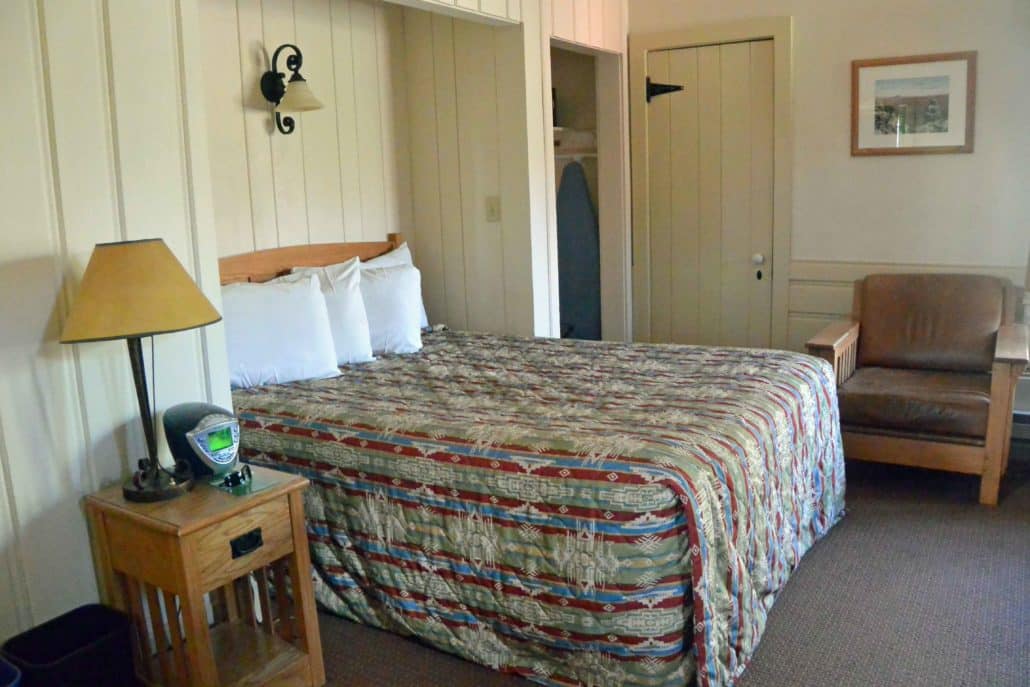 We did find it interesting that the room came with an iron and ironing board. This place is meant for outdoor clothing and hiking books; who needs to iron here?
2. The entrance fee includes parking—and keep in mind…
Like at all of our National Parks, there is an entrance fee at Grand Canyon National Park, but once inside there are no additional fees for parking. But, keep in mind that since it's a National Park, all parking is open to the public, even at your lodging. Try to get there early, because arriving late can make finding a spot close to your accommodations a challenging feat.
3. There are free shuttle buses
To help alleviate parking frustration, consider taking one of the free shuttles offered throughout Grand Canyon Village. Like a city bus route, four shuttle bus routes stop at various viewpoints, trails, the visitor's center, lodges, restaurants, and gift shops every 15-30 minutes. It's important to know that not all the roads at the Grand Canyon are open to private cars. Some of the best viewing spots can only be accessed by the free shuttle bus, on a tour bus or via an intense hike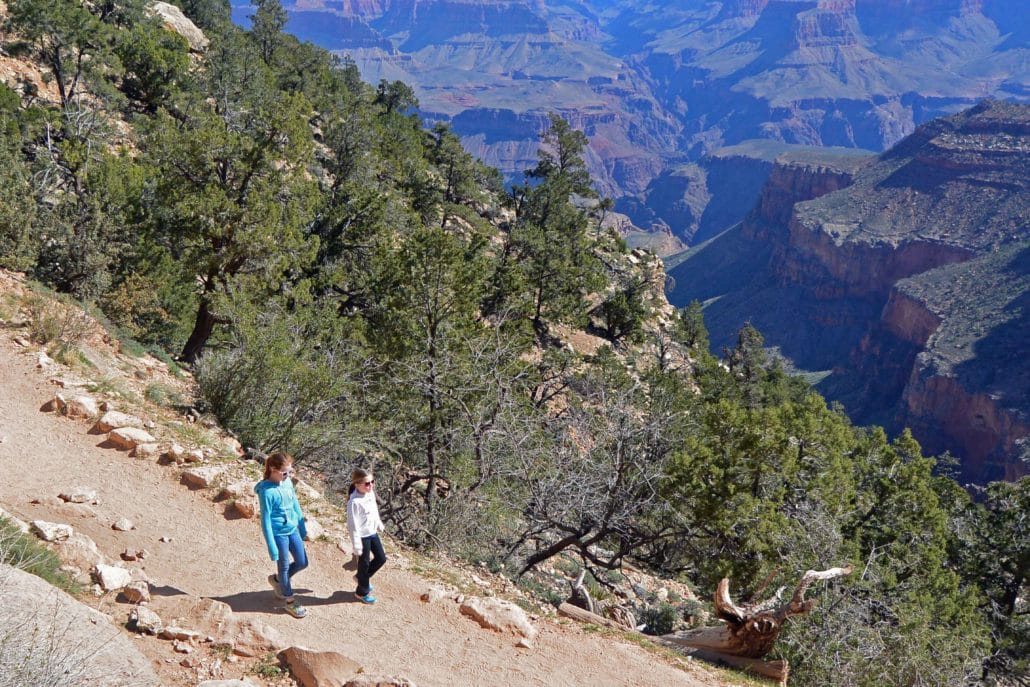 4. See it from different angles—and book early
A place this incredible includes endless opportunities for photographs and selfies. An easy way to take in the views is by driving around on the designated routes. You'll get a map at your entrance to the park. Hiking is a great way to get deeper in the canyon to get a closer look. You can rent a bike, go whitewater rafting, ride on a mule, and go on an informational tour. Again, book your activities well in advance—especially whitewater rafting.
Tip: A note of caution for you selfie-takers out there: Much of the rim is wide open and a single misstep while looking at your phone trying to get that perfect shot could be lethal. Please pay attention to what you're doing at all times.
The Grand Canyon is one-mile deep and up to 18-miles wide at spots. It's so vast, in fact, that it's hard to take it all in at once. We were continually drawn to new vistas, trying to wrap our heads around this mind-blowing natural wonder. That being said, we took in as many views as we could by hiking and driving around. We trekked partially down Bright Angel Trail, and took a sunset tour (below), capturing as many photos as we could during our visit.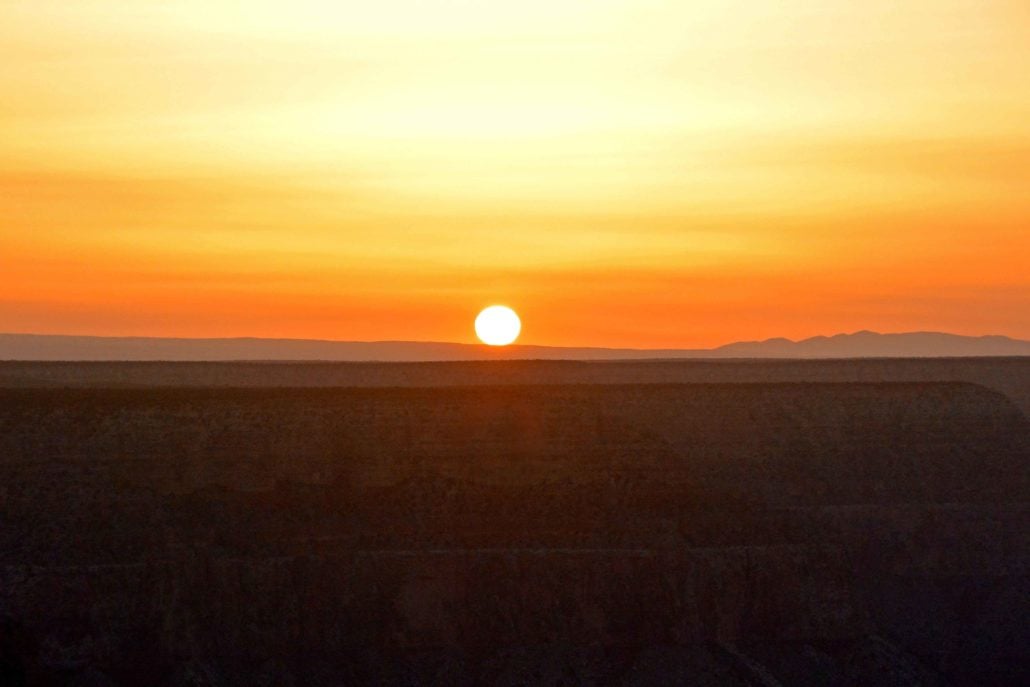 5. Take a sunset tour
Conveniently, we were picked up in the lobby of Bright Angel Lodge. The route of the tour goes where private cars are not allowed, so we were able to take in three great vantage points. Our friendly tour guide made the trip entertaining and educational with fun facts and stories. My daughters enjoyed learning that the Grand Canyon employees' children attend a year-round school at the Grand Canyon and only go to school four days a week. Their average high school graduating class is 20 students!
6. Eat at these three restaurants
A variety of restaurants ranging from a coffee shop to a food court to fine dining are located in the park. All available dining establishments can be found on a map within the official newspaper given to you when you enter the park.
For our first meal, I made lunch reservations at El Tovar Dining Room located in the historic El Tovar hotel. El Tovar is where American presidents and celebrities stay when visiting the Grand Canyon. All in the family were pleased with the upscale lunch there, ranking it as the best meal we ate at the Grand Canyon.
After our sunset tour, we needed an easy place to eat, so we chose Maswik Food Court, which offers a tremendous variety of food selections sure to please the whole family's palate. It was a smart decision since there wasn't a wait and everyone could choose what they wanted. For our final meal here, we had breakfast at the family-casual Bright Angel Restaurant, where again everyone was pleased with their meal.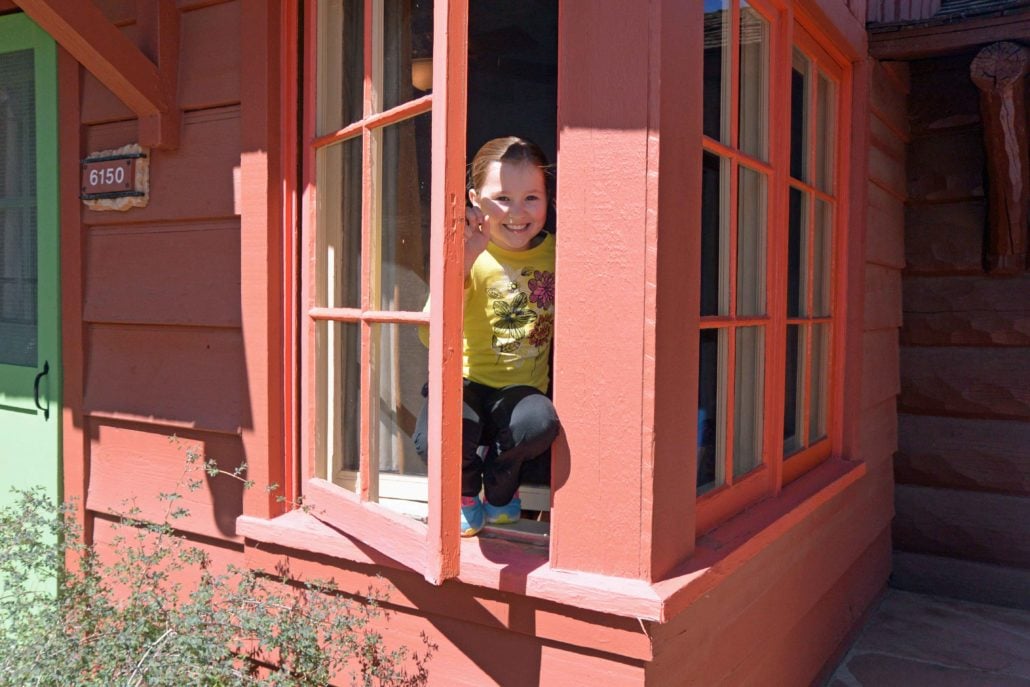 7. Mind the utility fee
Fresh water is not available at the south rim of the canyon. To help with the cost of bringing water into Grand Canyon Village, a "utility fee" is added tp every purchase you make, from food to clothing to gifts. It's important to know that you'll pay more for things at the Grand Canyon to help with the upkeep of this amazing place in America.
Final thoughts:
For my family, this American treasure provided awe-inspiring views that have been etched in as some of our favorite vacation memories! My husband and I were pleased that we made the trek from Sedona to give our daughters the wonderful experience of the Grand Canyon. Don't miss having a grand time of your own in Arizona. And hopefully, some of the things we learned will help you better enjoy this magnificent wonder of the world!
---
For more on travel to the Grand Canyon, visit grandcanyon.org and grandcanyonlodges.com.