This post is sponsored by Marriott but all opinions expressed within are my own. 
While many travelers flock to New York City during the summer months for vacation, there are plenty of locals who are looking to escape the madness for a few days. Whether you live in the Big Apple or are just visiting and looking for a side trip, here are some ideas to consider!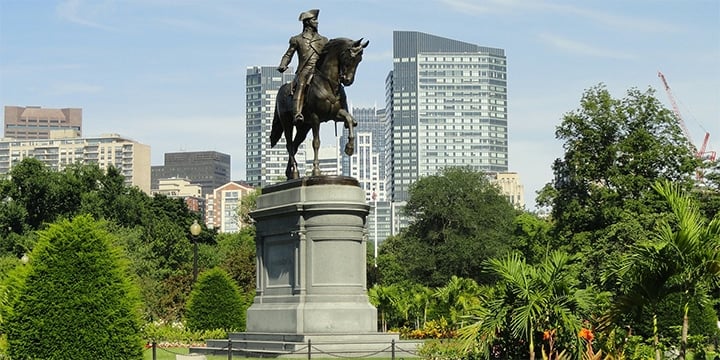 Boston
Known for its rich history, arts and culture, sports teams and … baked beans (oh, and the bar from Cheers), Boston is one of the ultimate weekend getaways from New York City. It's about a four-hour drive or a one-hour flight and once you arrive, you might have a hard time figuring out how to squeeze the best of the city into a short stay. But that's ok. Unless you're planning a long-term getaway, Boston is a city that'll require many visits to see and do all that's there.

When I travel, I love to live like a local as much as possible, so one of my favorite things to do is walk through Boston Public Garden. Boston is full of parks (they cover about 20% of the city) but I really enjoy Boston Public Garden, with its pretty lagoon where you can take a swan boat ride, duckling statues, actual swans, and vibrantly-colored flowers in the spring and summer months and foliage in the fall. Boston Common is another great park, the oldest in the country.
Since Boston is so full of history, it's worthwhile to do a historic tour. There are lots of options like the Freedom Trail Tour, which is a 90-minute tour that will take you to 11 of the 16 stops on the Freedom Trail, including King's Chapel, Old Corner Bookstore and Faneuil Hall. Or hop on a Boston Duck Tour, which is an 80-minute guided tour on a WWII-style amphibious landing vehicle. The tour, which departs from two different locations, includes stops at Beacon Hill, the Museum of Science, the Holocaust Memorial and the Cheers bar.
I also love visiting Boston's Little Italy for good food. The cobblestone streets are lined with more than 80 restaurants and bakeries and of course, you'll have to stop in at Mike's Pastry for homemade cannolis.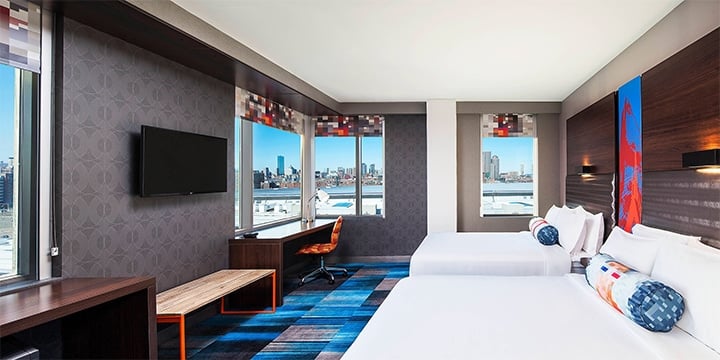 Where to stay
Aloft Boston Seaport District is conveniently located near Castle Island, the New England Aquarium and the Boston Convention and Exhibition Center, if you're traveling on business. The loft-inspired rooms have a totally urban vibe and the sweeping views of either the city or the pier are gorgeous. This hotel is also pet-friendly, so you can feel free to visit with the whole family in tow.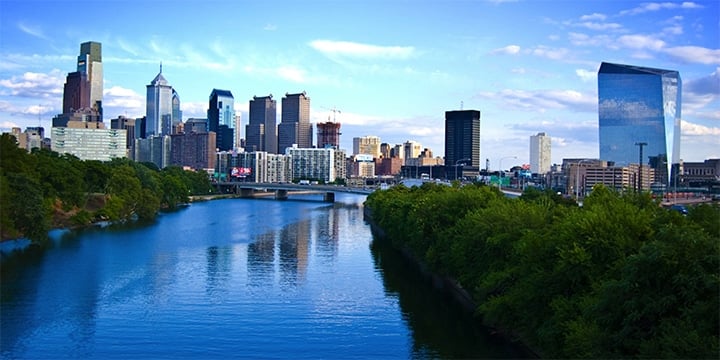 Philadelphia
Philly's slogan, 'the City of Brotherly Love', isn't just a slogan – it's what the word 'Philadelphia' actually means in Greek. Founded in 1682, the city is ripe with history dating back to the days of our country's Founding Fathers. It's where the Declaration of Independence and Constitution were signed and there are many other American Revolutionary sites as well. If you're planning a trip to Philly, you'll definitely want to add historic tours to your itinerary to take in the magnificent sites and rich history that's on display everywhere, from the Liberty Bell to the steps of the Philadelphia Museum of Art, made iconic by Sylvester Stallone in Rocky.
I love visiting Reading Terminal Market, which has been around since 1893. It's one of the largest and oldest public markets in the United States and is located inside a building designated as a National Historic Landmark. There's tons of fresh produce (both locally-grown and exotic items), meats, seafood and cheeses. But of course the good stuff is the baked goods, especially Beiler's Donuts, which are totally worth standing in the long line for! You'll also find all kinds of other stuff besides food, like linens and kitchenware, cookbooks and fresh flowers and lots of food stalls where you can sit and eat a meal.
You can't visit Philly and not try a Philly cheesesteak. My favorites are Pat's and Geno's; being across the street from each other at the corner of South 9th Street and Passyunk Avenue, they have a long-standing rivalry but both are worth trying (and you might want to do a taste test for yourself!) In fact, there are so many great options in Philadelphia that it wouldn't hurt to do some research before chowing down. This article on the top 10 spots for authentic Philly cheesesteaks is the perfect primer on what the cheesesteak is and where to get the real deal.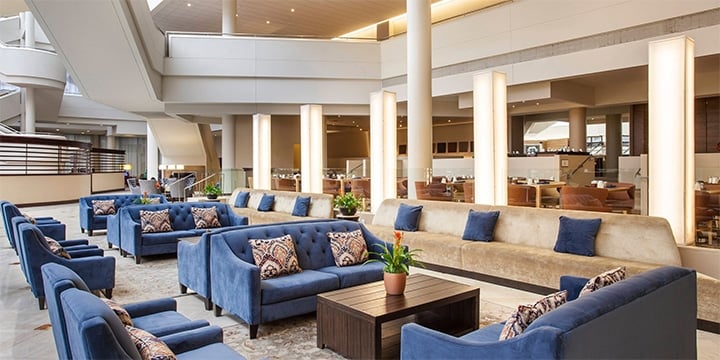 Where to stay
With so much to see and do in Philadelphia, you'll want to stay at a hotel in a great location, with easy access to points of interest. The newly renovated Philadelphia 201 Hotel is part of downtown Philly's Logan Square and is walking distance to the Philadelphia Museum of Art and Love Park. With lots of public transportation options nearby, exploring the rest of the city is easy with the Philadelphia 201 Hotel as your home base. The hotel has two on-site restaurants, a state-of-the-art fitness facility and newly-renovated accommodations will make you feel like you've found home away from home.
Washington, DC
The political center of the country and home to the Capitol, White House and Supreme Court, Washington, DC is a politics- and history-lover's dream. There are more historic sites and monuments than you can probably visit in one weekend visit, so decide which ones are your must-sees and leave the rest for your next trip instead of trying to cram it all in. I love to visit the Lincoln Memorial and the Mall at night is pretty spectacular.
Washington, DC is full of great museums and I love the Newseum, full of great exhibits and fascinating news stories both past and present but unfortunately, it's closing at the end of 2019. If you visit before then, definitely check it out. Another favorite is the National Air and Space Museum (the second most visited museum in the United States, attracting 9 million visitors each year). As an AV geek myself, I find this museum completely captivating, the way aviation is chronicled from its earliest days to today's modern air- and spacecrafts.
It can be tough to know where to eat in a new city, so I often rely on recommendations from local friends. The last time I visited, I had a great meal at Le Diplomate, a French-café style restaurant that serves lots of French dishes as well as some American options like a half-roast chicken and their take on a 'Burger Americain'. For more dining options in Washington, DC, check out this list of the best restaurants according to Thrillist.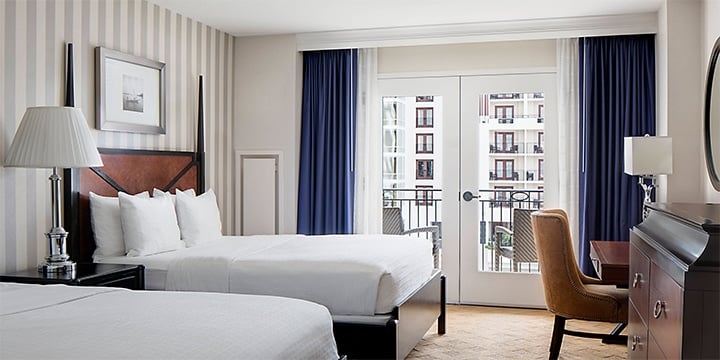 Where to stay
Located in National Harbor in Maryland on the shores of the Potomac, the Gaylord National Resort & Convention Center is so much more than your average hotel. From the full-service spa and the seven on-property restaurants to the nightclub, rooftop bar and 19-story glass atrium that overlooks the river, this hotel has it all under one roof. The modern rooms overlook either the river or the atrium and are a peaceful retreat after a hectic day exploring.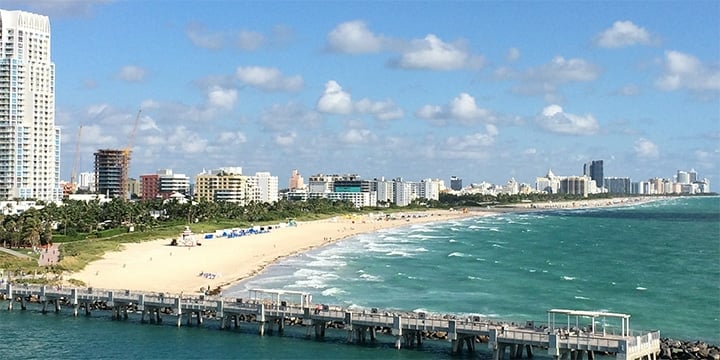 Miami
Who doesn't love Miami? The views, the weather, the great restaurants and the party scene (if that's what you're looking for!) These days, I'm into a more low-key experience but fortunately, Miami offers something for everyone. Just a 3-hour flight away, this is one of the really great weekend getaways from New York City!
You can't visit Miami without visiting South Beach. It's a scene, for sure, so it's perfect for people watching. It's got a lively nightlife scene but during the day when you're not sunning on the beach, there's lots of shopping and oceanfront dining to pass the day away. Also walk around and check out the historic Art Deco architecture that's so characteristic of the area.
Besides the beaches, Miami does have lots of cultural activities to enjoy. If you're looking to squeeze an educational element for the kids into your stay, check out the Frost Science Museum. With a planetarium, aquarium and lots of different special exhibits on everything from dinosaurs to space flight, a day at the museum will be informative and entertaining for the whole family.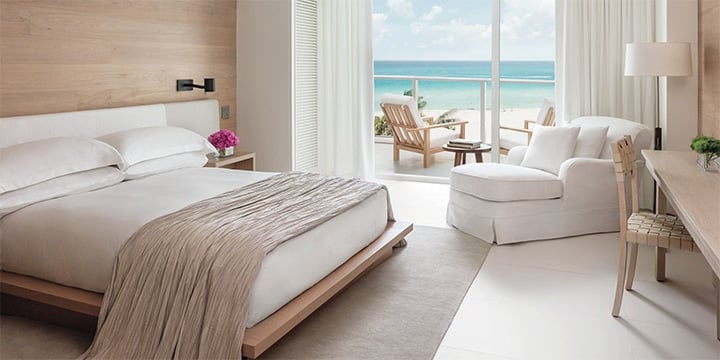 Where to stay
The cherry on the top of your Miami vacation will be a stay at a luxury hotel like the Miami Beach Edition. Its oceanfront location makes it a great option and every room features a view of the ocean, city or pool. The hotel is home to two ocean-facing pools, a spa and gym and a dining experience you're sure to love with restaurants developed by Michelin-starred chef Jean-Georges Vongerichten.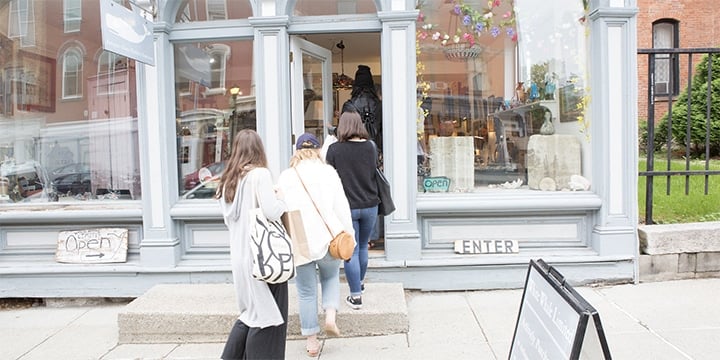 Hudson, New York
You don't actually have to leave the state of New York to find great weekend getaway ideas. Hudson, New York is a quaint city in Upstate New York that's steadily growing in popularity, attracting visitors not just from New York City but all over. With a modest population under 10,000 people, this small city offers tons in terms of design, food and drink and culture. There's great vintage shopping, too, if that's your thing!
Like so many American cities big and small, Hudson has a rich history and you can learn all about it by taking a self-guided walking tour. You can simply download the five tours onto your smartphone for free, then enjoy a stroll around the city, seeing things like Hudson's firehouses and churches, the Cedar Park Cemetery, all while learning about the history of the city.
If you want to check out the arts and culture scene, check out the numerous contemporary art galleries or visit the Hudson Opera House, built in 1855, for live musical performances, theater, readings and art exhibits.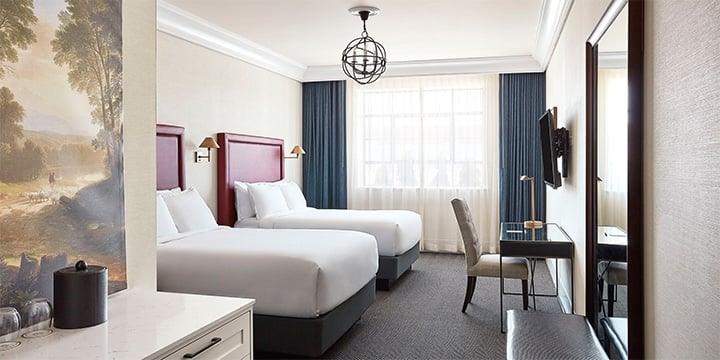 Where to stay
The great thing about quaint destinations is that you'll generally find quaint accommodations. Case in point: The Wick, Hudson, a Tribute Portfolio Hotel. This boutique property is conveniently located near the Hudson Opera House and the James Beard award-winning restaurant Fish & Game. The simple but beautifully appointed rooms feature all the little luxuries that'll make your stay more memorable.
What are your favorite weekend getaways from New York City? Share your suggestions in the comments below!