"Ummm, are those desert boars a part of our villa?" I half-heartedly joked with the transportation gentlemen as he pulled up to our Pueblo Villa at The Boulders, a Waldorf Astoria Resort in Carefree, Arizona. Five allegedly friendly wild Havalinas were our official welcoming committee to the Sonoran Desert.
I leaned back in the passenger seat of the resort's Mercedes courtesy van as we waited for the tusk-snouted pigs to finish their dinner of Prickly Pear cactus. I took a deep breath, virtually inhaling the tranquil ambiance of the desert wildlife and the 12-million-year-old granite boulder formations that seemed impossibly balanced on top of each other.
With my latest book, "Dancing for the Devil" finished, and my husband Chuck's NFL season completed, we had packed up our golf clubs, bathing suits, and nine-year-old daughter Charli and boarded a Southwest Airlines non-stop flight from St. Louis to Phoenix searching for dry heat after the never-ending winter in the polar vortex.
Traditionally I scout resorts with a cornucopia of hoopla and activities to keep my daughter entertained as our family getaways are limited. But for this particular journey, we had collectively chosen a quieter and more laid-back home base for our escape.
The Boulders is not traditionally a kid hotel. It's designed to be a serene retreat with a wowza factor of breathtaking natural and romantic surroundings for grownups. Thus, if you're traveling with small children, don't expect ginormous water slides, face paint, or a DJ spinning Pharrell Williams' songs during dive-in-movie night by the pool. The Boulders Resort caters to a high-end adult clientele. The Waldorf Astoria property is intended to help you relax, rejuvenate, and revive from whatever ails you physically, spiritually, or emotionally. Thus, it was up to us and the hotel staff to get creative and devise a game plan to not only rehab from the chaos of life but also spice up our trip with a sprinkle of adventure.
Here are my top five plays from The Boulders:
1. The homestead
The hotel has various categories of rooms, but because we brought our Shih Tzu, Max, and our daughter we wanted space to be able to cook and entertain family and friends that live in the area. We decided on the three-bedroom Pueblo Villa.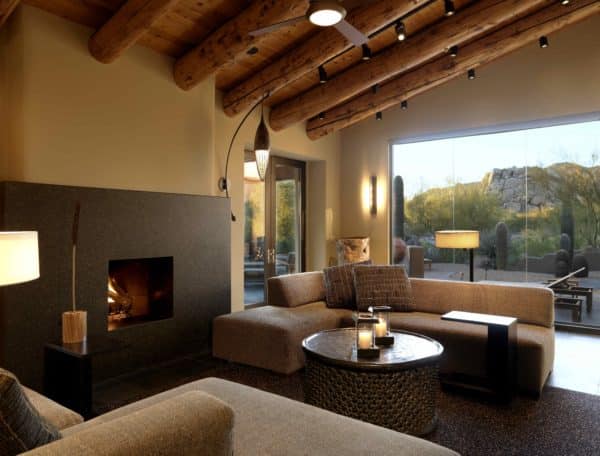 Our Pueblo Villa had been recently remodeled with extravagant decorations, state-of-the-art appliances, electronics, and contemporary furnishings. The flame flutter from our fireplace in the master suite hypnotized us to sleep every night after we climbed out of the private jacuzzi tucked behind a privacy wall of Saguaro cactus on our gated patio. It was our little slice of heaven at night. The only down side to our villa was no on-demand movies for rain days or late nights with the kiddo. However, the hotel was able to bring us a DVD player and movies for my daughter. Bonus!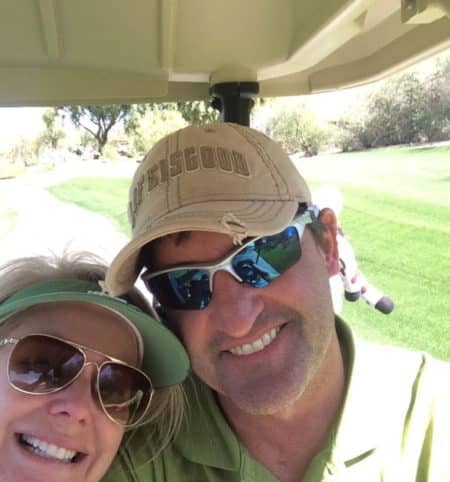 2. The links
My mother lives in Scottsdale, and she made the trek north and took my daughter for some quality Nana time so the husband and I could squeeze in a few nights of twosome time and romance. We started off on the golf course. Yes, I realize hitting the links doesn't sound very romantic, but in order to get my old school man into the spa with me later, we began our first day with 18 holes of bliss for him and sunshine for me.
The property boasts two renowned and award-winning golf courses. For serious golfers, the courses are a prominent and popular place for celebrities, professional golfers and golf enthusiasts to maneuver the little white ball along the rugged terrain. In fact, the handsome Matt Lauer was golfing at The Boulders when he received the offer to host the Today Show. Both courses were designed by Jay Morrish and are known to be demanding for any golfer.
The good news for me was that the Coyote Rule originated at The Boulders golf course. The rule is that if you suspect that a coyote has stolen your golf ball, you can drop a new one. Abused by people like me for over a decade, the Coyote Rule was applied several times as I played with Chuck. My husband played four of our six days at the resort and said he preferred the South course over the North course due to its beauty as the sunsets. The resort fluctuates between courses each day keeping members only on one course and hotel guests on the other.
As the toasty sun finally dropped and created a silhouette of strange shapes from the boulders on to the lush landscape, I couldn't help but wonder what the ancient Native Americans would think of vacationers like us trolling around on electric golf carts chasing a little ball.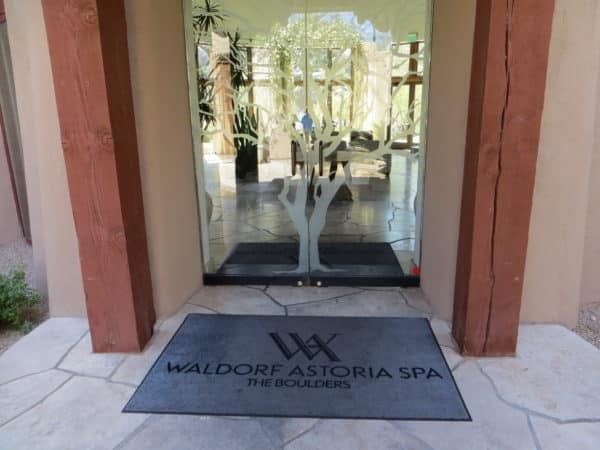 3. The body needs pampering
The Waldorf Astoria Spa at The Boulders went through a major overhaul over the last two years. The most noteworthy change was the creation of an experience over simply one-off treatments. The overall experience conception was the brainchild of Ann Patton, the spa's director who is a bit of a spa savant. Chuck and I lazily lounged and chatted by the spa's adult-only pool, while I sipped a green detoxifying juice from the café that made his face pucker. "So what's next?" he asked. I began to enlighten him on the experience package that I had planned.
"We're all set for a therapeutic couples communications group session followed by a class where you water birth me into the next stage of our marriage." I could barely keep a straight face. "No way!" He was mortified. "Oh yeah," I said convincingly. "We need to reconnect." The thought of over-sharing our personal issues with complete strangers and him simulating female labor in a birthing pool literally made him stand up to leave. It was a hysterical scene out of a Judd Apatow movie. He sat back down on our overly cozy chair when I explained he'd been spa punked.
After our couples massage and rolling off the masseur's table like a piece of gooey dough, Chuck and I strolled the spa grounds and discovered an incredible labyrinth, a Native American tipi where people were meditating, and my personal favorite, an organic garden with fresh herbs and spices that filled me with a sense of peace.
The services and trimmings at the spa offered a gentle healing environment and celebration of life from the inside out. For me, it was a welcome wellness experience designed to still the mind, spirit, and body. I adored the Native American earthy twist on what I expected to be a more traditional spa day.
4. Explore the desert
There was a slew of venturesome undertakings that The Boulders offered on the property. You could rock climb, hike, bike ride, attend a desert photo tour, go desert fly fishing, or even do a night-vision goggled tour. But my daughter was longing for more, so off-site we went. The helpful hotel concierge booked three family-friendly activities that I would recommend—kid or not.
The first was horseback riding at the Trailhead Ranch with a gray-haired cowboy named Russ as our leader. My husband, daughter, her buddy Karlisle, and I got saddled up and headed out through dry river beds, underneath Mesquite trees, up winding rocky trails, and finally hit a pinnacle where we could see south across the desert floor to a hump-shaped mountain range that spawned the name for Camelback Mountain in Scottsdale.
Trailhead Ranch isn't a glamorous City Slickers barn. It is local-equestrian-types running a friendly, safe, and well-thought-out two-hour ride. They offer a variety of custom rides and horses for all ages, sizes, and capabilities depending on your needs.
The second outside exploration we accomplished was a jeep tour with Old West Trails where our Native American guide, Sandy, took us four-wheeling across the beautiful Sonoran desert in her open-aired jeep with six-foot-wide antlers across the front. The great-grandmother is a desert historian and survivalist and full-blooded Apache. She and her late husband, Lenny Dee, have enlightened tourists for decades. With Lenny gone, Sandy continues the tradition. She is a knife-throwing, tough, knowledgeable, funny, and lovable character. Clad in her leather-fringe jacket, long, gray, braided hair and turquoise jewelry, Sandy was the perfect ambassador for the desert and the historical heritage of her ancestry. Who knew you could do so many things with one cactus?
Our last excursion was to the Butterfly Wonderland in Scottsdale. It was a strange juxtaposition of two diverse ecosystems; we literally stepped out of the heat of the desert into the humidity of a rainforest. Incredible for all ages, the Butterfly Wonderland is a sprawling, indoor 10,000-square-foot glass atrium that simulates a tropical rain forest. We began learning about one of nature's most delicate yet incredibly resilient creatures in a 3-D theater where we got snippets from the Monarch butterfly's journey across the planet. From there we visited the lab and then went into the atrium where literally thousands of different sizes and colors of butterflies float around, nestle up on your shoulder, or follow your moves around the building. I recommend that you wear bright colors, as the butterflies were attracted to orange, yellow, and pink. It was pretty astonishing.
5. HELP ME
My last top pick was tough. It was a tie between the extraordinary scenery and the extra service the staff provides. As fabulous as the 12-million-year-old boulders that magnetically surround the area were, I am a people person. If the staff of a hotel or resort property is the pits, it tends to leave me soured on the experience. From the men and women who drove us around the vast property in their courtesy vans and wouldn't take my tips, to the concierge finding fun things for my daughter to do, to the knowledgeable food servers with honest opinions, to the spa staff playing along with my practical joke on my husband, around each turn I found some type of resort member simply making sure we had what we needed. We live in a transient world where too many times we have our heads in our electronic devices and forget to focus on each other. It's an era where customer service has lost its true meaning, but not so at The Boulders.
OVERTIME TIP
This summer The Boulders beckons travelers to the cool side of the desert. Located on higher Arizona ground in Carefree where temperatures are typically 10 degrees lower than in the valley, guests can escape the extreme heat and receive tremendous savings on the spa, golf, and vacation packages during the summer season. It's a steal for those looking to save money and still visit an incredible resort. Seasonal rates dip as low as $99 per night—almost 70 percent below winter and spring rates. Adding to the chill factor are personal touches such as complimentary iced treats, lemon-scented chilled towels offered poolside, and refreshing citrus and soothing aloe-infused treatments at the world-class Waldorf Astoria Spa at The Boulders.
Ranking:
 Touchdown or Fumble? Touchdown!