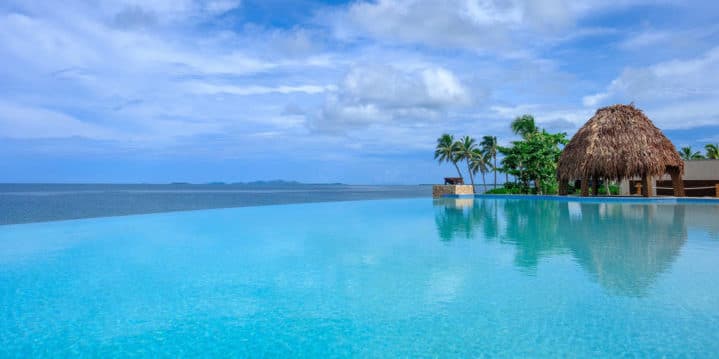 Last year, Cyclone Winston hit Fiji hard, causing millions of dollars of damage. Many of the country's resorts were forced to close for renovations and missed all or part of last summer's high season. But the silver lining is that many of them came out looking brand-new, and Fiji's combination of luxury and adventure is back up and running full-speed ahead.
Here's the rundown on five Fiji resorts to look into on your next trip.
1. Vomo Island Resort, Luxury
Vomo Island is part of the Mamanuca Island chain that sits just offshore from Fiji's main hub of Nadi, and it is accessible via a 15-minute seaplane flight (or private helicopter). Rising above the resort is a small hill with a hiking trail that leads to a panoramic view of Vomo and its surrounding coral reefs. From here, the island's appeal becomes obvious. With only 32 rooms but 225 acres of land, it's small enough to be completely explored, yet large enough to find your own private space—be it a white-sand beach, a coastal cove or a grassy hillside—and to feel like you really are on your own private island. It was the site of the 2017 Sports Illustrated Swimsuit shoot, and just underwent a $10 million post-cyclone facelift.
2. Mantaray Island Resort, Adventure
While finalizing the lease of the land to build Mantaray Resort, the owners proposed that the waters in front be protected as a marine reserve. It turned out to be a win-win for both the environment and the resort, as Mantaray Island now boasts some of the region's most diverse, healthy reefs and wildlife. This includes the swarms of manta rays that swim daily in the channel just north of the island from around May to October (hence the name). The resort has a wide variety of accommodations for all price levels, from shared bunks to beachfront villas, each guest united in their quest for activity and adventure: snorkeling or scuba diving with the Manta rays, sunset tubing and the only freediving center in the area. Mantaray Island Resort is located in the Yasawa Islands, three hours by ferry or 20 minutes by seaplane from Nadi.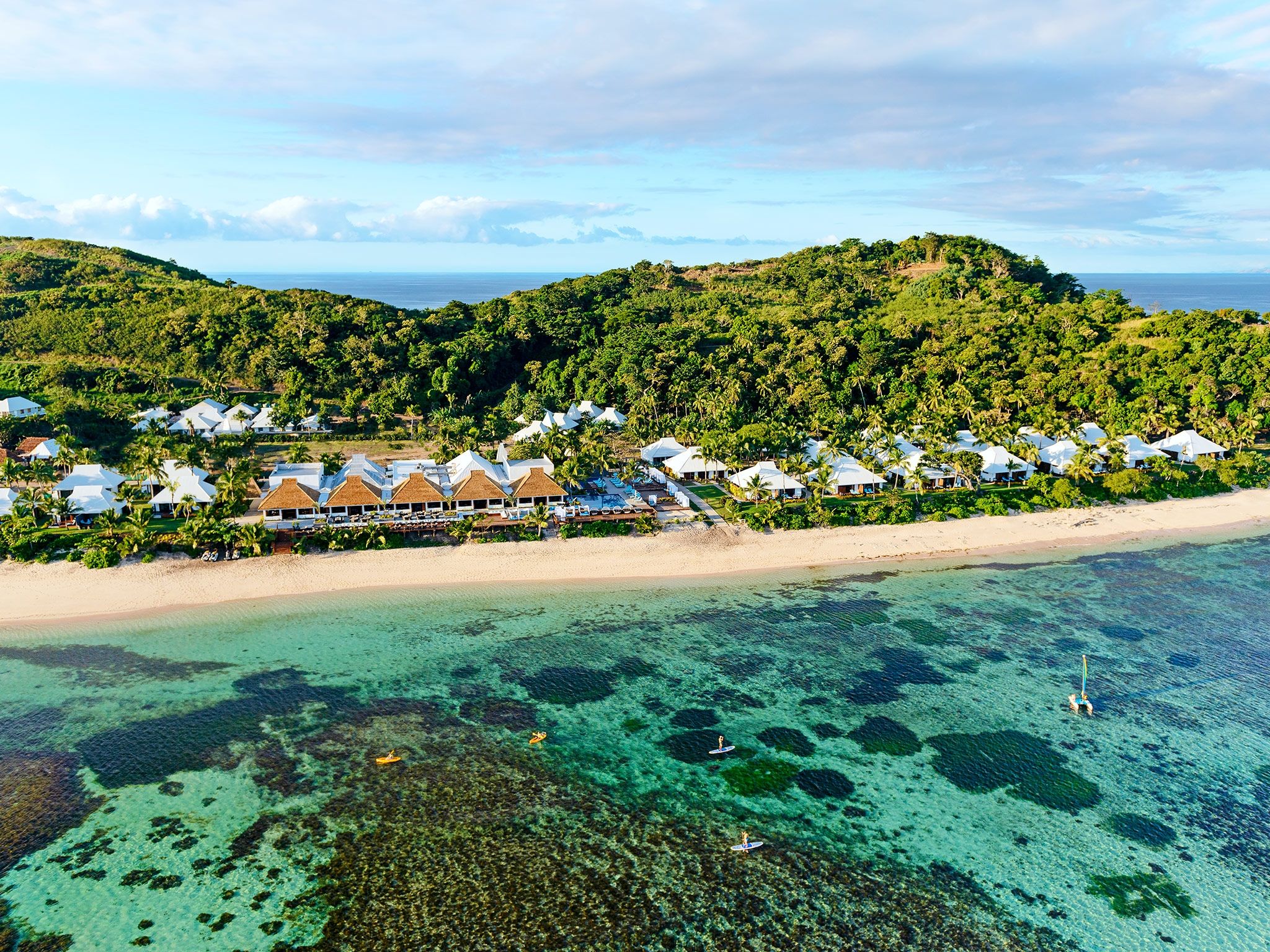 3. Sheraton Tokoriki Island, Families
The Sheraton reopened in February following a $12 million post-cyclone renovation. It's one of the larger resorts around with 110 rooms, and while there is an adults-only section of 30 Beachfront Retreat rooms with private decks, plunge pools and ocean views that offer a honeymoon feel, the resort appeals most to families. Far from sprawling, it's a property you could let young kids and teens roam without worry, and it has a little bit of everything. There are two main restaurants (one Fijian and one international), a cultural show, pool games, a kids club, a spa, and easy-to-access snorkeling right off the shore. Its long strip of white sand beach makes for a great playground, and its large ocean-front patio is prime for happy hour and dinner.
4. Marriott Momi Bay, Business
This brand-new Marriott opened in April on the western coast of Viti Levu (the mainland, as the locals say), a 45-minute drive from Nadi International Airport. It's a huge, expansive property with 250 rooms, including 22 over-water bungalows. Normally, such bungalows would be an iconic and bucketlist opportunity for travelers to Fiji, but buyer-beware on this one: The bungalows are perched over a man-made lagoon, not the ocean (you can't even see the ocean), and the whole thing feels a little contrived. There's also little-to-no beach access from the resort because of the tides and rocky coastline.
That said, if you are traveling for business, or just need a mainland hub to call home for a night or two, there's nothing wrong with the Marriott. Its rooms are new and comfortable, it has a killer infinity pool and it does have over-water bungalows. Just know that it might not be the tropical Fijian escape you've been dreaming of. 
5. Koro Sun Resort, Rainforest and Spa
Koro Sun Resort is on the south side of Fiji's second-largest island, Vanua Levu. It's famous for its outdoor Rainforest Spa, where you can get coconut-oil massages or banana-leaf wrap treatments under the canopy alongside the natural sounds of the rainforest and running water. The idea is for everything—from the infrastructure to the products—to come from the rainforest, so expect hand-made bures, giant fern décor and products made with local papaya and aloe.
If you've been staying at mostly water-centric rooms thus far in Fiji, you might decide to go completely rogue and stay in one of Koro Sun's Botanical Room types, including different styles of jungle bures. But if you're craving that classic Fijian experience, the Edgewater Floating Bure is for you. Each has its own personal dock and comes with a kayak.