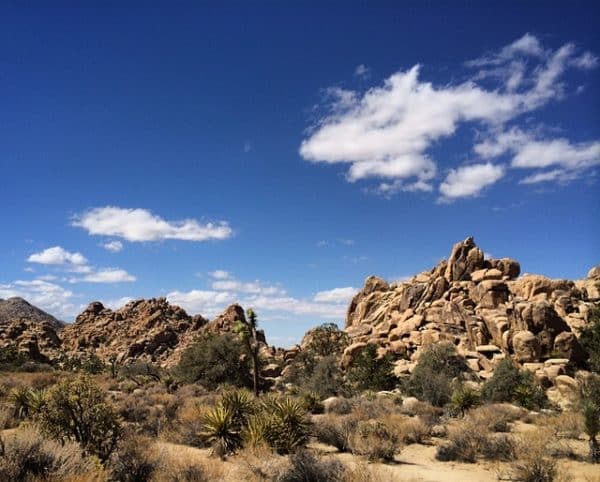 What first comes to your mind when you think of Joshua Tree? Given that you may have at least heard of the National Park located in California's southeastern region, the first words may be hiking, camping, and wildlife.
Of course, it's all those things. However, you may be surprised to learn that Twenty Nine Palms Highway, the same road that leads visitors to the various entrances of Joshua Tree National Park, is also a hip boulevard with a thriving music, arts, and culture scene.
The city of Joshua Tree and the neighboring town of Twentynine Palms is in San Bernardino County—just three hours east of Los Angeles. What Angelenos once perceived as a camping destination, is emerging as an eclectic, relaxing getaway right in their "backyards."
So, I set out (with my favorite girlfriend in tow) on a much-needed road trip. It was, quite honestly, the perfect girls weekend, complete with art galleries for endless browsing, taverns with live music, and beautiful accommodations—not to mention a marine base just a few miles away.
The fall months are, undoubtedly, Joshua Tree's busiest time of year so plan ahead. Here's my guide on what to consider for 48 hours in Joshua Tree. For help with your itinerary, contact San Bernadino County Economic Development Agency. And tell 'em Trish sent you!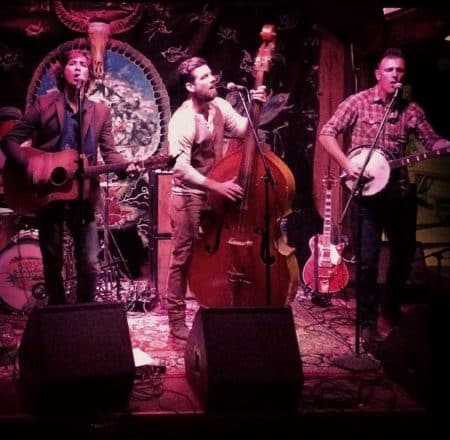 53688 Pioneertown Road, Pioneertown, CA • 760-365-5956 (call for reservations)
As a lover of country music and a good ol' honky tonk bar, I knew almost immediately that Pappy & Harriet's would be the definition of a good time. As soon as I walked in, I was hit with the aroma of delicious mesquite BBQ coupled with echoing applause and bellowing laughter. Tourists and locals mingled with one another, drinking and dancing to catchy blue grass courtesy of the popular Los Angeles based band Rose's Pawn Shop.
In chatting with the lead singer, I discovered that booking a gig at Pappy & Harriet's stage is quite the honor. Patrons have enjoyed a long-celebrated history of musical acts from Vampire Weekend to Sean Lennon. Very impressive—especially for a bar seemingly in the middle of nowhere.
But what makes this Pioneertown gem so special is less tangible than a kickass band, delicious chili fries and a tasty Moscow Mule. Time stands still at Pappy & Harriet's. You're so genuinely content in the moment, so transfixed with your surroundings. It's almost as though you've been transported to a different era. A time in which you don't care for much else…other than never hearing the words, "last call."
Tip: The bar is about a thirty-minute drive from Joshua Tree proper. Please plan accordingly and drive safe. Cab services are available.
29 Palms Creative Center & Gallery
6841 Adobe Road, Twentynine Palms, CA 92277
There's no better way to ease into a relaxing weekend at Joshua Tree than paying a visit to the The 29 Palms Creative Art Center. The quaint property is a multi purpose gallery, classroom, and studio run by artist and proprietress, Gretchen Grunt. Activities are available both to individuals and groups ranging from etching presses to sculpting pottery on the wheel, and oil painting (and much more).
A group of special needs children gathered for class nextdoor while my girlfriend and I enjoyed our very first monotype-etching press experience.
No matter the age or background, the peaceful, charming workspace and picturesque view of the park's mountains facilitates a perfect environment for getting in touch with your inner Picasso. The knowledgeable Ms. Grunt is also a great resource if you are interested in art shows and galleries that are taking place in the area during your stay. Enjoy!
Tip: In the mood for more art and funky designs? Check out the Joshua Tree Art Galley (JTAG) and Rt 62 Vintage Market.
Sky's the Limit Observatory
9697 Utah Trail, Twentynine Palms, CA 92277
If someone were to ask me if I've ever been stargazing before, I would've said, "sure." That was, however, before my visit to Sky's the Limit Observatory in Joshua Tree.
To put it bluntly, the eye-opening experience here is like no other. Purposefully located north of the National Park with no buildings in site, the vast and open skies allow for an unparalleled 360-degree view. It's just a few hundred feet from the park's Utah Trail entrance, a convenient pit stop as you enter or leave.
Tip: Be especially aware in the dark. My girlfriend and I drove past it several times.
The non-profit observatory—spawned from efforts of NASA's Jet Propulsion Lab—boasts a 14″ telescope and hosts viewings every Saturday beginning at 5:30 pm. Graduate student volunteers helped us navigate the dark sky, pointing out distant star clusters and constellations, from summer's fading Milky Way to distant planets Uranus and Neptune.
I highly encourage breaking away from the crowd at some point (as we did), to roll out blankets, stare up at the star-lit sky, and take it all in.
Tip: Don't forget: Bring jackets, a flashlight, binoculars, and blankets You can never have enough blankets.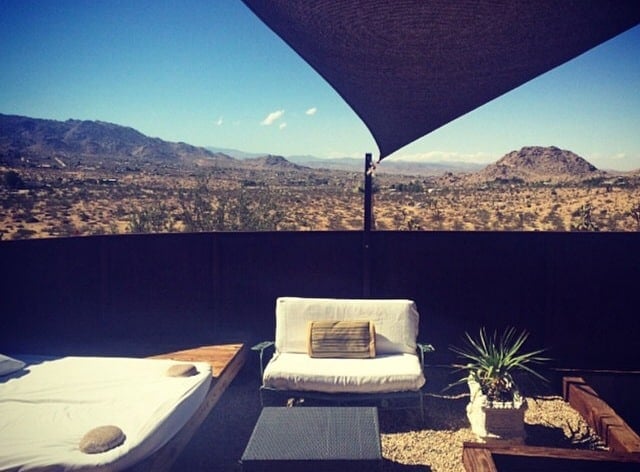 Sacred Sands
63155 Quail Springs Road, Joshua Tree, CA 92252
Whoever said you have to rough it in the desert clearly has never been Secret Sands. The golden homestead stands alone, perched on a small hill at the west entrance of Joshua Tree National Park. Its beautifully rustic yet modest exterior suits the arid landscape well. But it's not until you're inside looking out that your jaw truly drops. Secret Sands boasts one of the most spectacular perspectives I've ever seen, your very own private view of the open desert.
The two available guest rooms—ideal for a romantic type of weekend—are luxuriously designed with beddings, original furniture, and spacious bathrooms each with a private terrace and spa. A complete breakfast is served as well. Owners Scott Cutler and Steve Pratt also host weddings and larger parties on the property, which makes for a long reservation list. Their nightly rate is a bit pricey—but in my opinion, absolutely worth the splurge.
Roughley Manor

74744 Joe Davis Dr, Twentynine Palms, CA 92277
The idyllic Roughley Manor is an ideal retreat for bigger groups, particularly those planning to stay in the area for a longer period of time. Nestled in a secluded patch just minutes away from Joshua Tree National Park, the main house is constructed of grey native stone, surrounded by palm trees, with a picturesque rosebush garden and welcoming common patio.
The twenty-five acre property is deeply rooted in California's early history, with its original owners dating back to World War I. Current owners Gary and Jan Peters, who have done an incredible job of preserving the estate, turned Roughley into a bed and breakfast in 1994.
There are five individual cottages available along with a farmhouse, pool, and hot tub, and access to the museum rooms. On any given day you'll find a scrapbooking club or corporate group or club enjoying the amenities, which also include a full breakfast in their elegant dining room (and on special occasions a delicious three-course dinner) prepared by the Peters themselves.
It's a true labor of love; every year during the holidays, Gary and Jan host marines from the local military base. Rooms at this time may be limited, but they always welcome visitors and volunteers. If you're interested, just ask!
6333 Encelia Ave, Twentynine Palms, CA 92277
If you're looking for something a little more budget-friendly, check out Fairfield Inn & Suites. This "all-purpose" hotel is the first of its kind in the area.
Fairfield isn't the "destination" as much as it a place that prepares you for your next destination. The "one-stop shop" provides guests with the travel essentials: a decent complimentary breakfast, adequate fitness center, and fast Wi-Fi—not to mention a knowledgeable and friendly staff. The hotel is conveniently located by a few entrances to Joshua Tree National Park. It's an ideal "home base" for photographers looking to drop off film and equipment between shoots or for those who have jam-packed their itineraries to rest their heads (both of which I did quite often).
The spacious rooms also include a separate living area with a sofa-sleeper, refrigerators, and LCD flat screens.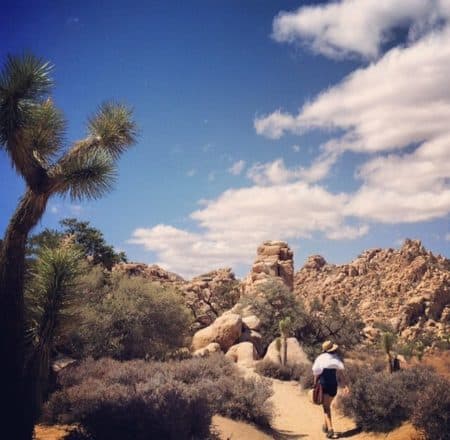 Exploring the park
I made the trip to Joshua Tree because I was interested in some of the lesser-known aspects of the area. That said, I wasn't leaving without exploring (albeit shortly) its National Park—a place National Geographic recently named one of the most beautiful places in the world.
The National Park's Headquarters and Oasis Visitor center is a great resource. Whether you just want to drive through or camp out the entire weekend, checking in with a park ranger is a must. They can provide visitors with maps, alternate routes, and timely information to help prioritize what to see given when you visit. We were pressed for time and had to head back to Los Angeles within a few hours, so we opted for the park ranger's suggested crash course version and after some "pre-park prep" (gas, snacks, and water), we were on our way.
As we drove from the north entrance—making our way down through the park—we stopped at the few recommended hiking trails, two of which were short and sweet:
The Hidden Valley trail is a one-mile venture through a small valley enclosed with towering boulder piles. You can either stick with the easy to follow trail or get adventurous and rockclimb for a view.
Another brief but beautiful trail is Arch Rock. It's only 0.3 miles and you can climb directly under its granite arch.
Our stop-and-go trek allowed for an ideal combination. We soaked in the vast landscape and scenic wilderness, from the monolithic rock formations and yucca trees as well as details of desert life, including its small animals and uniquely colored shrubbery. In the end, having both perspectives gave us a good sense of the park, despite our time crunch. Our exit also conveniently dropped us off on the 10 Highway, which we took all the way home.
Tip: There's an entrance fee is $15 and no cell service/data connection within the park.
December 5, 6, & 7 only
Joshua Tree National Park Art Show and Faire

During my visit, I inquired about fun upcoming events. The one thing that everyone was talking about was Joshua Tree's Art Show and Faire, which starts tomorrow December 5 and runs through Sunday the 7th.

Hosted at the Oasis Mara in Twentynine Palms, the Joshua Tree National Park Art Show and Faire is a "premiere juried art show and three day celebration of art, culture, and park history. The exhibition will feature park-inspired art by 53 artists from California and across the US. The weekend's festivities foster a community built around supporting the preservation and sustainability of the west coast's desert regions.

The jam-packed schedule of events includes everything from art workshops and photography classes to lectures and interpretive walks with barbecues and live music sprinkled in between. Well, they had me at interpretive walks. I may be back sooner than I thought!

For more information, click here.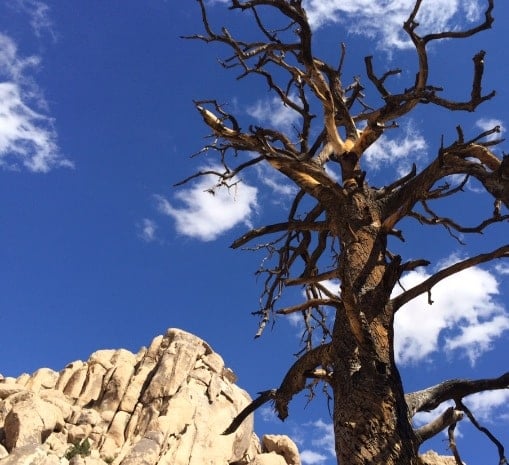 All photos credited to Trishna Patel (trishna05).