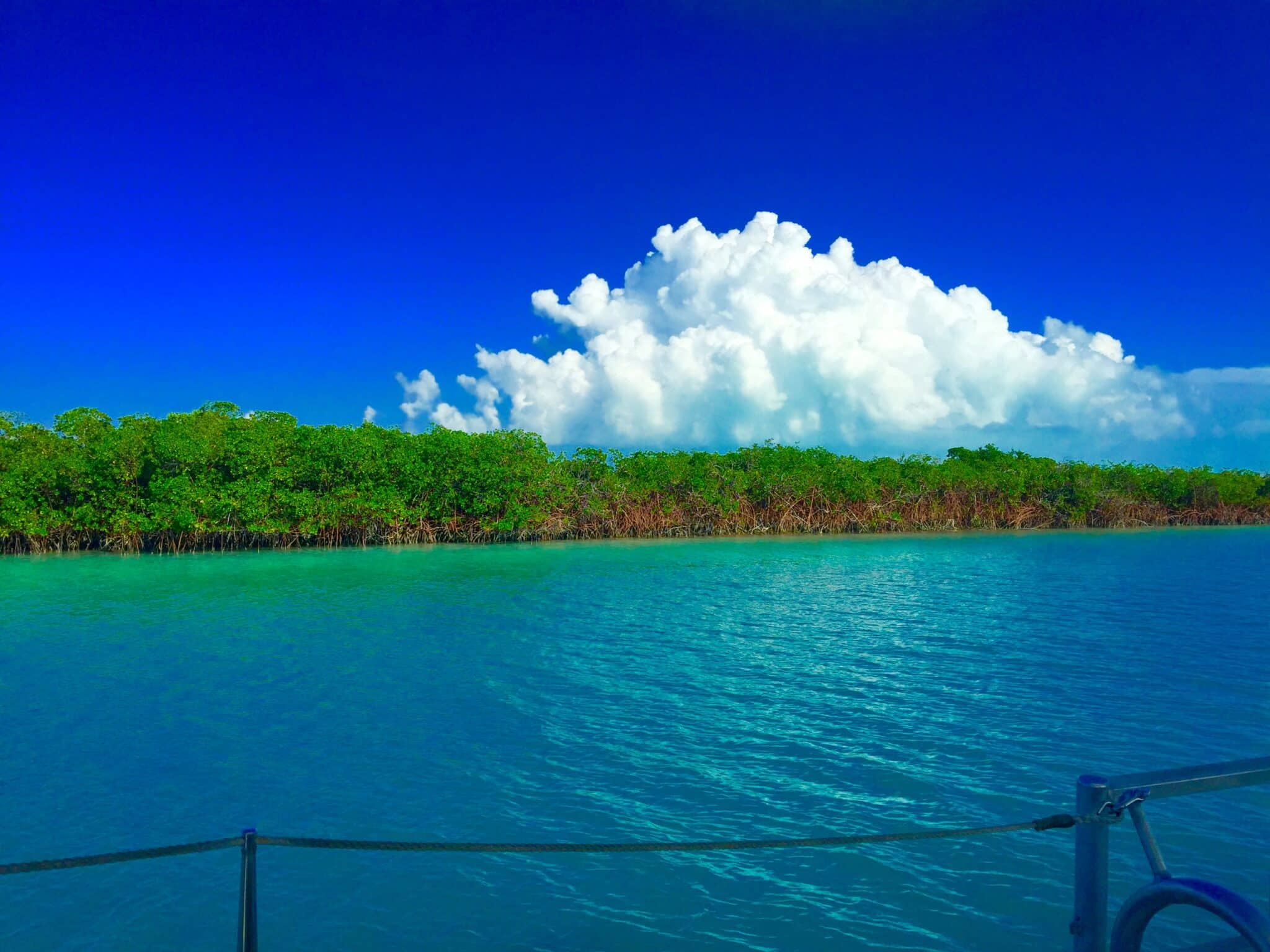 Day 1:
In just a little over three hours, the JetBlue jet soared from grey New York to the gorgeous turquoise blue water of the Caribbean on the island of Providenciales ("Provo" for short) in the archipelago known as Turks and Caicos. After clearing customs I was met by Morgan Freeman-lookalike Ozzie Virgil (hughlou@tciway.tc), who has been shuttling folks around this island for more than two decades. The islanders of Turks and Caicos have a laid-back yet formal demeanor, probably because T&C is an English colony.
I arrived at Ocean Club Resort, a place I had been 15 years earlier. Unlike the rest of Grace Bay, Ocean Club had not changed since I had been there. Once again, I found friendly faces behind the reception counter—Laprina, Negrina, Eliana, and Eddy, to name a few—the same low buildings facing the garden of colorful tropical flowers like bougainvillea, and the meandering pool that gracefully winds its way through the interior.
The first order of business: check into my room. My third-floor suite in the Bougainvillea building had a screened-in patio that overlooked the white sandy beach and teal blue water. As I was settling into my room, the next door resort's dive boat was just leaving the neighboring dock, full of happy people. Next: I went for lunch next to the beach at Ocean Club East's Cabana Bar and Grill and finally, I hit the beach! The sugar-like sand and turquoise blue water and pink umbrellas were all I needed for the next four hours!
Dinner that night was at a table set up on the sand and catered by the Cabana Bar and Grill, available on Friday nights and by special request. Owner ex-pat Jeff Rollins told us how he moved here from the states 15 years ago and never looked back. His menu including mahi mahi, island lobster, conch ceviche, and tempura shrimp with imaginative cocktails. Rounds of Tito's Sonic—a vodka drink with half seltzer and half tonic, lime, lemon, and mint—and many dark and light rum drinks were going around the table. No coats, no bugs, listening to the crashing waves, and having a meal on the sand with friends…can it get any better?!
Day 2:
I woke up listening to island sounds: waves slapping on the beach, a dog barking, children laughing. A breakfast of French toast sticks, an egg over-easy and British breakfast tea at Cabana Bar on the patio overlooking the sea was served by my new friend Linda (this was happily my third meal at Cabana in less than 24 hours!). I know someone from the States that bring a cooler of frozen foods from Trader Joe's and does most of the cooking in the rooms (all rooms have kitchens), but I was on vacation, so no cooking or cleaning for me.
My housekeeper for the week was Esperanza, from the Dominican Republic. It was a joy to see her and she kept my apartment sparking clean, adding welcoming touches like Bougainvillea flowers inserted in the hand towels while she sang soothing songs in Spanish. Bellman "Johnny Jean" may be the friendliest and most enthusiastic person I have ever met! He's also a philosopher!
My friends and I met in the lobby where Ozzie Virgil of Virgil's Taxi & Tour was waiting to drive us on an island tour. His first stop was the leeward side of the island to the world's only conch farm. He delivered us to Carla, who with her pink hat and nails guided us through an educational tour of how Caribbean queen conch are farmed (there's actually "Conch Chow" given to the babies). I noticed that the conches had two outer-space-looking eyes looking at me and—according to Carla—see very well! Ugh…how could I eat that delicious conch salad! Conch is an ideal protein, low in fat, which helps explain why the islanders are so handsome.
Ozzie laughed with Janet from the farm as we all piled back into his van to drive around Providenciales. Being around Ozzie and hearing his anecdotes from island life in his Caribbean accent was a treat in itself.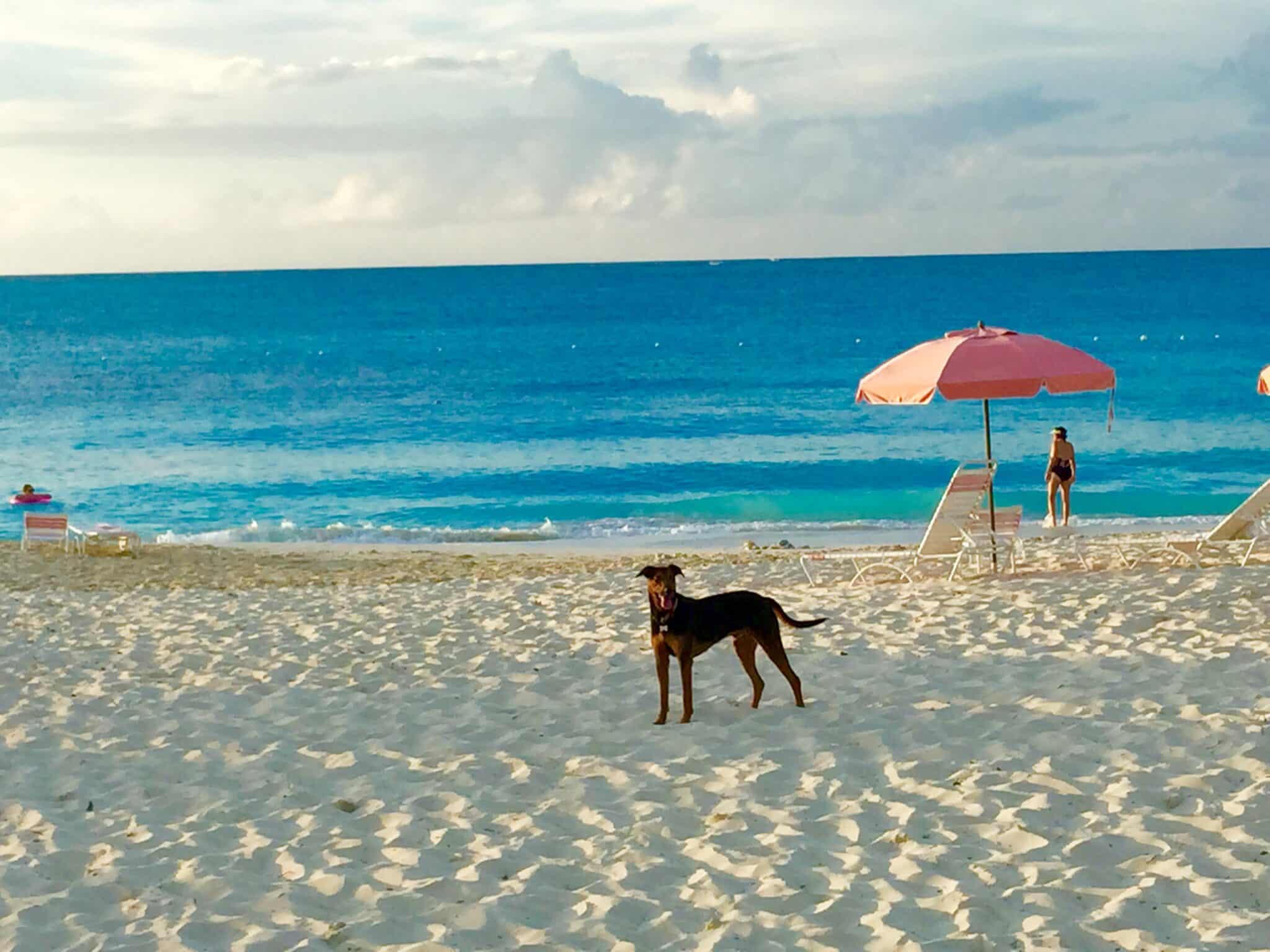 We ended up at Ocean Club West for another outdoor lunch—this time at the Seaside Cafe. We all had the conch chowder, similar to Manhattan-style clam chowder, and healthy salads. For the rest of the afternoon, I decided to check out the long and narrow pool at Ocean Club West that curves its way through the entire interior garden with my buddy Sarah Kendall and then walk the mile back along the beach to Ocean Club East. The shuttle is always available (in case we didn't want to exercise our calf muscles).
Ocean Club West seemed to have younger families, but both resorts are family-friendly. The West rooms are a little more modern and a tad more expensive. Ocean Club East had less children and more mature guests but the pools and gardens and low island-style buildings were similar. Both have restaurants on the beach and both have a high return rate.
Tip: Rates vary, but most of the month of December is a good an inexpensive time to go.
It was Wednesday when the reggae band played at Da Conch Shack, a casual and insanely fun beach bar that serves island food and rum in a lively atmosphere. They also sell their pirate T-shirts, which I had to get for family and friends back home. We met some locals including Delano Handfield, who makes PeppaJoy hot sauce. Delano served in the US armed forces and came back home to become a force here. We all loved dancing with him, and bought his hot sauce at the airport to carry on.
Tip: Four days in paradise do not require checking a bag—at least in my book! Plus all one and two bedroom suites have washers and dryers.
Day 3
At Ocean Club East, all units are suites and have kitchens, which means you can make a pot of tea or have coffee and keep things in the refrigerator for quick breakfasts. There's also coffee in the main lobby in the morning. I loved walking on the beach in the early morning (well 7:45) while it was still cool and almost abandoned. One mile down the beach, of course, is Ocean Club West, where breakfast, lunch or dinner is available and can be signed to my room. Ocean Club Resorts' motto is "Stay at One, Play at Both." Right across the street from Ocean Club West is the Ports of Call village with a variety of island-style shops, and further down the same road are more shops. It's all an easy and safe walk.
At the Salt Mills shopping plaza I stopped in at Potcake Place. Here I met Jane Rauw, the founder, who last year rescued 600 pups with the help of her volunteers and visitors who adopt them. Jane arranged for veterinarians to fly in from New York to spay and neuter the pups for free. Potcake pups are the native dogs of Turks and Caicos whose ancestors were brought here by the Europeans who raked the salt mines over 200 years ago. The dogs are shy, short-haired and intelligent medium-sized dogs that are gaining popularity with folks in the States. Tourists line up early in the morning to volunteer to walk them and consider adopting them. You can also be a courier and take them home to the States to families who have passed the assessment test.
I had lunch at Big Al's Island Grill in the Salt Mills Plaza with fellow writer Martha Stockhausen from Ciao Bambino (a family-friendly website). We enjoyed our big salads with seared ahi tuna and then poked about in the shops.
It was a cloudy afternoon, perfect for our next adventure: horseback riding on the beach with Provo Ponies. I had ridden on the beach 15 years ago with an outfit that's no longer in operation, and actually recognized my old horse "Diamond" (because my last name means diamond in Greek). The stable is run by professional gals Kelly and Kristen and one man, native Camaro. I interviewed owner Camille Slattery after the ride and found out what an animal-lover she is. Most of her gorgeous horses have been rescued from either Turks and Caicos or the Dominican Republic. These included Clydesdale horses that were set to roam free after Hurricane Joaquin and were only 400 pounds when she adopted them. Now they are a healthy 1,400 pounds and loving life.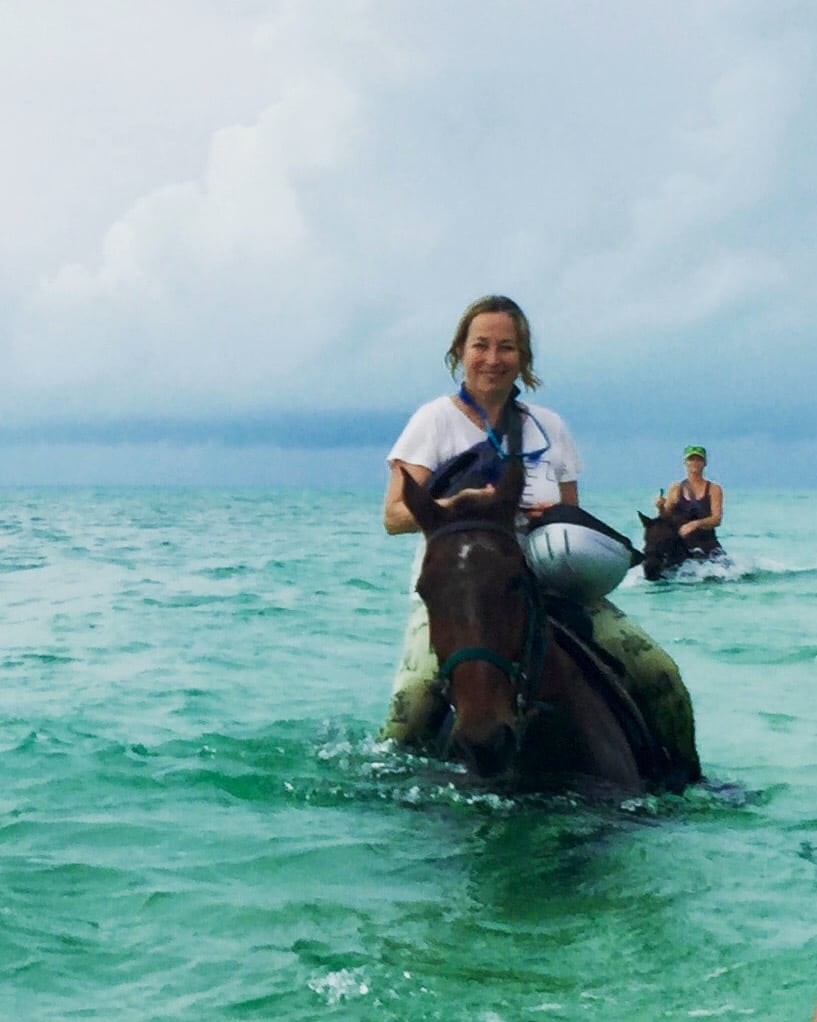 I felt very secure on top of my 16-hand horse "Pilgrim" and opted to wear a helmet. Most of the time with Provo Ponies is spent on the sand or in the water and on the quiet roads of Long Bay Hills. If you're going to bring your iPhone, bring a Lifeproof waterproof case, (which I did not). I handed my iPhone to Camaro, who assured me that he has never dropped anyone's camera or phone and would "rather die than drop it in the water" and he took some great pictures of me swimming with my horse.
I've ridden horses many times, but never before had I been swimming with horses! It was incredible. I said to Camaro, "Why is my horse making those funny noises?!" and he told me that the was just so happy to be swimming. Well, that made two of us! An adventure of a lifetime to be treasured. Make reservations in advance. You'll be happy you did!
Day 4
The last day in Provo, and for me it was sunny! That meant time on the beach in the morning. Right at Ocean Club East you can rent a stand-up paddleboard at WaterPlay Provo. There's also Provo Turtle Divers to scuba or even learn how.
We spent the afternoon on the 77-foot schooner Atabeyra, which can be booked through Ocean Club as a private charter (you may also join them for sunset cruises or the full-moon Glow Worm sail). Our small group of seven was spoiled by the crew—the brother-and-sister team of Wilieana and JR—and Captain Tibi (short for Tabor), a former airline pilot from Toronto. They served rum punches and provided snacks as we sailed through Water Cay and Half Moon Bay and anchored at a barren island to look for sand dollars. It didn't really matter where we were; the colors of the sea and sky merged together to form a beautiful backdrop with the warm wind in our hair, and we had snorkeling time to enjoy the myriad colorful fish of Turks and Caicos. A top-ten experience.
Our farewell dinner was held on the Ocean Club Resort at Opus Wine Bar Grill, a beautiful interior with a tall, vaulted ceiling and a patio where our group decided to dine. This was the only time we needed bug spray to keep the harmless (but annoying) gnats away (Seaside Cafe and Cabana Bar have natural bugspray in the form of ocean breeze).
Opus Wine Bar is for special-occasion dinners and has the largest wine cellar on the island and more than 50 varieties of rum, including many from the Caribbean. The seafood was so fresh since they work with island fisherman. Our appetizers of seared tuna, coconut shrimp and conch ceviche were outstanding as were the snapper, lobster and grouper. Their Italian menu includes pesto flatbread and hearty pasta dishes.
---
Next time…
Four days in Turks and Caicos are not really enough, and yet mine got me out of the cold Northeast and soothed me to the point that it did feel like a real vacation. If relaxing on the beach and enjoying outdoor dining sounds good to you, you'll love Ocean Club Resorts. The website WhereWhenHow provides more activities on the island of Provo and more. Both resorts have tennis courts and the Provo Golf Club is right across from Ocean Club.
Next time, I'll explore the other islands, which can easily be done with local ferry service or take a small plane to fly to the other islands of Turks and Caicos…or I might just stay "home" and do nothing at Ocean Club Resorts!