A trip to Bermuda is a beach-lover's dream with soft sand that blushes, crystal clear waters that deepen to variations of turquoise, emerald and sapphire blues, and plenty of shore to explore.
As a beach lover who has strolled on many pretty beaches, from Rum Point Beach in Grand Cayman to Puerto Rico's famed Flamenco Beach, I can attest that Bermudian beaches are just as stunning — or even more so — than the Caribbean's. The following three Bermuda beaches are my favourites.
I explored them at a leisurely pace over three days, and you'll find them on the southern shores of Bermuda's main island.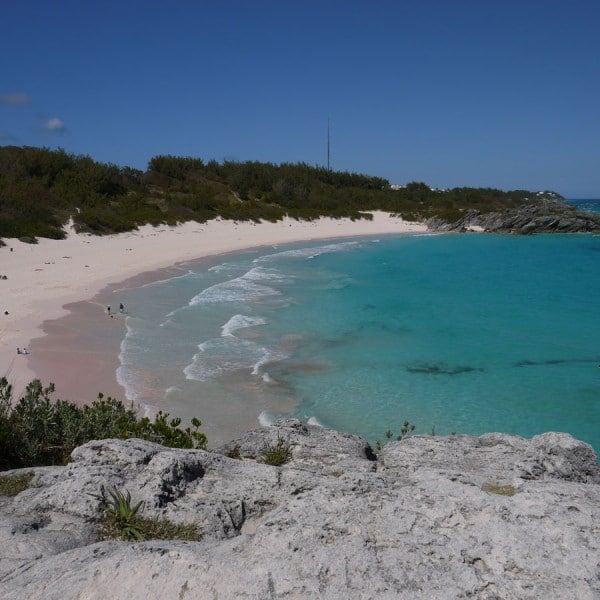 1. Horseshoe Bay Beach
Bermuda's most popular beach is well loved and with good reason. Tourists flock to Horseshoe Bay Beach, with public restrooms and a snack bar called Beach House.
Besides the clear water and powder-soft pink sand, there's a stunning cove and limestone formations you can climb.
Atop the rocks, I got an unforgettable bird's-eye view of Horseshoe Bay, the beach and gloriously vibrant ocean blues.
It's not Bermuda's longest beach, at just 1/3 of a mile long, but every bit is beautiful.
2. Warwick Long Bay Beach
Bermuda's longest beach at half a mile, it's gorgeous and less popular than Horseshoe Bay Beach, so it's less likely to be crowded.
At Warwick Long Bay Beach in Warwick Parish, you'll find pale pink sand, hypnotizing blue waters, and dramatic rock formations that rise from the sea – it's a slice of heaven on earth.
Bring your beach towel, sunscreen and a meal so you can comfortably while away the day. There are public restrooms onsite.
Don't forget your camera for those postcard-perfect beach shots to preserve your vacation memories.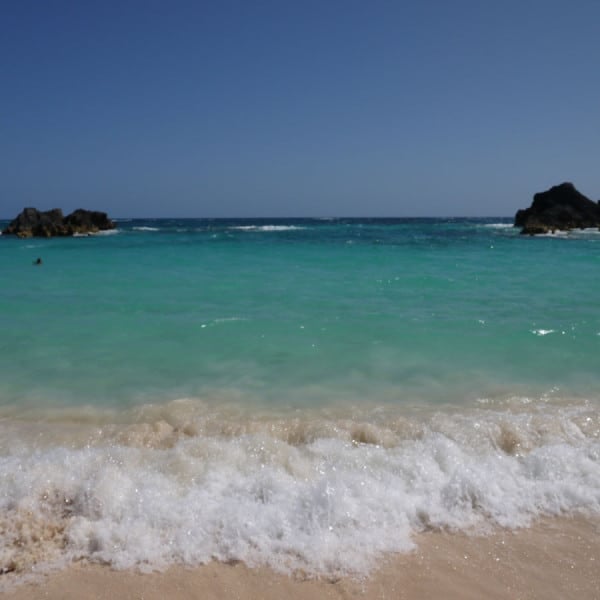 3. The exclusive Fairmont Southampton Beach Club
It wouldn't be a Bermuda travel story without another great beach recommendation, right?
I discovered the private beach at The Fairmont Southampton is the perfect place to laze and give yourself permission to do nothing. Relax, restore and refresh with a yummy strawberry daiquiri ($11), ordered from hotel staff on the beach, and simply charge it to your room.
This beach is next to Horseshoe Bay. When you're ready to get off your booty (aye, that's a pirate pun), try some water sports like snorkeling, kayaking or sailing. Whatever floats your boat.
With a 20-minute ferry ride back to The Fairmont Hamilton Princess hotel, I was blissfully sun-soaked and realized I fell deeper in love with Bermuda's beaches. Swoon.
What about the water temperature?
Several Bermudians told me they don't get into the ocean until after their May 24 public holiday.
I was visiting from Apr. 18 to 21, and the water was too chilly for my liking, at 68F/20C. I went into the water, up to my knees, but turned back when I got too cold. Although I didn't swim, others did and they didn't seem to mind the water temperature. Several watersports operators rent wetsuits.
Bonus: Elbow Beach
When all that beach time makes you work up an appetite, choose one of Lido restaurant's several dining options at Elbow Beach in Paget Parish. I enjoyed a beachside buffet at Lido with fish cakes, chicken, beef, grilled vegetables and crème brulée.
Tip: Bermuda is a British Overseas Territory made up of 138 islands and it's part of North America. It's surrounded by the Atlantic Ocean and it's farther north than Florida.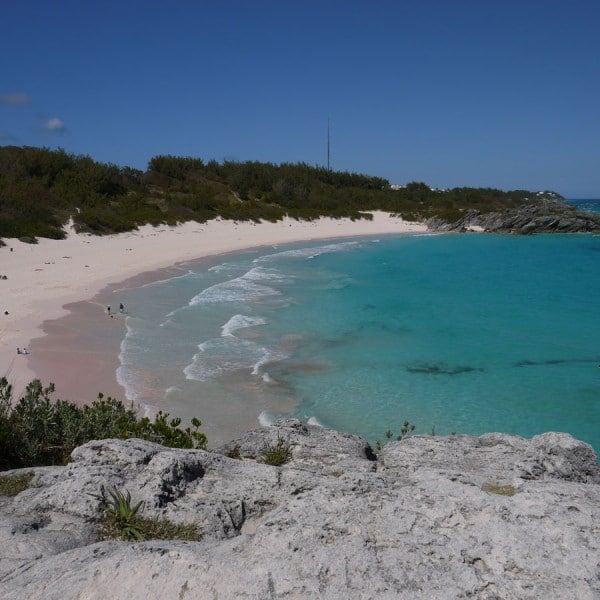 Note: This trip was sponsored by The Bermuda Department of Tourism and partners.