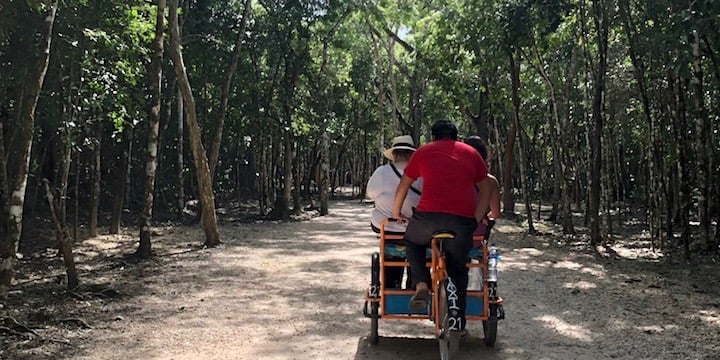 When landing in Cancún, you fly closely over the dense green jungle—but no one would blame you if you don't take notice. Your mind is likely consumed with the clear, warm, saltwater just a short drive away as soon as the plane touches down.
Cancún's natural beauty cannot be debated, but when soaking in its splendor it's hard not to wonder how tourism is affecting it all. And it is. Natural resources are being overexploited, the water is being polluted, and native communities are being marginalized. So, as a responsible traveler, you have to ask: What can I do to temper my impact?
I believe one of the most tactful ways individuals can promote sustainability is by doing business with companies that are committed to protecting the surrounding environment and cultures. Going green can require a significant financial investment from businesses, so by spending your money with them, you're telling them that doing so is worth the financial risk. Whether you're using Cancún as a launching point for a more far-flung Mexican adventure or settling into a vacation there, here's how to spend 24 hours in Cancún in sustainable style—starting on the night of your arrival: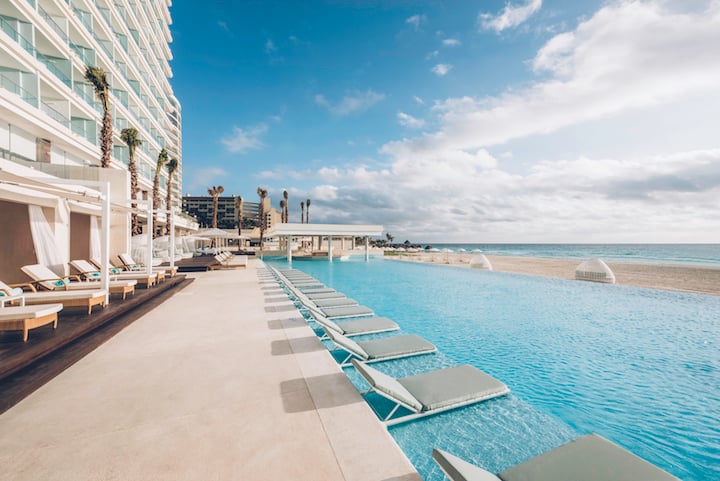 6pm
Check into the Iberostar Cancún
Only a 15-minute drive from the airport, the Iberostar Cancún is a Green Globe-certified hotel committed to going the extra mile when it comes to sustainability. With more than 80% of its properties located on a seafront, Iberostar is constantly reminded of its responsibility to protect our oceans. One way the brand is mitigating its impact is through implementation of the "Wave of Change" initiative. This program aligns with the United Nation's Sustainable Development Goals and focuses on reducing plastic consumption, promoting sustainable fishing and improving coastal health.
If you're traveling without children, I recommend staying in the Iberostar Cancún's brand-new, adults-only Star Prestige tower. With only 156 rooms, you'll have a more exclusive, boutique experience while still being able to access big resort amenities such as a gym, a spa, entertainment, and additional dining options.
7pm
Dinner of in-season fish
Grab dinner at one of four restaurants available to you as a Star Prestige guest. If you order the fish, you can be confident it has been sourced sustainably. The hotel's menus put a focus on local, in-season fish to boost local economies and don't feature dishes with at-risk species.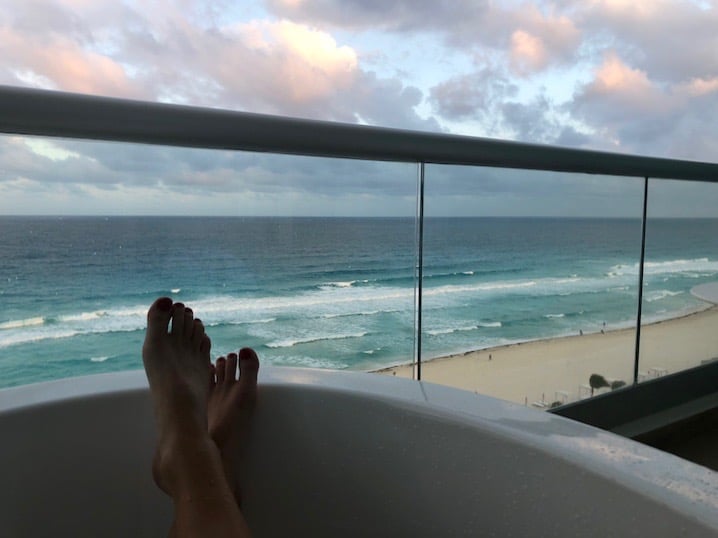 8pm
Bath time
As a Star Prestige guest, you'll have a jacuzzi on your balcony. Wash that long day of travel off you while soaking in the incredible ocean view. Baths use less water than showers anyway!
You have a long day of exploring ahead of you tomorrow, turn in early and get some rest.
The next day…
6am
Load up at the breakfast buffet
Wake up, fill your Klean Kanteen, lather on your eco-friendly sunscreen, and head down to the breakfast buffet. Whether you're a healthy eater or you like to splurge while on vacation, the buffet in the Start Prestige tower has plenty of options to leave you satisfied. An even larger buffet can be found over in the main hotel.
7am
Alltournative tour begins with pick up at the Iberostar Cancún
Being the conscientious traveler you are, you know sustainability isn't limited to the environment. You also need to take into account how your tourism is affecting the locals. While tourism has the ability to stimulate economic growth, if it's not done properly, not everyone benefits and the heritage and cultural traditions we hope to experience first-hand can suffer.
This is why I love Alltournative, a tour company with a mission to create experiences that not only are enjoyable and educational but also promote the betterment and preservation of the Mayan people and their surrounding environment. Alltournative is committed to creating jobs inside the Mayan community to increase income and, in turn, prevent migration. Among the employed community, Alltournative promotes respect for traditional Mayan customs and educates the community about ecotourism practices.
Alltournative's commitment to sustainability doesn't compromise the quality of its Tulum & Cobá Maya Village tour, and in fact the opposite is true. I found that the respect for the culture and its preservation truly elevated the experience, which included stops at multiple archaeological sites, a cenote, and lunch prepared by modern Mayans. My guide was passionate and knowledgeable, and even as a traveler who typically opts for self-guided exploration, I highly recommend the tour. Book in advance and be ready for early-morning hotel pick-up. You have a full day ahead of you!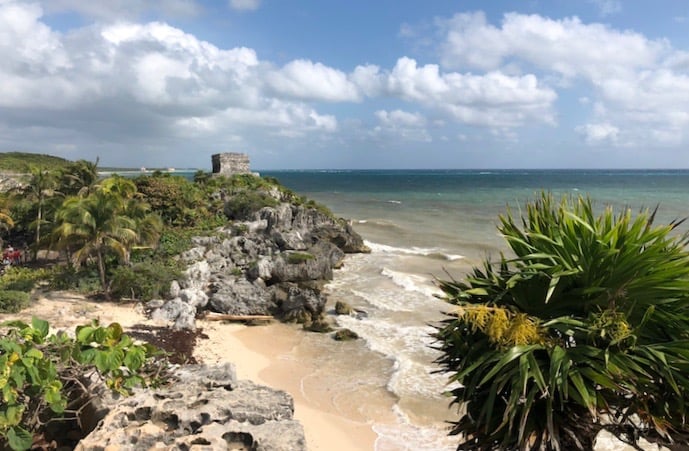 9am
Alltournative tour, first stop: Tulum
With its influx of trendy boutique hotels, yoga classes and Instagramable restaurants, Tulum has grown to be a vacation destination in and of itself. But on this tour, you'll be seeing the historical roots of the city at Tulum's archaeological site.
Here, you'll walk around the walled city that earned Tulum its name (Tulum literally meaning "wall" in Mayan) while learning of its history. Situated seaside, you'll catch a glimpse of the ocean breaking over the biggest coral reef in the Western hemisphere: the Mesoamerican Reef System. This reef once acted as a natural barrier between the village and looming invaders and now is under threat from climate change.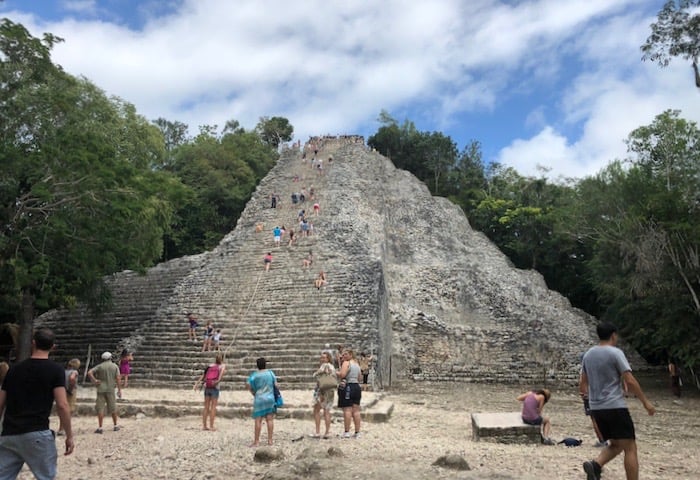 11am
Alltournative tour, second stop: Cobá
Continue your ruin exploration at your next stop, Cobá, another archeological site. Here, you'll see what remains of the "courts" or "arenas" Mayans used to play a traditional game and hear the best theories on what this game could have consisted of, including theories proposing that many of these games ended in a manner true to Mayan form—with human sacrifice.
Walk, rent a bike or hitch a ride on a "Mayan taxi" to make your way through Cobá and back to the main pyramid, Nohoch Mul. Bask in the shadow cast by the highest ruin in the Yucatán peninsula and don't miss out on the opportunity to climb up to the top. This is one of the few ruins in all of Mexico that you can still climb! If and when you make it to the top, you'll get a birds-eye view of the dense green jungle. If you use your imagination, you'll also be able to see what the village looked like in its prime. Since trees grew on top of dilapidated buildings, the taller trees indicate where structures once stood.
1pm
Alltournative tour, third stop: Traditional Mayan lunch
After Cobá, the Alltournative tour will bring you to Tres Reyes, where a Mayan community lives today. Here, you'll walk through the community, see uniformed kids walking to and from their satellite school, and get an idea of how modern-day Mayans live. While the day-to-day lives of Mayans have modernized, like many cultures, their tradition lives on through their food. And lucky for you (by now you've surely worked up an appetite), that's what's for lunch!
Enjoy a hearty meal of stew, chicken, vegetables, rice, and tortillas covered in salsa prepared by Mayans. Show respect by clearing your plate, which (I promise) won't be a difficult task. The only warning I have for you is that trying the fresh, homemade tortillas will ruin all other American-made tortillas forever.
2pm
Alltournative tour, fourth/fifth stop: Ceremony and cenote
After lunch, you'll head over to participate in a traditional Mayan ceremony led by a shaman to rid you of any bad spirits before swimming in the cenote.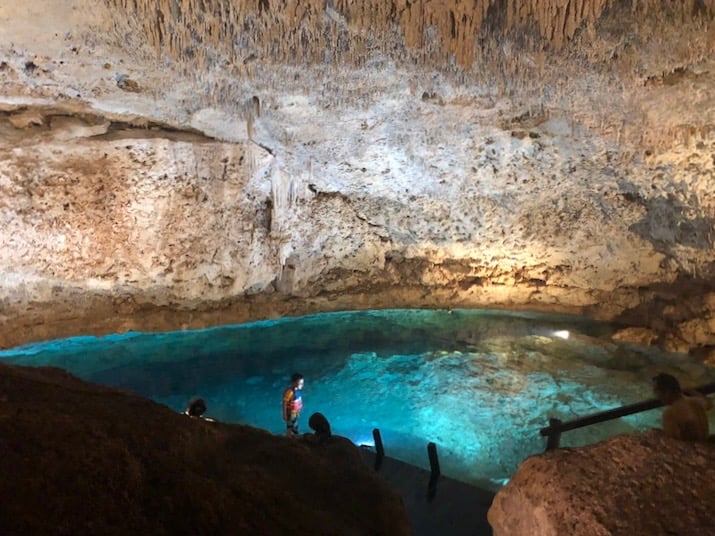 You'll then rinse off and descend down the stairs to jump in. After a long day of exploring and climbing ruins, the cool water will surely bring you back to life. The cenote is so serene and beautiful that you'll almost forget it was used by Mayans to make sacrificial offerings.
6pm
Alltournative tour ends with drop-off at the Iberostar Cancún
After a full day of learning and exploring, it's time to relax. Walk along the clean beach or sit by the pool sipping bottomless, straw-less cocktails—and soak up the last of the day's Cancún sun.
---
For more on the Iberostar Cancún, visit the hotel's page here. For more on Alltournative, visit alltournative.com.