My wife and I recently spent two blissful nights at the Beverly Wilshire, a Four Seasons Hotel located in Beverly Hills. It's an incredible property with lots of features to recommend it. Here are 15 reasons to stay at the Beverly Wilshire.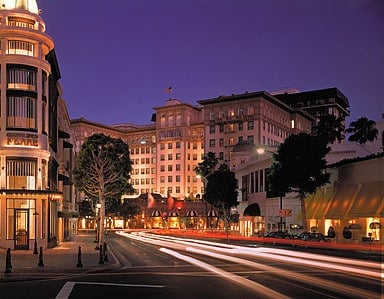 1. It's the Pretty Woman hotel
Even though the movie Pretty Woman came out in 1990, I and everyone else on the planet, still associate the hotel with the movie. Back then it was called the Regent Beverly Wilshire — it changed to the Beverly Wilshire, a Four Seasons Hotel in 1992 when the Four Seasons took over the management of it. They didn't film in the hotel but they did use it for exterior shots and they built sets around the hotel's actual rooms, which have since been updated.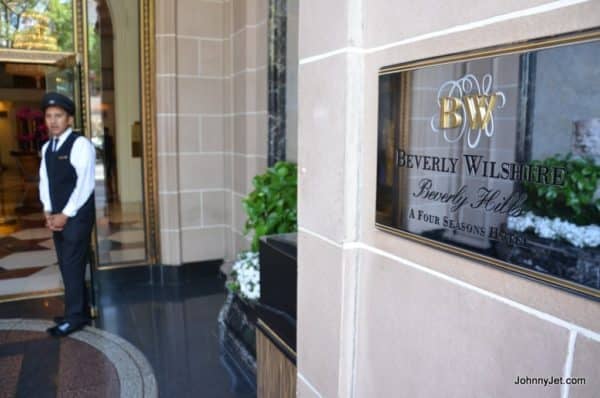 2. History
The 395-room Beverly Wilshire has a lot of history behind it – and I don't just mean that it was the favored hotel of Richard Gere's character in the movie. The Beverly Wilshire Apartment Hotel was built in 1928 and was renamed the Beverly Wilshire Hotel in the 1940s when it was renovated with a ballroom. The hotel has changed hands a few times … in 1958, 1961, 1985, and 1992. Pretty much every Hollywood celebrity and head of State has stayed here from Elvis Presley to President Barack Obama. In fact, Elvis lived in the hotel as did Warren Beatty and John Lennon when he separated from Yoko Ono.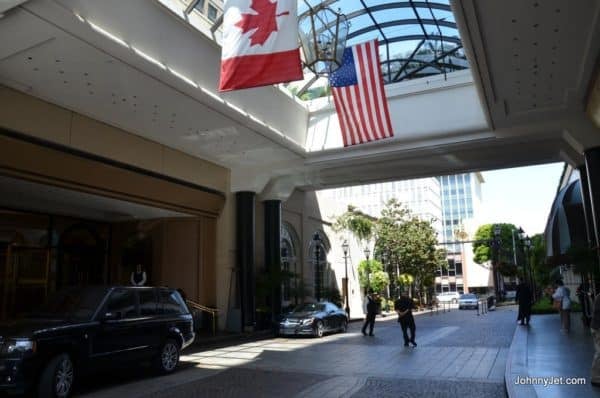 3. The grand entrance
For a city hotel, the Beverly Wilshire, a Four Seasons Hotel has a grand entrance located in between its two buildings in the back. There's plenty of space to alleviate bottlenecks and they have the American and Canadian flags flying high. Four Seasons is a Canadian company so it made Natalie feel right at home even before the bellmen and valets welcomed us.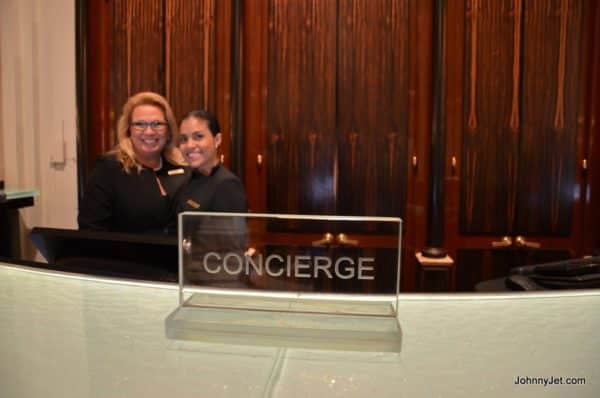 4. Impeccable service
The Four Seasons prides itself on its service and it begins the moment you arrive. Here's an example of how they went the extra mile during our stay. I was going to be on the Home and Family show on the Hallmark Channel. When I noticed the hotel didn't get the channel, I asked the concierge if he had any advice – I wanted to catch my appearance. He began calling the surrounding hotels to see if they could arrange for me to watch it at another hotel. When he couldn't find another hotel that had the channel, he contacted their cable supplier to arrange for me to get it in the room. They made it happen. And the craziest part … my episode didn't air at the times the TV Guide had listed. The good news is that the Hallmark Channel ended up putting two of my four segments online, so I was still able to see them.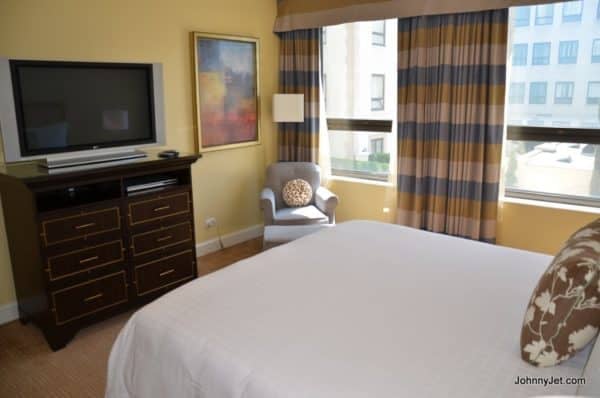 5. A good night's sleep guaranteed
The bed at the Beverly Wilshire, a Four Seasons Hotel was pretty much perfect. It was king size, with a light comforter and high thread count sheets. To ensure a good night's sleep, the curtains have Velcro on the sides so there weren't any cracks of light peeking through in the morning. Why can't all hotels do this?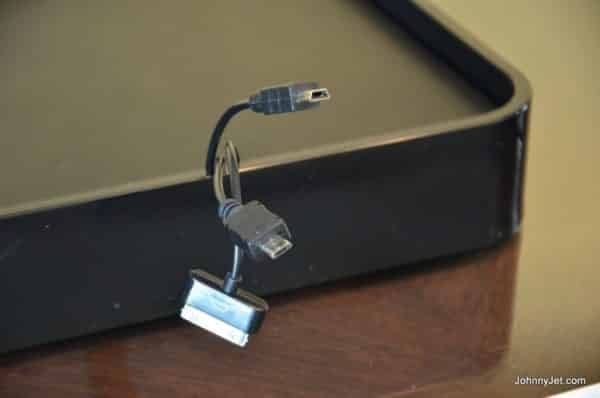 6. Phone chargers
Another feature I really liked was the built-in cell phone chargers on the desk in the office. Natalie and I didn't have to take our chargers out of our bag – everything we needed was right there. There were three plugs and two of them worked with our iPhone and Blackberry. Not sure what the third one fit.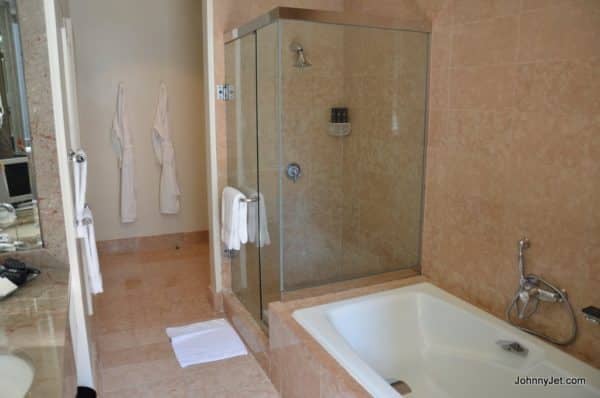 7. Fantastic shower pressure
The marble bathrooms are beautiful but the best part for me was the firm shower pressure. It's also nice to have long fluffy towels and designer shampoos and conditioners that don't tangle Natalie's hair.
8. Free shoeshine
I love it when hotels offer a free shoeshine and it's even more appreciated when you are doing a spot on national television the following day! My dirty shoes were delivered on time and shined so they looked like new.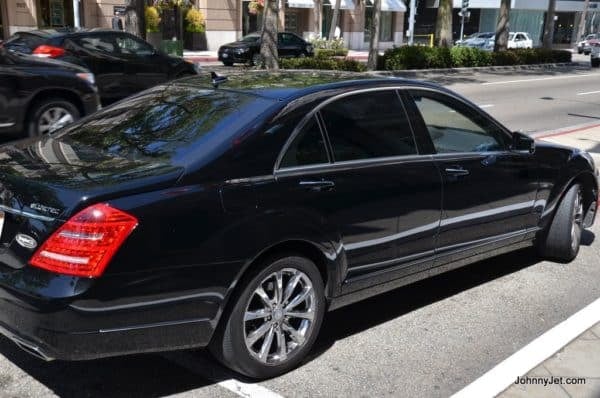 9.  Courtesy car service
The hotel provides courtesy car service in a Mercedes and Rolls Royce on a first-come, firs-serve basis. They operate within a 3-mile radius and generally run between 9:30am and 10:30pm.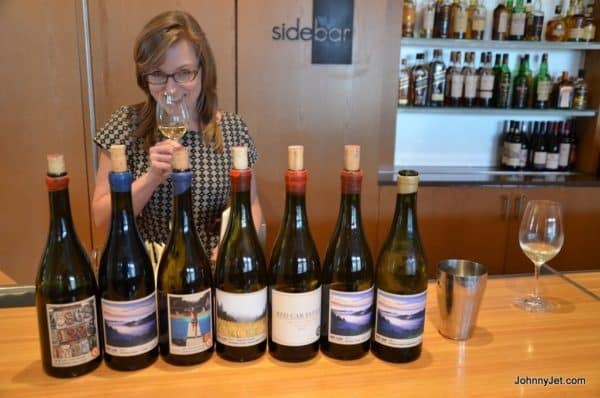 10.  Fine dining
The food in the Beverly Wilshire, a Four Seasons Hotel, is top notch as you might imagine. They have Wolfgang Puck's Michelin-starred, contemporary steakhouse CUT. Then there's THE Blvd restaurant for all-day dining and if you just feel like something light while sharing a drink with someone, Side Bar next to CUT has a small menu of appetizers but a wide selection of wines. There's also the pool café and room service if you need more options!
11. The pool
There's a small Mediterranean-style pool that was modeled after Sophia Loren's private Villa in Italy. As far as pools go, that's pretty cool.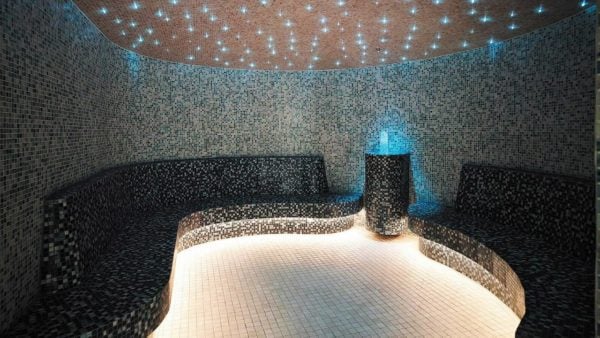 12. Golf Ball spa treatment
In all my years of traveling the world and getting spa treatments, I've never had or even heard of one, which incorporates golf balls to soothe tension. But the 'Tension Reliever' at the Beverly Wilshire does offer this unique method, which focuses on four integral points of relief: warming, relaxing, localized treatment, and enhancing overall flexibility. Cost: 60 minutes – $180 USD; 90 minutes – $275 USD.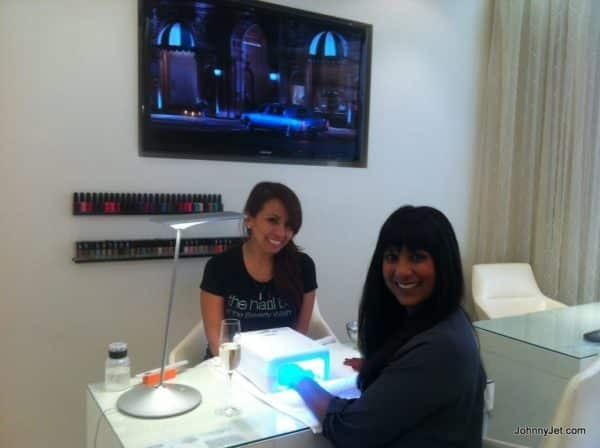 13. Nail Bar
While I was getting the incredible golf ball massage, Natalie was in the hotel's Nail Bar getting a mani-pedi. To her delight, they serve champagne, and the movie Pretty Woman plays on a large flat-screen television in the background during the service.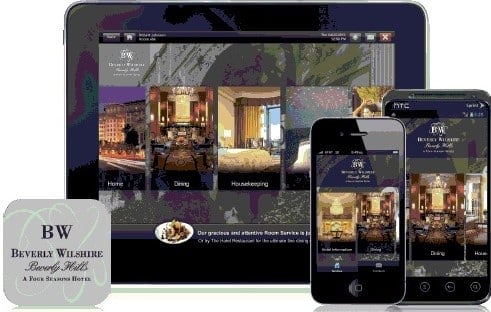 14. The Beverly Wilshire app
I didn't get to test this out but the day we checked out, the Beverly Wilshire launched a new mobile app that offers hotel services like scheduling a turndown service, ordering room service, getting luggage assistance, concierge recommendations, etc. It is available on iPad, iPhone, and Android platforms and it's free. They can be downloaded by visiting the App Store or Google Play on your device. Just search 'Beverly Wilshire'.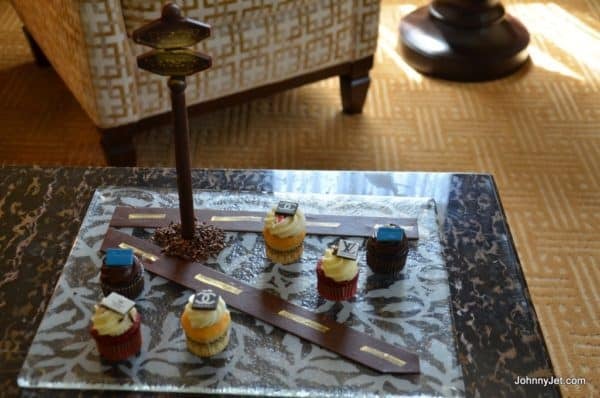 15. Location
Ofcourse, one of the best things about the Beverly Wilshire is its location. It sits at the top of Rodeo Drive so the best shopping in the world is just steps away. Rodeo Drive also has some of the most expensive shops and restaurants in the world but the streets surrounding the area offer reasonably priced food and clothing. We even walked a few blocks to Natalie's favorite cupcake joint, Sprinkles, which is just a short walk away from the hotel.