Visiting the Maldives has long been on my bucket list and the dream came true with an unforgettable 4-day stay at Anantara Kihavah Villas. Located in the Baa Atoll, the resort island was surprisingly larger than I had imagined as I had ogled it online in the weeks preceding our arrival. And from the moment my husband Tim and I landed in Malé, we had to keep pinching ourselves to check that our Anantara Kihavah dream was a reality. Here are 15 reasons why we loved Anantara Kihavah Villas:
1. Location
As one of the lowest-lying nations in the world, the 1,200 islands that make up the Maldives are geographically dispersed over 90,000 square kilometers. Anantara Kihavah Villas is located in the Baa Atoll on Kihavah Huravalhi Island, approximately a 35 minute sea plane ride from Malé, the capital of the Maldives. We loved the feel of being secluded out in the middle of the Indian Ocean, surrounded only by uninhabited islands!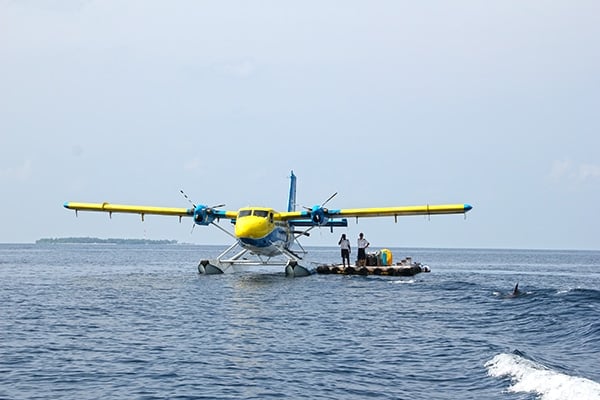 2. Arrival
From the moment we cleared passport control, an Anantara Kihavah representative was waiting to escort us to the sea plane terminal. There we enjoyed refreshments in the Anantara Kihavah lounge while the sea plane was readied.
As we disembarked from our sea plane onto a floating platform and boarded a boat to take us over to the island, dolphins jumped out of the water! Villa hosts were awaiting our arrival with refreshing towels and ice cold bottles of water, before whisking us away to our villas in buggies. Once in our villa, a relaxing foot bath and cool tropical drink awaited us.
3. Over Water Pool Villas
Our villa was set over the sparkling, crystal clear waters of the Indian Ocean. As if dolphins jumping as our plane landed wasn't magical enough, a pod of dolphins welcomed us with more jumps as we stared out from our amazing deck. I could have lived on that deck with its three over water hammocks, a swing as big as a full-sized bed, sun loungers, and steps leading down right into the ocean.  The bathroom was an amazing space with a glass bottom bath perfect for a romantic soak in the evenings, an outdoor rinse shower, and a massaging rain shower. Sliding glass doors opened up to our private infinity pool. I'm rarely a fan of the hotel bed, but I slept like a baby cradled in the Egyptian cotton as the waves crashed up underneath our villa each night.
4. Views
We were met with an endless view of the ocean right from our villa. I hardly wanted to leave the villa, but when we did, we were surrounded by 360 degrees of pristine white sand, coconut palms and mangroves, turquoise waters clearer than any we have ever seen, and other uninhabited islands dotting the horizon.
5. Villa Hosts
Your very own villa host attends to your every need. We didn't call upon Mausool often (what else could you possibly need in heaven?!), but he left his cell phone number should we need him. Each night we would return after dinner to find Mausool had turned down our bed and left us a bedtime snack and bottles of water on our bedside tables. One night we even returned to find a romantic bubble bath with rose petals scattered on top prepared for us.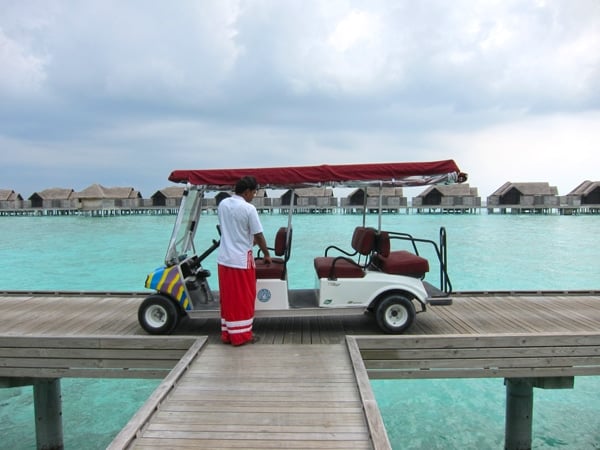 6. Buggies
Villa hosts will pick you up in a buggy, aka golf cart, at your villa if you are too lazy to walk or in a hurry. Never wanting to pry ourselves away from snorkeling right off our deck, we used the buggy service a few times.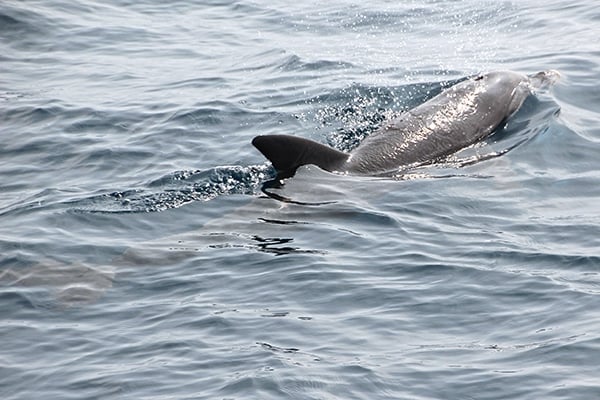 7. Resident Marine Biologist
We were blessed to have Jenny Karmy, Anantara Kihavah's resident marine biologist, join us on a dolphin watching and snorkel excursion. Jenny expertly named all the colorful reef fish for me while we snorkeled on what she dubbed the most beautiful reef in the Maldives.
8. Snorkeling
Speaking of snorkeling, not only did we have a fabulous time on our snorkel excursion, Tim and I took every opportunity to get in the water with our masks and fins on. We had a reef right in front of our villa, where we spotted stingrays, lobsters, stonefish, and a variety of colorful reef fish daily. Another fantastic place to snorkel is the reef between the spa and underwater restaurant, Sea. The reef is situated on a sea cliff that suddenly drops off over 90 meters. We saw sea turtles regularly at this spot and the bigger fish of the deep skirt along the reef.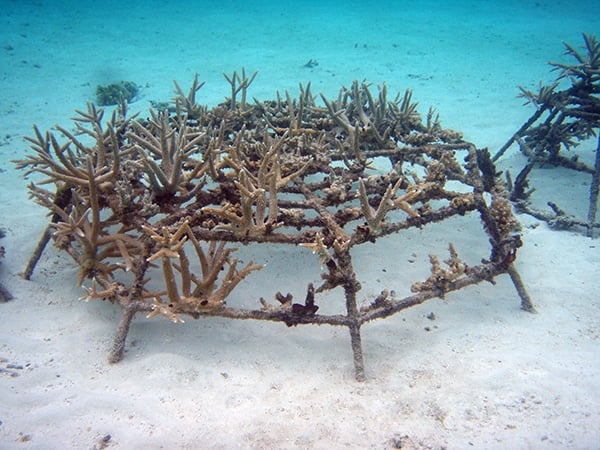 9. Coral Adoption Program
Anantara Kihavah knows that coral reefs are much more than snorkeling spectacles. To ensure countless magical beach vacations just like this one are part of the future, Anantara Kihavah created a Coral Adoption Program. Coral gardens were created by attaching coral to iron frames. Guests can contribute to on-going reef conservation by adopting a coral frame from the resort's website. By purchasing a small frame at $100, a medium frame at $200, or a large frame at $400, you can help save our oceans! Images of the coral are uploaded to Anantara's website every 3 months so that you can monitor the growth of your adopted coral.
10. Green Globe Certified
The Green Globe Certified recognition highlights Anantara's sincere commitment to operating in an environmentally, socially and culturally responsible manner through a broad spectrum of initiatives in the Maldives, and Anantara is proud to be the first operator in the Maldives to have all of its resorts Green Globe Certified.
11. Food
You are on a tiny island, yet Anantara has plenty of dining options to keep meals exciting for the length of your holiday. We tried them all! Our villa was so spectacular that we didn't want to leave it. So we didn't! We called up Mausool, our villa host, to order in-villa dining for lunch on our first day. In no time, he was unpacking burgers and pizza and setting up a lovely lunch for us on our deck. Who needs a swim-up bar when you can have a swim-up lunch?
Breakfast was just about the only time we were keenly aware we weren't the only ones on Kihavah Huravalhi Island. Everyone would converge from their villas for a fabulous breakfast buffet at Plates that had just about everything under the sun: fresh fruit, a yogurt bar with no less than 20 different toppings, freshly baked breads, eggs, and at least three different kinds of curries, to name just a few.
We enjoyed Wagyu beef burgers for lunch on another leisurely afternoon sitting poolside at Manzaru Pool Bar and Restaurant. In the evening, Manzaru turns into a fine Italian dining restaurant with Chef Umberto hailing from Bergamo, Italy.
Anantara's signature Sea.Fire.Salt.Sky. dining complex is a truly unique dining concept of four different restaurants. At Salt, our meals were served in bowls and on plates made of Himalayan salt. And a salt sommelier makes recommendations of various salts to enhance the flavors or each course. At Fire, chefs entertained us with their culinary acrobatic skills as they fired up sea scallops and Wagyu beef on the teppanyaki grill.
12. Sea
Sea, part of Anantara's signature dining complex was so magical, so mystical that it deserves its very on place on my list of reasons to stay at Anantara Kihavah Villas. Lunch under the sea at Sea is an absolute must! A fixed three course lobster lunch is on offer. Lunch is blissfully drawn out so that you can enjoy the reef fish, sharks, and turtles swimming majestically all around. Each table has a book of Maldivian reef fish on it and we had a great time naming the various types of fish that swam by!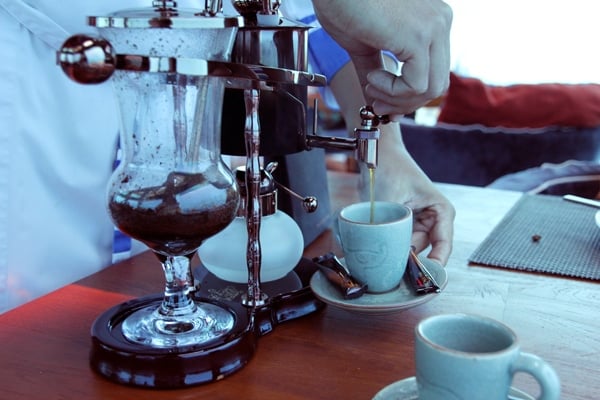 13. The World's Most Expensive Coffee

Only available at a few luxury hotels in remote corners of the world, Black Ivory is something to try at least once in your life. So what makes it the world's most expensive coffee? It is produced from hand picked Arabica beans eaten by Thai elephants and plucked a day later from their dung. The elephants are highly inefficient. It takes 33 kilograms (72 pounds) of raw coffee cherries to produce 1 kilogram (2 pounds) of Black Ivory coffee. The majority of beans get chewed up, broken or lost in tall grass after being excreted.
It far surpassed our expectations and we enjoyed the earthy flavor of the brew, which is sweetened with chocolate instead of sugar and always served black.
14. Spa
Just in case spending your days lazing on white sands and swimming in the warm waters aren't enough to ease your cares away, Anantara Kihavah has an amazing spa. Each treatment room is in its own over water bungalow with glass windows in the floor to watch the reef fish swim while enjoying a variety of treatments. I had a relaxing 90 minute signature massage, and like Goldilocks who searches for a bed that is just right, I found a massage therapist with just the perfect pressure. Post-treatment refreshments are served on a relaxation deck where I watched the sun begin to dip below the sky.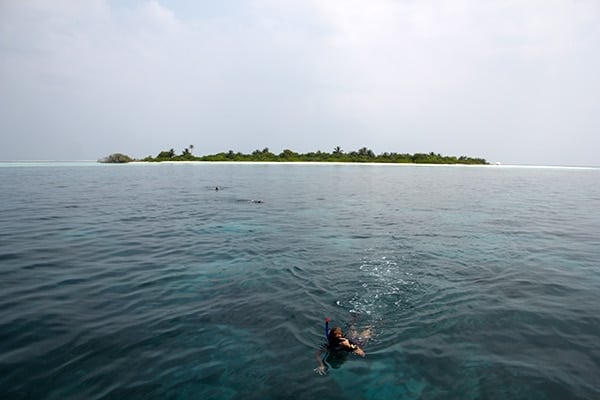 15. Private Island
Despite being on such a small island, we truly felt like we had it to ourselves. But if even more seclusion is your thing, Anantara Kihavah will drop you off on your very own private island for the day. Options include a simple picnic basket lunch or a ritzy beach barbecue. The island is uninhabited with a coral reef ringing around it, perfect for snorkeling.
Know Before You Go
Over water pool villas at Anantara Kihavah Villas start at $2580 per night. There is a mandatory sea plane transfer fee of $500 per person.
The sea planes do not fly in the dark, so if you arrive to Malé in the late afternoon or evening, you'll need to stay the night in Malé.
In case you'd still like to be digitally connected on this island paradise, Anantara Kihavah has free wifi in all villas and throughout the island at the various restaurants and spa.
Note: This trip was sponsored in part by Anantara Kihavah Villas.