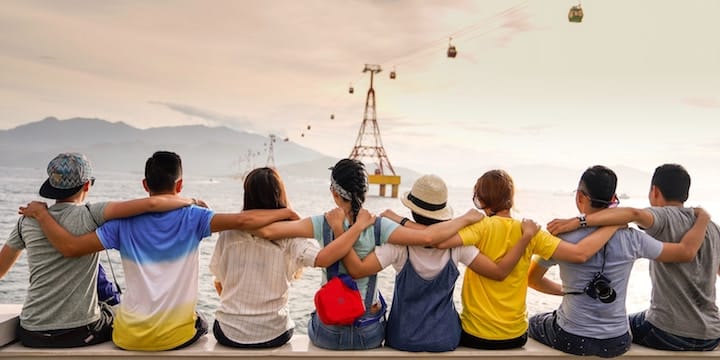 Solo travel can be rewarding, but it can also be intimidating. It can be hard to meet people in an unfamiliar environment, especially on your own. So what can you do to meet people when traveling solo?
For starters, you could try the 14 ideas rounded up in this HuffPost story, published earlier this month. All 14 come from travelers with experience traveling solo (one of them is Alyssa Ramos, featured here). Some of them are common suggestions (like #2: "Consider staying in a hostel or other accommodations with shared spaces"), and some are newer to me. For example:
3. And if you're a woman, you might want to choose a female-only hostel dorm
"I tend to feel a lot safer in such rooms, and they're generally cleaner, calmer and more communal. There's also a higher chance to meet other solo female travelers or female friends who are traveling in small groups who you can connect with and plan a day's itinerary with. Some of my most memorable and fascinating solo travel friendships came out of these rooms." ― Atikah Amalina, The Tudung Traveller
4. Sit in public or common areas when you're reading, journaling, eating or having coffee
"To make new connections with new people, you have to make yourself available to be connected with. This can be done by just having a coffee at a local coffee shop, reading down in the hotel lounge or eating in the hostel communal kitchen. I have made a lot of friends this way. It starts with a friendly smile, then a conversation and next thing you know, you are road-tripping with them two years later when they come to visit you. Now you know that people that sit in social areas often wouldn't mind making a new friend either." ― Eamon Wood of the Wayward Wheeler
…and…
11. Use an app like Tourlina to connect with other female travelers
"Looking for awesome women to hang out with if you're a solo female traveler? Tourlina is just like Tinder, but only for making friends who are local or traveling too! You can see if you have similar interests, match, then take it from there." ― Alice Teacake of Teacake Travels
12. Sign up for a nightlife tour
"This allows me to have a drink or two with a group of people and better scope out my surroundings to see where I feel safe and comfortable. It's also easy to make new friends on the tour who'll let you accompany them after the official program ends." — Jen Ruiz of Jen on a Jet Plane
For more on meeting people while traveling solo
See all 14 tips in the full HuffPost story here.
---
Have your own tip? Email it to whitney@johnnyjet.com!
Want to see more tips? Click here for all 1,560!
Want even more travel tips? Sign up here for the Daily Travel Tip newsletter! Enter your email address and check "Daily Travel Tip" to receive Johnny's best tips in your inbox each day!
If you already subscribe to our weekly newsletter, you can sign up on the same page. Just fill in your email and check "Daily Travel Tip" on the same page. You'll receive an email with a link to update your JohnnyJet.com preferences. On that page, just click the Daily Travel Tip box and Update Profile.