I just returned from a safari tour of Uganda and Rwanda, my third trip to Africa. Below, I share some essential tips I picked up to help anyone thinking of planning a safari in East Africa in the near future.
1. You'll probably need a visa (and you can do three countries in one)
You're going to need a visa to visit any of the countries in East Africa (Kenya, Tanzania, Uganda, and Rwanda). If you're visiting South Africa you won't need to apply for a visa if you're from the U.S., Canada or most European countries. If you're going to visit more than one of Kenya, Uganda and Rwanda in one trip, it's likely cheaper to apply for an East Africa Tourist Visa that will allow you to visit each of the previous mentioned countries multiple times over a 90-day period. A few things to know about the East Africa Tourist Visa:
Apply for it online to save a lot of time.
You need to apply for the visa in the country you first arrive in (not transit through).
You don't need to bring all the document scans the letter says you have to; you just need the letter itself and your passport. When I arrived the immigration official only wanted the letter that was emailed to me and my passport.
Carry a few extra photocopies of your passport with you. There are many times you might be asked to provide your passport for ID, and I found in most cases that photocopies were accepted.
2. You'll need a yellow fever certificate
You absolutely need to have a yellow fever shot certificate, even though Kenya, Uganda, Rwanda, and Tanzania focus this scrutiny on travelers from countries with risks of yellow fever. If you had the shot years ago, hopefully you didn't throw away or lose the certificate proving it. It used to be that the certificate was valid for only ten years, but the World Health Organization has declared that the shot is good for life, which is great because the shot is not cheap. It can be $350 or more, so hang on to that certificate!
Here are the CDC pages (which list yellow fever vaccination requirements) for all four countries:
3. You'll probably need malaria pills
It's essential you take malaria pills in the game reserves of East Africa. Nearly three-quarters of a million people die of malaria every year! Some people gamble that they don't need to take the pills and come back fine. Then again, some people play Russian roulette.
Bonus tip: The pills are generally expensive, but you can take a "generic" version with exactly the same medicine as the name brand for considerably less. Ask your pharmacist.
4. You should bring cash or get it at the airport
I was warned that East Africa consists largely of "cash" societies. Credit cards are less widely accepted in Uganda and Rwanda than they are in other African countries. On my recent trip, one hotel I stayed in only accepted cash. The good news is that while local currency is accepted everywhere, nearly everyone prefers American dollars. Many ATMs in Uganda have the option to dispense either shillings or American dollars. The bad news is many of the ATMs are often out of money, so you might spend a lot of time running between banks trying to get cash. My recommendation is to get your cash out of the ATMs at the airport where you will have several machines to choose from. If you're thinking of actually using a bank be prepared for a long, long wait.
Bonus tip: Take at least two different ATM cards with you, and make sure they're ATM Visa cards and not just plain ATM cards without a chip. Without a chip, they won't work (trust me). And if your bank requires you to inform them that you're traveling, make sure you let them know or your card may be rejected.
5. You should budget for permits
When you're pricing out your safari, don't ignore the cost of permits, as they can really add up. A one-day gorilla permit costs about $650 in Uganda. Rwanda just raised their gorilla permit to $1,500, and chimpanzee permits cost $100 each. On my recent trip, the total for permits was over $1,000! (I did not opt for the gorilla experience in Rwanda. I took the cheaper golden monkey option.)
6. You'll need clothes for all seasons
You're going to need clothes for all seasons. I went from blazing hot in the lowlands near Entebbe, Uganda, to needing a fire and room heater in the mountains near Bwindi's Impenetrable Forest (also Uganda). It's recommended that you bring clothes suited for hot humid climates: cotton shirts that wick moisture and light nylon pants. I found a pair of nylon cargo pants that converted into shorts useful. You definitely need long pants for trekking in the jungle, but not so much when you're sitting in the vehicle on a game drive. Depending on the season you'll need good wet weather gear (or at least throw a couple of disposable ponchos in your pack).
Bonus tip: I bought most of my safari clothes second-hand at a value village for a fraction of what they would have cost new. Most didn't look like they'd ever been worn. Now that the safari is over I'll send them back.
7. If you're hiking, good hiking boots are essential
I can't emphasize how important a good pair of ankle-high hiking shoes is. One woman in our group tripped over a root and broke her leg. I'm convinced that if she'd been wearing ankle-high boots, the damage wouldn't have been nearly as bad.
Bonus tip: Wear your hiking boots on your trip to Africa or carry them in your carry-on. Most of your other clothes can be replaced (or borrowed) if the airlines lose your luggage, but it's almost impossible to find a good boot replacement at the last moment.
8. You should keep an eye on your valuables
This depends on where you're staying, but it's good practice to watch your valuables away from home. Try to make sure you have a safe in your room. If not, use the safe at the hotel reception. On a previous trip, one couple had their possessions robbed from their hotel room and it wasn't a pleasant experience. If a safe isn't a viable option, keep your valuables in a daypack that never leaves your sight.
Bonus tip: Don't wear your pack on your back. It's too easy for busy little hands to work unseen. Wear it in the front.  
9. You'll want to use manual focus on your camera
Because the animals you'll see are out in the bush, if you have your camera on automatic focus you'll find your camera tries to focus on a leaf or branch instead of the animal you're framing. Disable your autofocus and use your manual focus!

Bonus tip: Consider renting a lens!
10. A layover is a great idea
Build a layover into your trip! It's a long, long trip from North America to East Africa. Twenty hours at least! This is a trip of a lifetime, so try to arrive fresh. I built a one-day layover in Europe into my journey. I stayed in a nice hotel by the airport that included a free shuttle and a great breakfast for less than $150/night! A small price to pay for the benefits I got.
11. A travel agent can be a difference-maker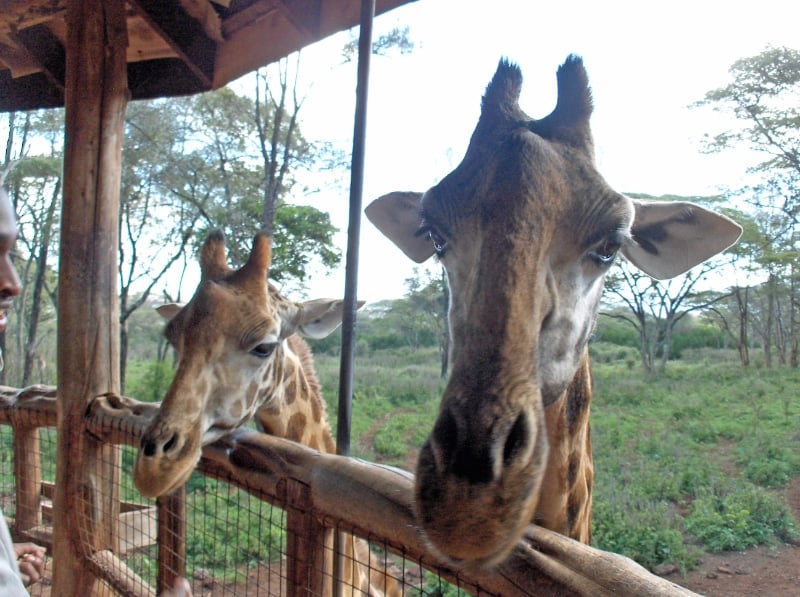 Finally and most importantly: Find a good travel agent who specializes in Africa. I prefer to work with a travel agent in my own country who has suppliers in the area I'm planning to travel around. The best thing about working with a travel agent is that he or she looks after all the nagging details. If something goes wrong on the ground, you can deal with just one person in getting it resolved, and that person is often in the country you're visiting.
Bonus tip: For my most recent trip, I worked with AfricanMecca Safaris, which has offices in the US and England and works with Great Lakes Safaris, which has offices East Africa. There are several reputable companies around. Spend some time checking them out online in advance.