1. Do your homework before selecting an expedition company
I traveled with Lindblad Expeditions on the vessel National Geographic Explorer and could not have been happier with my experience. This selection process is extremely important since you will be traveling to an area of the world that is not easy to navigate. You want to get the most out of your trip so you need an experienced captain and excursion leader to make this happen. On my trip, Captain Oliver and Lisa Kelley (excursion leader) worked tirelessly to keep us safe and provide us with a trip filled with the maximum time out in the zodiacs and on land getting up close and personal with the wildlife.
2. Don't hesitate to make this trip solo
I walked away with some wonderful friends that I started making in the airport while on a layover in Miami. Lindblad will book your flights for you or make suggestions of flights that will get you to the initial meeting location. They also send luggage tags, so be sure to put one on your carry-on bag so other travelers can spot you. You should look for them, as well. Doing so helped the group spot each other; we spent our layover getting to know each other and sharing in our excitement for our upcoming adventure. Definitely the most fun I've ever had at the airport!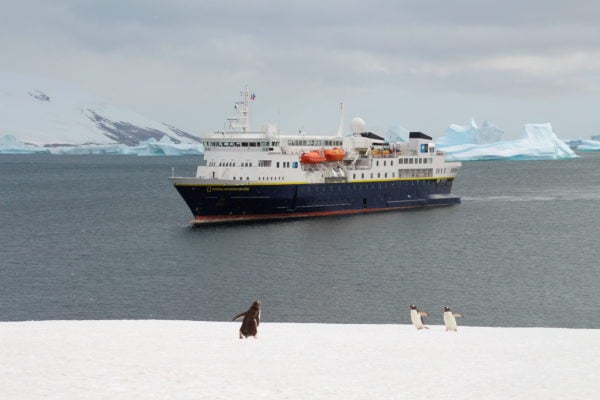 3. Get an individual cabin
If you're traveling by yourself I highly recommend you spend the extra money to reserve an individual cabin. I made the mistake of going the roommate route since at the time, it saved me close to $5,000 and I thought it would be a good way to make a new friend. I did meet a lovely woman, who as part of her introduction informed me that she snores. I am happy to report that after not sleeping for three nights, I took my dilemma to the ship's hotel manager, and within 24 hours they were able to switch me to another room. I was very lucky they had the space to make this happen and the desire to provide me with excellent customer service. If you choose to go with the roommate option, book your trip a year in advance, as they do not have too many shared rooms on the ship and they fill up quickly.
4. Bring seasickness remedies
Dealing with sea sickness:  I took non-drowsy Dramamine before going to bed for about the first five nights and then once more when we hit some rough seas towards the end of the trip. The ship has a physician onboard and there is always some medication available at the front desk if you need it, but if you know you get seasick, bring whatever works for you with you.
5. Follow the packing list you're sent
If you're a snowboarder or skier you already own most of the clothing you will need. I really liked wearing mittens with lighter weight gloves underneath. I would take the mittens off and still have my hands protected while taking pictures—which I took a lot of! I was in Antarctica in February 2015 and it was actually colder in NY the whole time I was there. We had temperatures in the low-to-mid 30s.
6. Bring extra camera batteries
Make sure you have multiple batteries since they don't last as long in the cold weather. I also recommend bringing a 16-300 mm lens or something similar. Even though you sacrifice some quality with such a wide range lens, when you are shooting wildlife it can make the difference between getting the shot or not.  One afternoon we were lucky enough to have a male orca whale swimming under the bow of the ship. He was so close that if you had a long-range lens on your camera, you could not get the whole whale in your frame. I was able to get some fantastic shots with my 16-300 mm lens!
7. Have a camera ready to go at all times
More than once an announcement was made overhead by the captain or the excursion leader saying they had spotted killer whales, leopard seals or a beautiful location, such as Elephant Island, that you didn't want to miss.
8. Store your own wine
We met the National Geographic Explorer in Ushuaia, Argentina and had some time to explore the city prior to our departure. Not knowing what the rules were yet for the dining room, three of us took a chance and each bought two bottles of wine to take back to the ship while in Ushuaia. As it turns out, the staff were happy to open any bottle of wine you brought to dinner and serve it to you but they would not store it for you. Hindsight being 20/20, we should have bought a lot more wine in town! Keep in mind you need to find a safe place to store it since you never know when the sea is going to get rough. One night my friend took a half-full bottle of wine back to her room and it went rolling across the room when we hit a storm. Luckily the bottle survived!
9. Spend some time in the country of your meeting location
For my trip it was Argentina. Lindblad organized a bus tour of Buenos Aires (BA) on the afternoon we arrived, which was a great way to see the highlights of the city and gave us a chance to walk around a very impressive cemetery that included the mausoleum of Eva Peron. After disembarking from the ship in Ushuaia, we returned to Buenos Aires via a Lindblad charter flight and I stayed overnight before heading to Mendoza to do some wine-tasting. I had a fantastic time in Mendoza, a beautiful city that I felt comfortable exploring on my own. I spent one more day in BA prior to heading home, so I could do some more exploring and see a tango show. I used the company Exploration Journeys to organize my travels after completing my Lindblad journey. Exploration Journeys is better for small groups traveling together. They set me up in beautiful hotels, arranged all my flights and excursions, and provided me with a great tour book for Mendoza and BA. I would have preferred to be on a group tour so I could meet more people, but Exploration Journeys did arrange a fantastic trip for me.
10. Go beyond Antarctica
Don't just go to Antarctica; take the 23-day trip that includes South Georgia Island and the Falkland Islands. For as beautiful and amazing as Antarctica is, South Georgia Island is even more spectacular. The King penguins alone are reason enough to go, but we had the bonus of elephant seals, fur seals, right whales, pilot whales, hourglass dolphins, some of the most beautiful seabirds I've ever seen, and so much more!
---
For more on travel to Antarctica (and beyond) with Lindblad Expeditions, visit expeditions.com.