My Mendocino abalone diving adventure started with a drive from San Francisco International Airport (SFO) to Mendocino—which was one of the most stunning drives I have ever experienced. I lucked out on the weather and drove out of the city through sun-kissed hills that rose off the bay and up onto the swerving roads encompassed by trees that dappled my path with playful shadows. The road eventually led out to the graceful landscape of golden fields and layers of vineyards as I came into Sonoma wine country. My surroundings were so stunning that I decided that the next time I make the four-hour journey, I will set aside a full day and stay overnight at one of the many inns along the way and perhaps take in some wine-tasting before hitting the coastline. The end of my journey was enshrouded by Sequoias. The road took on a fairytale feeling of towering majesty and pine that swept open to the expansive coastline and sheer cliffs of the Pacific.
The Little River Inn (built in 1857) is set directly on North Highway One, a few miles outside of the charming town of Mendocino and just around the bend from Van Damme State Park. Pulling up felt familiar, almost as though I was visiting a dear friend or family member, and that set the warm and inviting precedent for the entire experience. The inn is ingrained in local history and is still run by the family that started it five generations ago. It's beautifully managed. Every room features a view of the ocean and modern amenities and is kept with care and thoughtfulness. The place features a chef-run restaurant, a fantastic bar that has changed little since 1939 (you can whale-watch from the bar; they provide binoculars), a spa, a golf course, and even a cottage that sells yarn of every type called the Mendocino Yarn Shop (they teach knitting and crocheting as well).
The diving camp takes place over two days. The first day is a practice run and includes some "classroom" time with the experts from TritonX—licensed guides Josh Russo, Greg Fonts, and Greg Shimaura. Many may wonder why a guide is needed when there's freediving just off the coastline. If it's your first time freediving, instruction is a must. It's a whole new ballgame from diving with tanks, as you are relying on specific breathing technique and body control—and the waters can be unforgiving. This is not a hardcore-adventure-travel-type of thing to take on, but it's definitely not for wimps. I grew up diving, to include freediving, but I was very grateful to have some of the world's best freedivers guiding me through every procedure, safety, and the laws of hunting abalone (yes, they are stringent and the coastline is heavily watched by wildlife officers).
Once you're back from Van Damme Beach you have the option to learn how to clean and prep what you caught for the day. Having chef Marc Dym on site was a treat, as we also learned the different ways to prep abalone steak and enjoyed a beautiful meal created from our catch. The accompanying wine from Mendocino was a big bonus, and no matter where we were on the property there never seemed to be a lack of stunning views. In a short space of time it was easy to create friendships, and I have every intention of returning.
Here are ten things to know before you go: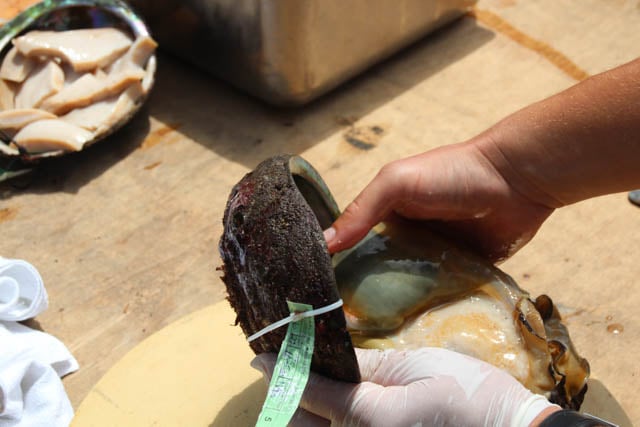 1. You need a license
You must have a State of California Department of Fish and Wildlife fishing license for the days you are hunting abalone. This is to include a Report Card that lists what the details of what was caught, where, when, etc. You can obtain a license from the CVS in Ft. Bragg, a short drive from prime abalone hunting off of Van Damme Beach. You can order them in advance through the CDFW site, but keep in mind delivery may take up to two weeks.
2. The Little River Inn
There are several places to stay, but I highly recommend Little River Inn. It's been family-owned for five generations, and every room has a knockout view of the ocean, and you are treated like welcome family.
3. Wet suits should be 7 mm thick
If you bring your own wet suit, it should be at least 7 mm thick. The water is cold, even in the summer months. It should also include a hood, booties, and gloves.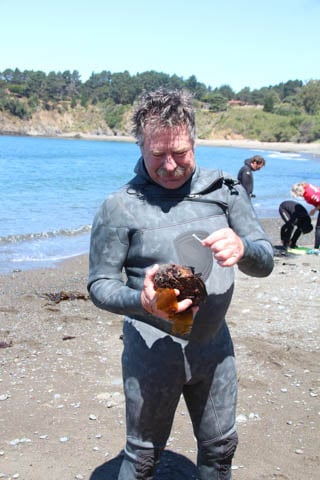 4. Know the rules of how many abalone you are permitted to pull
This season on the California North Coast the annual limit is 18, but only a total of nine can be taken from Sonoma and Marin Counties. It may not be obvious, but you are being monitored and it's not unusual for the wildlife rangers to do a license spot check.
5. Whale watch at Ole's Whale Watch Bar
If you haven't had enough wildlife after your dive, the best place to get a drink and whale watch at the same time is Ole's Whale Watch Bar, which is conveniently in the Little River Inn. They even provide the binoculars and the bartenders are excellent.
6. If you fly into San Francisco, rent a car and make a day of the drive
The scenery coming out of the city into Marin County and then through the vineyards of Anderson Valley is stunning. You end up on a road winding through striking redwood forest that opens up to a coastline like no other.
7. Forget something? You can pick it up in Ft. Bragg
If you forget anything Ft. Bragg is a short drive away from the primary diving spot of Van Damme Beach and is full of modern conveniences.
8. Take some time to visit the town of Mendocino
It's quintessentially California quaint, with Victorian houses and lovely cafes set on the wild coastline of the Pacific.
9. Go with professional divers…
…especially if you are remotely new to free diving. This is not a sport to be taken lightly, and even in shallow depths there is opportunity for bad things to happen. Being taught the right way to dive and harvest abalone is imperative not only to personal safety, but also to the future of the abalone population.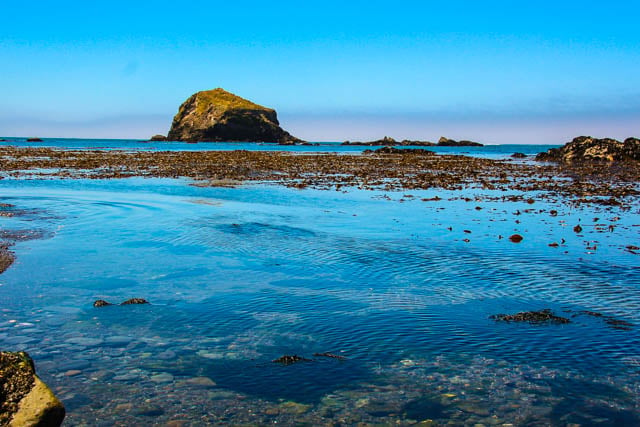 10. Sign up for Abalone Camp
Make your experience streamlined and sign up for Abalone Camp or another of Little River Inn's abalone diving options that include accommodation, gear, meals, and world-class freediving guides. The Abalone Camp package starts at $393. It's a fun and social way to enjoy learning how to catch, clean, and cook abalone—all while under the care of professionals who love what they do. There is also an Abalone Adventure at the Albion Schoolhouse package available August 1 – November 30, 2016. The package starts at $4,000 for six people. Reservations are based upon availability and require a 14-day notice.
---
To book a stay or an abalone-diving package, visit littleriverinn.com or call 888-INN-LOVE (707-937-5942).