Maybe you thought the Canadian prairie was no man's land. Or that the Canadian heartland had nothing more than agriculture and decent, hearty folk making a living off the land. But oh, you'd quite wrong. Saskatoon, Saskatchewan, is a perfect example of how Canada's central provinces are reinventing themselves for the 21st century. Take a look at these 10 examples of foodie heaven in Saskatoon, a city of contrasts blending historic pride with a unique twist on Nouveau Canadian cuisine:
1. The Hollows
As it should, any visit to Saskatoon begins at The Hollows, which has taken up shop in the up-and-coming Riversdale neighborhood. This kitschy establishment has converted a former favorite Chinese restaurant among locals to a new-age foodie heaven complete with expertly trained chefs.
Almost every ingredient is sourced locally (there's a butcher shop underneath the dining room where nothing goes to waste). Even the hand soap in the bathrooms is an achievement for resourceful chefs Christie Peters and Kyle Michael, who found a way to reuse animal fat productively. The restaurant has a horticulturist on staff responsible for managing the hydroponic garden to ensure a constant supply of fresh produce.
Three meals a day are served here, including a popular dinner tasting menu with wine pairings. Dishes include chilled tomato soup, watermelon and olive oil; potato gnocchi with wild mushrooms and herb cashew pesto; and citrus-cured trout with avocado and crème fraîche. And, of course, there's poutine (a Canadian comfort dish of fries topped with curds and gravy).
Don't be put off by the rather plain neighborhood. This is one of the most exciting rebirth stories in town.
2. Riversdale Deli Charcuterie
Another favorite in the neighborhood is Riversdale Deli Charcuterie, which boasts a brick pizza oven and fresh Italian ingredients flown in from Europe. Artisanal cheeses, authentic Parma ham and Mortadella Leon are all on the menu. Diners here are in for an epicurean adventure thanks to some of the imported goodies here.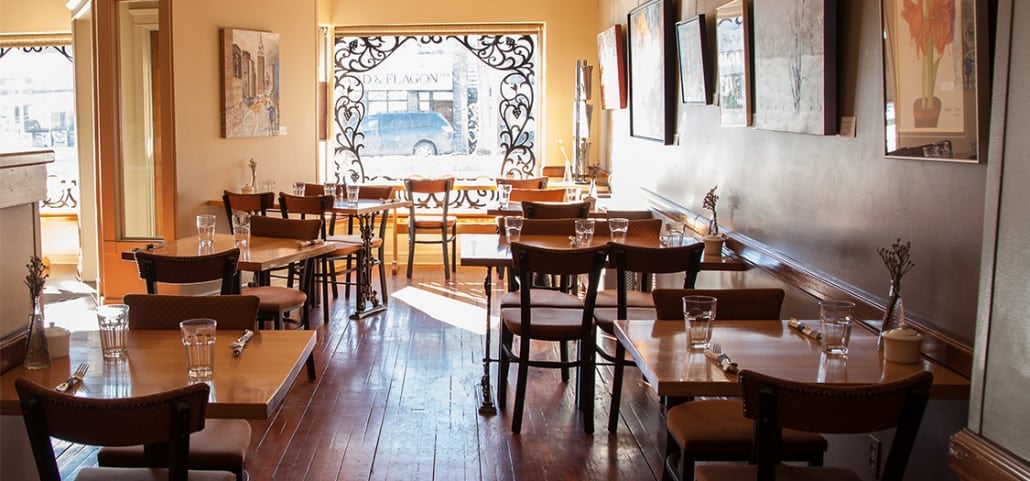 3. Calories
Calories keeps its surprising name without worry thanks to its highly innovative and local farm-to-table menu from its creative chefs. The culinary team makes its own sauces, soups and stocks from scratch. This nationally recognized bistro and pastry shop, the first non-smoking restaurant in town, serves favorites like wild Saskatchewan trout filet, grass-fed local chicken with vegetable skewers, and locally foraged wild mushroom ravioli. The organic Thai tofu is an especially popular menu item, as are the daily frittata specials.
4.Truffles Bistro
Dinner at Truffles Bistro downtown is a cozy experience featuring a hearty, regional menu of local cuts of beef, fresh fish and handmade pasta. Chef de Cuisine Lee Helman produces all of the restaurant's sauces, bread, pastries, and stock in house. The restaurant is located in the historic Birks building downtown and features a unique European vibe, although the menu ingredients are sourced as much as possible from Saskatchewan.
5. Ayden Kitchen & Bar
Ayden Kitchen & Bar, another downtown favorite, dishes up modern Canadian comfort food in a slick and trendy dining room. Chef Dale MacKay is a Saskatoon local and was the winner of Top Chef Canada in 2011.
Everything from homemade charcuterie platters prepared from the on-site custom butchery to farm-to-table vegetables to meat from local farmers is prepared in its bright and open kitchen. Don't forget to box up any leftovers or order some take-away pastries!
6. Three Farmers
The entrepreneurial spirit is alive and well in Saskatchewan with local producers starting their own food businesses. With a median age of 34.5, the youthful energy has caught on rapidly. Many restaurants in town make an effort to focus on local cuisine and experiences, often using products made by area businesses.
One of the latest stars from the province is Three Farmers Camelina oil, which is making its way into restaurants and food stores across the country. Family-owned Three Farmers quickly discovered that the production of camelina makes a tasty oil that provides intensely nutritious elements while also adding to the flavor profile of numerous dishes. The company appeared on Dragon's Den (the Canadian version of the US program Shark Tank), which helped them to quickly gain fame.
7. Hanes Hummus
Another local success story is that of Yohannes Petros, who, in his own kitchen, began blending his own types of hummus. Friends started going crazy over how delicious his products were and encouraged him to go public. Now known as Hanes Hummus, he's now moving products served in various restaurants and sold in stores and online. The roasted garlic and dill hummus is amazing!
8. Thrive Juice Co.
Pairs of friends doing business together is common in Saskatoon. Another creative duo, friends since childhood, launched Thrive Juice Co., the city's first raw, cold-pressed juice bar serving up raw and nutrient-dense concoctions. Thrive is located in up-and-coming Riversdale, like The Hollows. Delicious pairings include kale, spinach and apple and cashews, hemp seed and vanilla bean. Other tasty concoctions include organic, fair-trade chocolate and granola bars, fresh smoothies and even juice cleanse packages.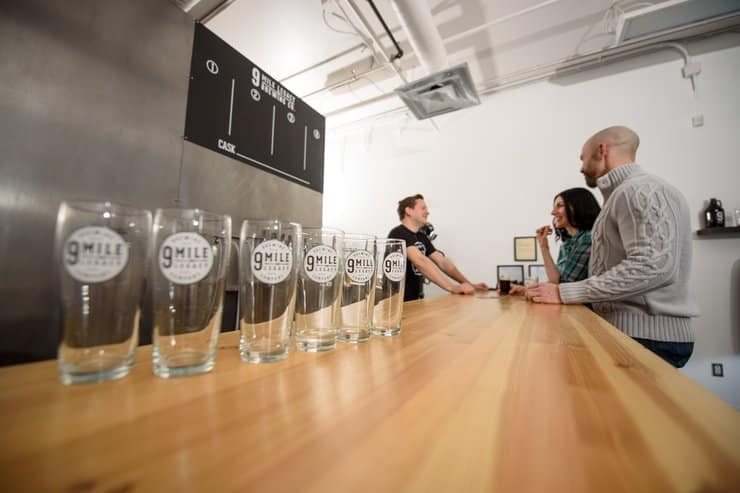 9. 9 Mile Legacy Brewing Company
Another set of two friends launched 9 Mile Legacy Brewing Company after tiring of their corporate jobs. 9 Mile is the first nanobrewery in town and is known for its unique brews. You may be wondering what a nanobrewery is. Well, like its name suggests, it's smaller than a microbrewery. These guys literally produce some of their beer in a storage closet.
10. Lucky Bastard Distillery
Lucky Bastard Distillery bottles liquor and spirits in its quaint microdistillery and has become well-known across Canada for its tasty concoctions. Its name was chosen carefully, as one of the two owners actually won the lottery! Today, they use local, organic fruit in many of their products and handcraft their own whiskey, bottling it only after it has aged in charred oak barrels for a minimum of three years. Their gin uses botanicals including the immensely popular Saskatoon berry, a tart fruit often used in cooking.
Tip: Many of these products are available at the Saskatoon Farmers Market located in a former electrical garage, now transformed into a public market.
Tip: As seen at Lucky Bastard, Dill pickles are a common ingredient in provincial cuisine. There's even a tasty dill pickle popcorn salt!
---
Saskatoon: The "Bread Basket of the World"
Saskataoon lovingly refers to itself as the "Bread Basket of the World," a tribute to its rich farmlands and history of growing grains. Suddenly, it seems, Saskatoon is the epitome of locally sourced creativity and culinary prowess, and the city proves to be a shining example of how people can put their good ideas to work. Surrounded by parkland trails in the heart of a fertile river valley, the city is experiencing a renaissance that's capturing attention from all corners of the continent. Community gardens abound, a new modern art museum of national renown is nearing completion, community-wide festivals take place regularly, and cooperation among chefs and restaurateurs is the norm.
Come to Saskatoon hungry, and you won't leave disappointed.