I'm a travel lover, not hater and I love Sin City. But at the same time there are 10 things I hate about Las Vegas and here they are, in no particular order. You'll have to let me know if you agree or disagree in the comments.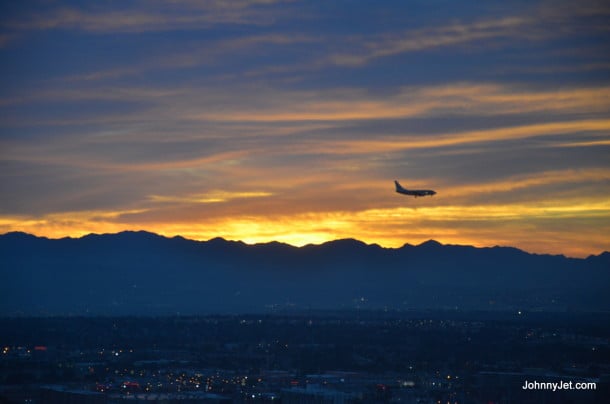 1. Bumpy flights
When the temperature rises in the summer, especially around 100F (38C), descending into Las Vegas is no fun. My advice is not to eat anything that's likely to upset your stomach. And look out the window at the horizon for the last 12 minutes or so, so you don't feel nauseous.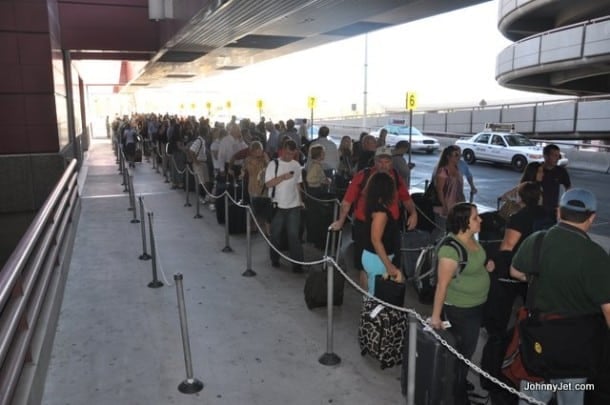 2. Long taxi lines
The moment you land in Vegas you will surely be greeted by a long taxi line to leave the airport. Get used to it because pretty much every hotel taxi line will be the same. Leave plenty of time to get to your destination.
3. Traffic/Taxi Drivers
Vegas has terrible traffic and most of the taxi drivers I've had try and take me the long way from the airport to the hotel. If you want to save money, tell them that you want to take the surface streets, not the freeway. But if you are pressed for time and don't care that your ride may cost $6+ or more, then tell them whatever is quicker.
4. Taxis charge $3 for paying by credit card
I'm so sick of falling for travel scams and I learned about this one the hard way. If you pay for your taxi ride by credit card, you're charged a $3 fee and the drivers don't disclose this in advance. The city of Las Vegas should make the company that owns the machine (VeriFone), change the wording from 'voucher' to 'fee' (see photo above).
Travel tip: No matter where you are in the world, be sure to ask if there's an extra charge for using your credit card because I know they do this in England, too.
5. Long check-in lines
Every time I stay at one of Vegas' large hotels, there's a long line that snakes around the corner. I usually end up waiting at least 30 minutes but it feels a lot longer since I'm usually in a hurry to meet friends, work or go to the loo. I do know that these hotels have a ridiculously high number of rooms but that's all the more reason for them to ensure more employees are staffing the check-in desks or offer keyless check-in.
6. Resort fees
Every traveler I know despises resort fees – myself included. I think it's a travesty that hotels can get away with charging a mandatory nightly surcharge to cover the cost of certain amenities, regardless whether you use them or not. The worst part is that most of these fees are unadvertised and travelers don't find out until they check in.
When it comes to Vegas, there's not much you can do about this except try to book hotels that don't have resort fees or choose another destination since only a handful of Vegas hotels don't have a resort fee.
Basically, you should just be prepared to shell out an extra $5-$25 a night. Here's Vegas Chatter's comprehensive guide to all of the resort fees in Las Vegas and what they'll get you in return. Use this information before booking your trip.
7. The water tastes like rotten goat cheese
OMG – Las Vegas is so dry and I'm always parched. The one free bottle of water that some hotels leave in the room lasts me five minutes and drinking the tap water tastes disgusting – like rotten goat cheese. I don't know how it's even safe to drink in the first place. Instead of shelling out $5+ for a bottle of water from your minibar or buying one for almost the same price in the hotel's gift shop, walk to one of the chain pharmacies on the strip. I was staying at the Aria and there was a CVS and a Walgreens just a couple (long) blocks away. At Walgreens, a gallon of water costs just $1.99.
8. Minibars have sensors
Most Vegas hotels have those evil mini bars where, even if you just pick something up to read the ingredients, you are automatically charged .. and the prices are not cheap. Advice: When you check out, go over your bill carefully and if you've been wrongly charged, dispute it before leaving the hotel.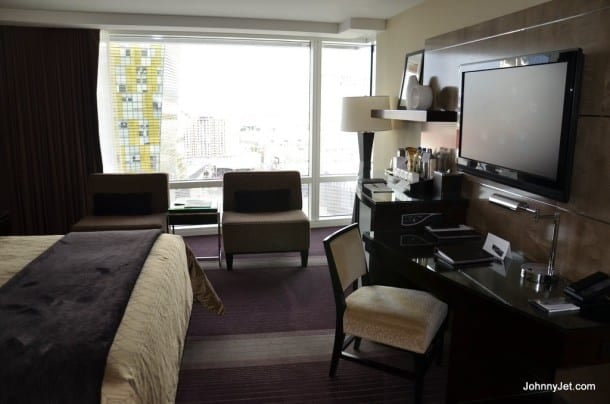 9. There's no fresh air
I love many Las Vegas hotel rooms but I don't like the fact that you can't open the windows – not even a crack to get some fresh air. When I was walking out to get some water, the person walking next to me exclaimed, "FRESH AIR!!" after she walked through the doors for the first time in who knows how long.
10. The pools are disgusting
When it's 100+ degrees out I'm betting one of the first things you imagine yourself doing, after checking into your room, is donning your bathing suit and going for a quick dip, right? Wrong! Unless you're staying at one of the quiet exclusive hotels, chances are your hotel pool is going to be filled with rowdy drunk dudes who are all competing for the one pretty girl who isn't hired to be there. The worst part is that these guys don't want to miss their chance of scoring so I suspect they aren't bothering to get out of the pool to relieve themselves properly. Eww!
Don't get me wrong, I love Vegas for a couple of nights but there are some things I just despise about the place. Do you think I'm overreacting or do you agree? Would you add anything else to this list? Let me know in the comments section below.