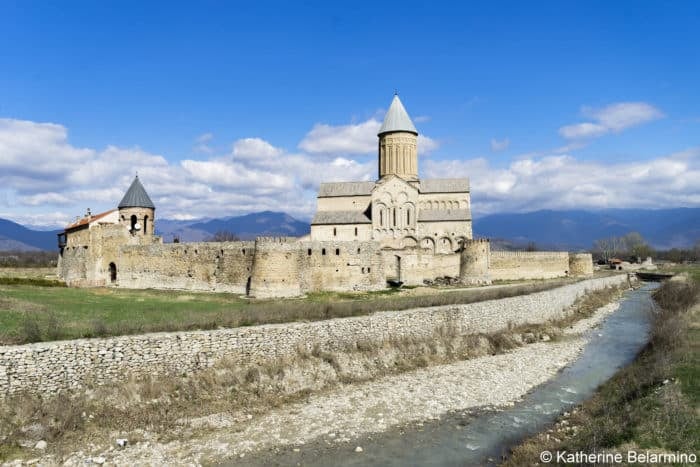 No matter how we worded it, when we told people we were going to Georgia—the country—almost everyone immediately assumed we were going to the American state of Georgia, and maybe riding horses in the countryside. It took a while to sink in that we were actually traveling halfway across the world to visit the tiny country of Georgia—a country in between Europe and Asia, a country that used to be part of the Soviet Union, a country hardly any Americans think to visit.
Georgia has had a rough history peppered with invasions by Persians, Ottomans and Russians. Georgia declared its independence from Russia in 1918, but then was annexed by the USSR in 1922. Georgia again declared its independence in 1991, shortly before the collapse of the Soviet Union. In 2008, war broke out with Russia. Now, Georgia is a safe, peaceful, democratic country. It's also a developing country, so not every city and town is ready for tourism, but tourism in Georgia is on the rise, even among Americans, and there are many reasons you should travel to Georgia (the country) right now. Like these 10:
1. The architecture
Georgian architecture has a style of its own, typically with wooden balconies on the outside, perched over the street. During the Art Nouveau era, the architecture in the capital of Tbilisi adopted a more European style, and those balconies were moved to become interior-facing, overlooking inner courtyards. Luckily, many of these buildings survived the Soviet era, but many are in now in disrepair. While a small few have been restored to their former glory, many show signs of age with cracked facades, tilting frames and sagging balconies. Some have even collapsed.
Who knows how long these historic structures will last? They may only have 10 to 20 years of life left in them if they don't undergo massive restoration. For now, many of these crumbling pieces of history are now used as apartment buildings, which means you can walk into the entryways and see the remaining painted ceilings that some of them hide inside. Thanks to our brilliant tour guide Anna, who knew the ins and outs of Tbilisi's Art Nouveau buildings, we were able to take an old Tbilisi walking tour and visit some of these remaining examples of Georgian Art Nouveau.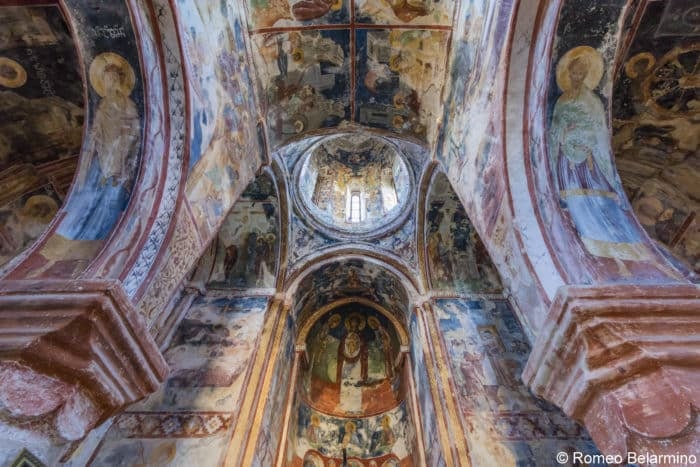 2. The churches
Georgia was the third country in the world to accept Christianity as its official religion. Saint Nino came to Georgia from Cappadocia and camped out on the royal grounds where the king and queen lived. At the time, the Georgians were worshiping pagan gods and idols. One day, when the king was hunting, the sun disappeared. The king prayed to his gods to return the sun, but nothing happened. As a last resort, he prayed to Nino's god, and all of a sudden the sun miraculously reappeared. This is the story of how the king of Georgia converted to Christianity. The queen converted when Nino cured her from an illness that no one else could cure.
Georgian Orthodox churches are built in the cross-dome style and many of them are incredibly old. The interiors are covered in colorful murals and frescoes. While all of them are beautiful, some have that special something that makes even the least religious person feel something spiritual.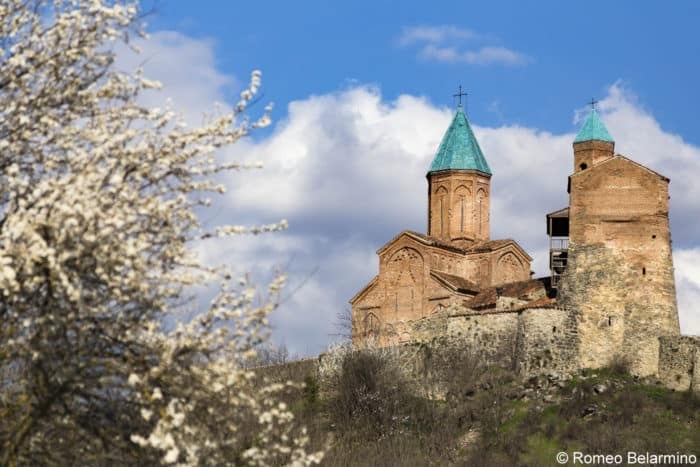 Svetitskhoveli Cathedral in Mtskheta, Georgia's oldest city, stands in the place where Saint Nino chose for the first Christian church to be built. The cathedral, which was built in the 11th century, is considered to be very sacred. Christ's robe is said to be buried in the cathedral. Within the church is also another small stone church, a model of Jerusalem's Chapel of Holy Sepulcher.
Another of Georgia's special churches is the Gelati Monastery Complex in Kutaisi. There are three churches here, the Church of St. George, the Church of St. Nicholas, and the Church of the Virgin. The main church is the Church of the Virgin, but the Church of St. George has some of the most beautiful murals we saw in Georgia. King David the Builder is buried here, just inside the gate because he wanted to be able to count the steps of the people who visited the monastery.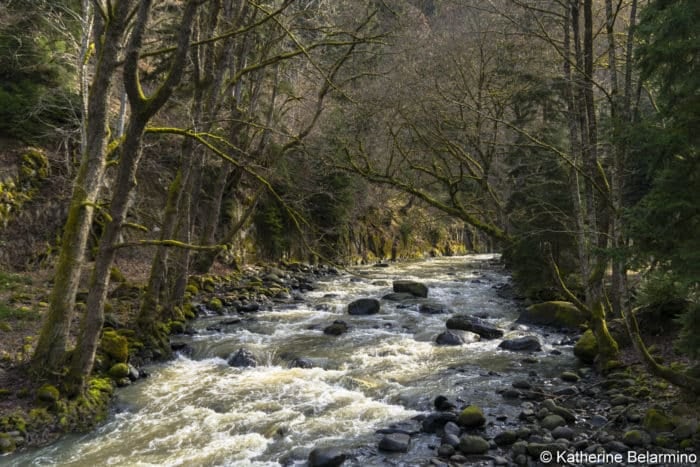 3. The landscape
For being such a small country, Georgia has quite a varied landscape. To the east is Kakheti, one of Georgia's main wine regions. To the north and south are the Caucasus Mountains covered in snow. To the west is Batumi, a resort town along the Black Sea. There are also green national parks like Borjomi-Kharagauli National Park.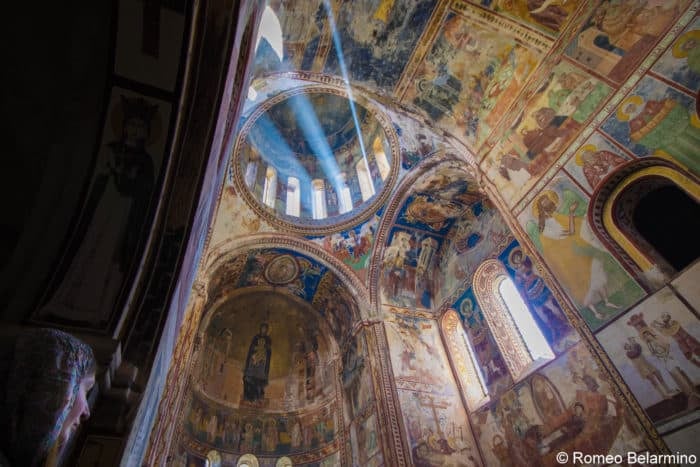 4. The UNESCO World Heritage Sites
If you're into ticking UNESCO World Heritage Sites off your list, Georgia has three. That's in addition to an inscription on the UNESCO Representative List of the Intangible Cultural Heritage of Humanity (qvevri wine-making) and an inscription on the UNESCO Memory of the World Register (manuscript collection of Shota Rustaveli's poem "Knight in the Panther's Skin").
Two of the three are partially mentioned above. One is the Historical Monuments of Mtskheta, including Svetitskhoveli Cathedral, Jvari Monastery and Samtavro Monastery. Another is the combination of Gelati Monastery. The third is Upper Svaneti, a region in the Caucasus with medieval villages and tower houses.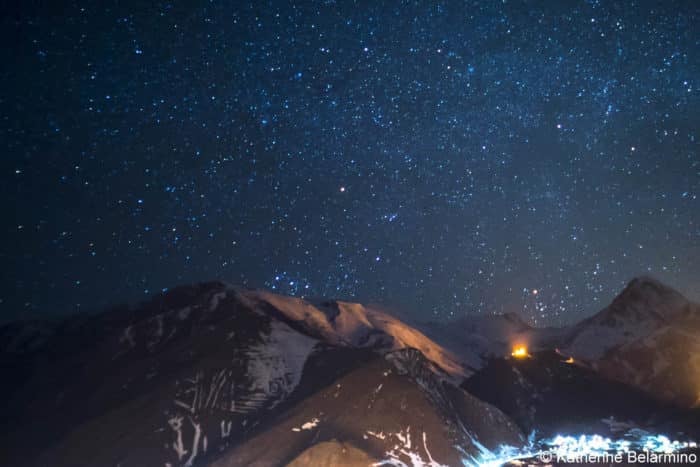 5. The adventure
Surrounded by mountains, Georgia is a great destination for the active and adventurous traveler. The Greater Caucasus border Georgia to the north and the Lesser Caucasus border Georgia to the south. With all these tall, snow-covered mountains, there are ample opportunities for skiing. One of the areas in Georgia that has the infrastructure for tourism is Gudauri in the Greater Caucasus. Here travelers can not only ski, but also participate in heli-skiing.
All of these mountains also provide great opportunities for hiking. During our trip we hiked twice. One hike was along the Borjomula River in Borjomi, and the other is a hike that we have added to our list of epic hikes of a lifetime. Also in the Caucasus is the town of Stepantsminda (formerly Kazbegi), a small town at the base of Mount Kazbek.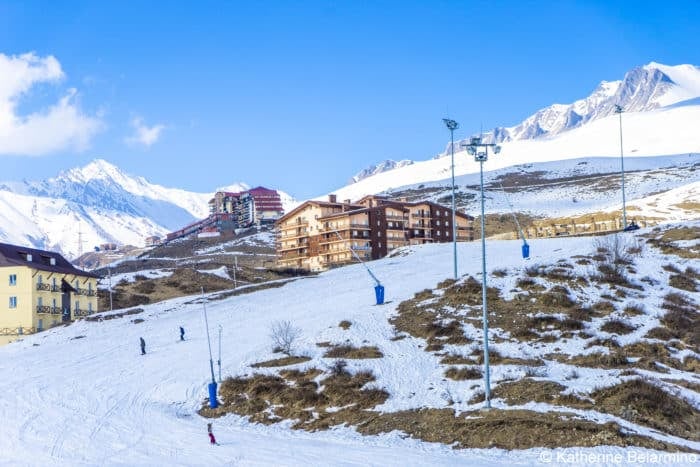 Above Stepantsminda, even at night, you can see the Gergeti Trinity Church perched on top of a mountain. During the summer the church can be reached by driving, which kind of takes away the epic arrival. But since we were traveling in March, at the tail-end of winter, the road was impassable by car and the only way to reach the church was to hike through snow, ice and mud. It was a moderately difficult hike, especially because of the wintery conditions, and I may have become airborn once when I slipped on some ice, but the approach to the church once you've reached the top is breathtaking.
Driving in Georgia is an adrenaline-pumping adventure, as well. We had a private driver, so for us the road was an adventure to be laughed about while we entrusted our lives to our professional and excellent driver Zaza. We could have driven ourselves and may on a future visit, but driving in Georgia, especially in Tbilisi, is a white-knuckle endeavor. What we in America see as two lanes, Georgians see as the possibility of four. Lines on the road are merely a suggestion, or even perhaps just a decoration, as drivers sometimes straddle those lines instead of staying on one side or the other.
6. The food
The initial thing that inspired us to travel to Georgia was the food. Until I started researching Georgia as a possible travel destination, I knew nothing about all of the above. But what I did know a little about was Georgian food, as I'd had the pleasure of experiencing it at one of my local restaurants in San Diego. Georgian cuisine is completely different from any other cuisine I have experienced in my travels and, since it's not common to find it in US restaurants, you really have to get to Georgia to try it out.
One Georgian food that's found everywhere in the country is khachapuri, Georgian cheese bread. There are many variations of this treat that are region-specific. The most recognizable is acharuli khachapuri, which is bread-shaped like a wide canoe with pointy ends and filled with melted cheese, a raw egg and slabs of butter. You eat khachapuri by mixing up the cheese, egg and butter with a fork, then tearing off pieces of bread and dipping them into the melted cheese mixture.
Another popular Georgian food is khinkali, soup dumplings that taste best doused in black pepper. Georgian menus also include many varieties of salads, soups and grilled meats.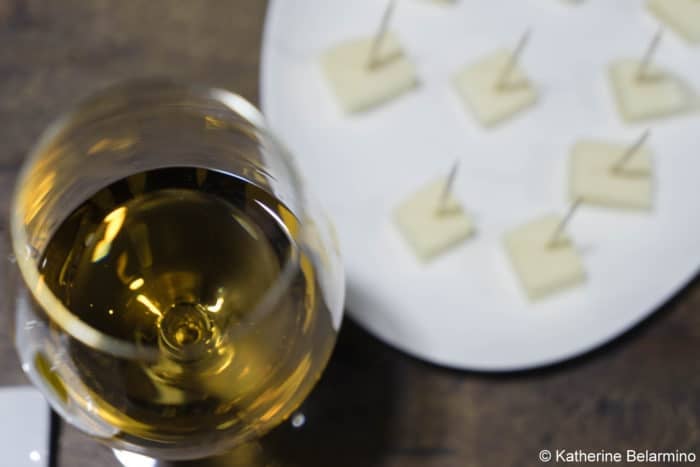 7. The wine
Normally I'd lump food and wine together, but Georgian wine is special. So special, in fact, that the ancient Georgian tradition of making wine in qvevris has been honored by UNESCO (see above). This ancient Georgian wine-making method dates back at least 6,000 years.
The Georgian process of making wine is very different. Grapes were traditionally crushed by foot in a hollowed-out tree trunk. The juice—as well as the skins, seeds and stems—then flows from the trough into a qvervi, a huge clay jar that ends in a point that's buried in the ground. Only the lip remains visible above the Earth's surface, and so the fermentation happens underground.
8. The water
I know what you're thinking. Water? Really? But water is kind of important in Georgia. There's the Mtkvari (or Kura) River, the biggest river in Georgia that flows through three countries and through Tbilisi. And there's that really big body of water, the Black Sea, along which Georgia has a popular resort town called Batumi. But that's not even the water I'm talking about.
I'm talking about two other types of water that are good for your health. One is the sulfur water, for which Tbilisi is named. Tbilisi means "warm water," and the legend is that Tbilisi was first built when King Vakhtang I Gorgasali of Iberia discovered hot sulfur springs and thought they were so wonderful that he ordered an entire city be built around them. The sulfur spring baths in the area have been popular for centuries and travelers and locals alike still enjoy them today. You can either visit a public bath or rent a room where you can enjoy the waters privately. You can even add on a scrub or massage.
The other important water in Georgia is the mineral water from Borjomi. Borjomi can be an acquired taste as it has a definitively salty flavor, and of course because it's carbonated. Georgia has been bottling Borjomi water for over 100 years, and it's extremely popular not only in Georgia but also throughout Russia. In fact, the town of Borjomi is filled with Russian tourists who want to see where their favorite water comes from. You can visit Borjomi-Kharagauli National Park, which has carnival rides for the kids and historical buildings including the first bottling plant. You can taste the water straight from the source at fountains with continuously running Borjomi water (we liked it better once it had been carbonated and bottled). You can even hike along the Borjomula River which leads to—wait for it—sulfur water swimming pools!
9. The people
The Georgian people are known for their hospitality. Georgians believe visitors are gifts to be welcomed. But: That doesn't mean everyone is going to be waving and smiling as you walk by. In fact, Georgian men can look pretty intimidating at first with their serious faces—that is until you start talking to them a little and their faces crack into friendly smiles.
We were the recipients of Georgian hospitality a few times. The most surprising time was when we were checking out the entryway of one of Tbilisi's Art Nouveau buildings. Two women that lived in the apartment building came home from shopping and took notice of our interest in their building. So, they invited us into their apartment, which used to be an entertaining room when the building was a single-family residence, so we could see the lavish wall and ceiling decorations that still remained.
10. The affordability
For Americans, Georgia is incredibly affordable. Plane tickets can be expensive, though we found inexpensive tickets through Lufthansa during the off-season of March, but once there, the American dollar goes a long way. One American dollar equals about 2.23 Georgian Lari (up-to-date exchange rate here).
We fell in love with the high-end Georgian hotel brand Rooms Hotel, which is the only Georgian hotel brand that is a member of the Design Hotels group. At the time of writing, rooms at Rooms Hotel Tbilisi, located in new Tbilisi, were around $200 a night (sometimes cheaper rates can be found on Booking.com). Their other hotel, Rooms Hotel Kazbegi, is located in the mountains and near a must-see site—the Gergeti Trinity Cathedral—and rooms there run between $100 and $150 per night.
The food is inexpensive, too. One night we went out for a simple meal of khinkali (Georgian soup dumplings) with some appetizers and beers and our meal cost around $10 for the two of us. One of our fancier meals at Rooms Hotel Kazbegi cost under $50 for the two of us, which included multiple courses and wine. On our final night, we took our guide and our driver out to dinner and for the four of us, dinner was under $60.
Georgia is a country that's sure to be different from any place you've visited before. Now's a great time to travel to Georgia—before everybody else gets in on the secret!
Note: Thanks to the Georgian National Tourism Administration for hosting our trip to Georgia and making this article possible. As always, all opinions are my own.
---
For more on travel to Georgia (the country), visit georgia.travel.