If you're following me on Facebook, Instagram, Twitter, and/or Periscope, then you know that I was just in Montreal with my amazing wife (her website is ohtravelissima.com). We were there for her big US immigration appointment and after a long and arduous process, she was finally approved. Hallelujah! Here's how the trip played out and 10 things I love about the Ritz-Carlton Montreal.
Why Montreal
When we received the letter regarding Natalie's immigration interview, we were surprised to see that it was in Montreal and not Toronto, where she lives. But we didn't complain, as it was a chance for us to go back to this beautiful French city. If you haven't been to Europe (maybe because you're afraid to fly or cross the ocean by ship), I highly recommend you drive to Montreal. It's only an hour from Plattsburgh, New York, and just 90 minutes from the Vermont border.
Canada is Cheap
FYI: Not only is Montreal so close, but it's also cheap thanks to the strong US dollar. Did you know that right now $1.00 US = $1.27 CAD?! That means everything is essentially 25% off for Americans and it's not just Montreal; it's all of Canada!
Alberta
SIDE NOTE: If you like the outdoors, consider going west to the Canadian Rockies. Banff National Park in Alberta is not to be missed. I (and a number of our contributors) have written about Banff and other Canadian Rockies destinations, in more than one season. Check out our Alberta stories here—or just Google "Johnny Jet" and the destination you're interested in.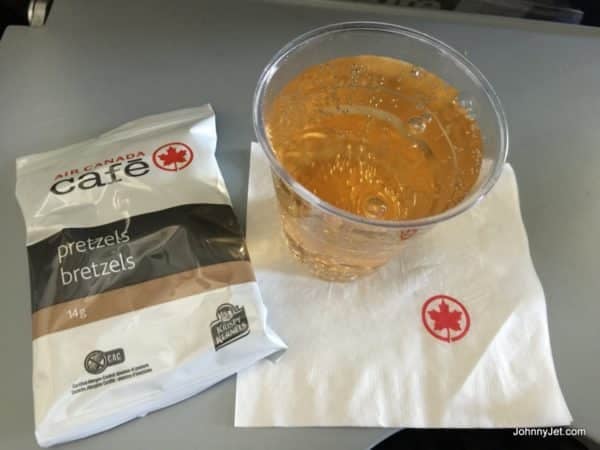 Air Canada
Plane tickets from Toronto to Montreal cost $133 each way per person a month ahead of time. I chose Air Canada since they fly A320s that have GoGo WiFi and are more comfortable than the smaller planes other carriers fly. Note: Air Canada also flies the Bombardier Q400 so pick the right flight times to get the bigger plane.
Our flight was at 2pm and when we cleared security at Toronto's Pearson International Airport (YYZ) at 12:40pm I thought I'd see if we could get on the 1pm flight. The gate agent said it was no problem and I asked if it was because we had elite status. She said no, that they would always try to accommodate passengers on earlier flights as long as there's room and they didn't check baggage. I'm not sure if all Air Canada agents are that friendly because in the past I've been denied that same request.
What stinks about Air Canada is that even if you have low level elite status you can't sit in there extra legroom seats unless you pay. The exit row costs $20CAD ($15 USD) for the 331-mile, 52-minute flight but we opted not to pay it. Coach was just fine and the WiFi worked great.
Airport to Montreal
To get from Montréal's Pierre Elliott Trudeau International Airport to downtown Montreal takes about 20-25 minutes without traffic. Taxis charge a flat rate of $45CAD without tip. Meanwhile, to get back to the airport we took UberX and it was only $24CAD and a better experience. Presently, it's not legal for UberX drivers to pick up from YUL but savvy arriving passengers place the pick-up pin in the Uber app on the Marriott Airport Hotel and then call the driver and tell them which door they are in front of and then jump in the front seat to save 50%.
Good to Know: Montreal 10-Day Weather Forecast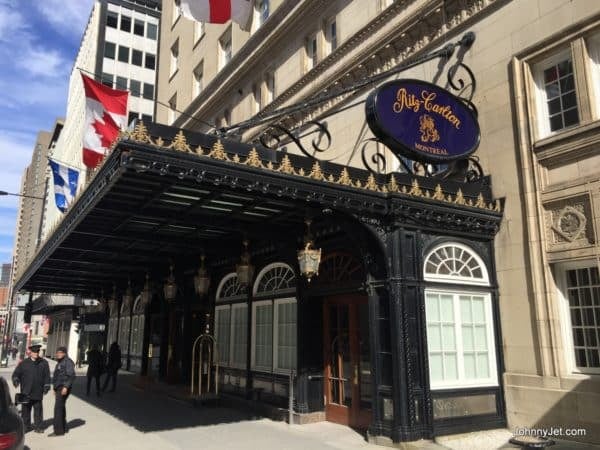 The Ritz-Carlton Montreal
We were fortunate to stay at one of the city's best hotels: The Ritz-Carlton Montreal. The Ritz-Carlton Montreal reopened in 2012 after an extensive $200 million renovation. The 98-room and 31-suite hotel is the very first Ritz-Carlton in the world. When it opened in 1912, Swiss hotelier César Ritz gave the hotel permission to use his name on certain conditions, which you can read about here along with more about the property's notable history.
Here are 10 reasons to stay at the Ritz-Carlton Montreal:
1. Location
The hotel is located at 1228 Sherbrooke Street West, which is on the corner of Drummond Street. It's an upscale neighborhood with all the luxury shops nearby as well as McGill University, which looks like (in passing) one of the most gorgeous college campuses in the world.
2. Service
Before I could even pay for the taxi from the airport our bags were in the hotel. When I got out of the car to get the bags from the boot, I jokingly asked Natalie, "Did we just get robbed?" The porters are friendly and quick! We encountered service with a smile from the very beginning of our stay to the end.
3. Comfortable and gorgeous rooms
When the hotel's rack rates are hovering around $500 CAD ($385 USD) you would expect to have a plush room. The Ritz-Carlton Montreal doesn't disappoint. The bed is like a dream and so are the bathrooms. Their disposable slippers are so cozy you'll probably want to take them home. The tub in our room was more like a swimming pool and the design features throughout (silk drapes, gorgeous wallpaper, walk-in closet) all elevated our experience to something truly special.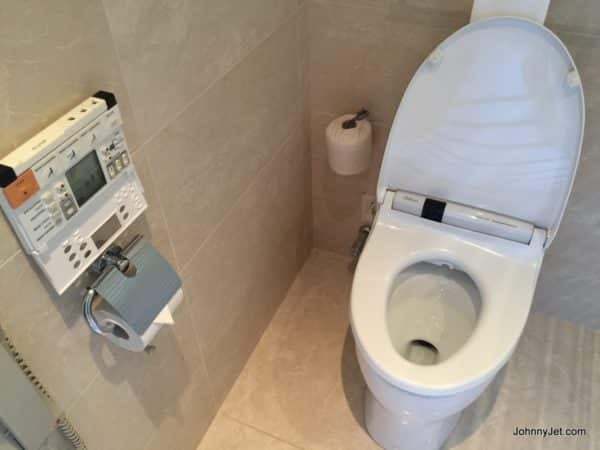 4. Best toilet in the world
I'm not joking. All the rooms have Toto Neorest toilets, which are the Rolls Royce of toilets. This thing has heated seats, bidet functionality and a dryer that makes you want to spend a couple extra minutes sitting on the can no matter if you have to go number one, two or … zero. No lie. It's crazy how advanced the toilet is. It even has a sensor so when you get close to it, the lid opens. Then when you get off and step a foot away it flushes. I never thought I would ever drop $3,800 on a toilet but I'm seriously thinking about it. Don't tell my wife. Here it is on Amazon.
NOTE: One of the few negatives I could find is that the toilet paper is not exactly luxurious. I'm thinking that some executive figured if they are spending so much on a toilet that has bidet functionalities and a dryer, they ain't splurging on top of the line toilet paper. They need to fix that.
5. Office supplies
If you need to work while you're at your hotel, like I did, you will find the box of office supplies sitting on the sizeable desk. It's a nice little touch. Inside you'll find a roll of tape, a stapler, a highlighter, Post-It notes and scissors handy.
6.  StayConnect app for TV
I've written about this app before but the TV is hooked up to the StayConnect app so you can control the TV from your smartphone. I love this option since the remote control is known to be the dirtiest thing in a hotel room. Here's how to use the StayConnect app.
7. Night lights
I like rooms to be pitch dark at night so that I can sleep but I know that most travelers will appreciate the sensored night lights in the room. I know my pregnant wife and my 87-year-old dad would. The moment you step foot off the bed, on either side, a night light goes on and also in the bathroom, making sure you're safe walking to and from the bed. It goes off about five minutes after no motion.
8. Rooftop pool
I'm sorry I didn't discover the indoor saltwater pool that overlooks the city from the rooftop until the night before we left. Otherwise, I would've spent some time swimming laps. I love that the pool is saltwater and the views of Montreal are pretty spectacular.
9. Maison Boulud Restaurant
The hotel's only restaurant is a good one. It's chef Daniel Boulud's, Maison Boulud and it's frequented equally by locals as guests. That's how good it is. The 130-seat restaurant offers a menu that is driven by the seasons and bounty of Québec's local purveyors. You'll find specialties from Boulud's New York City restaurants, including Lyonnais charcuterie, Mediterranean flavors, and even some casual burgers, as well as dishes created just for Maison Boulud. This is also where the delicious breakfast is served and some reservations include it. The only thing I could find wrong with this place is that the toaster toasts way too slow. Otherwise, the food and ambiance are both wonderful.
10. St. James Spa
Earlier this year, the popular and award winning St. James Spa moved into the Ritz-Carlton, Montreal. The spa was voted one of the top 25 spas for 2015 in the Canadian Spa and Wellness Awards. It originally opened in 1989 at a nearby location but with their loyal customer base and reputation the hotel courted the St. James and they moved into this much larger and luxurious space. The 5,500 square foot spa is a must visit especially with the favorable exchange rate. I had the Ritz-Carlton Montreal Maple Sugar Massage, which is two hours long and cost $275 CAD ($215).
Here's the treatment description: Designed for those seeking a locally inspired experience, this exclusive signature treatment uses Quebec-made maple balm derived from organic vegetable oils such as apricot and natural maple. This decadent massage includes a soothing foot massage, Hot Stones and a calming scalp massage for an overall customized treatment.
They use maple products from Soins Corporels L'Herbier and afterwards, you're served maple tea that is privately imported. (Varieties of maple teas can be purchased easily around the city.)
Good to know: The Ritz-Carlton Montreal's Royal Suite is the largest hotel suite in Montreal at 4,700-square-feet. It goes for $6,000 CAD a night.
Basilique Notre-Dame de Montréal
Don't miss the Basilique Notre-Dame de Montréal. It's in the old town, which is 2.6 kilometers (1.6 miles) from the hotel. Natalie and I took an UberX, which cost $7. The cathedral is well worth the $5 CAD admission fee (cash only) as it's one of the most gorgeous churches I've ever set foot inside.
Montreal Poutine
Afterwards, Natalie and I walked to the nearby and popular Montreal Poutine to get some poutine. There you can get it a variety of ways including traditional ($8.50) with fries, gravy and cheese curds or toppings. I had spicy Italian sausage ($12).
In parts, Montreal really does feel like you're in Europe, especially in the old town. Naturally, everyone speaks French first then English, even the GPS in the taxis/Ubers are in French. Stop signs are in French. It's like being in France without traveling the long distance. Montreal is a beautiful and historic city and if you haven't been, add it to your list. You won't be disappointed. And if you have been, maybe it's time to return!