1.     Location: It's nestled among the oaks and vineyards of the scenic Carmel Valley.
2.    Friendly Staff: You get a sense this is a luxury hotel when you pull up to the valet and they have two friendly bellmen waiting and eager to help. As a matter of fact, all the staff was very friendly.
3.    The Rooms: There are just 57 rooms and they are cozy with gas fireplaces, stereos, desks, couches, huge bathrooms and mammoth tubs and separate showers.
4.    Free Mini Bar: You have to love a place that has a free mini-bar that's stocked with snacks including ridiculously good brownies.
5.    Free Wi-Fi: Like all hotels, especially expensive ones, it's always a plus when they offer free Wi-Fi. This lodge is so isolated they don't even have it password protected.
6.    Patios: All the rooms have a patio and mine overlooked the Bocce and Croquet courts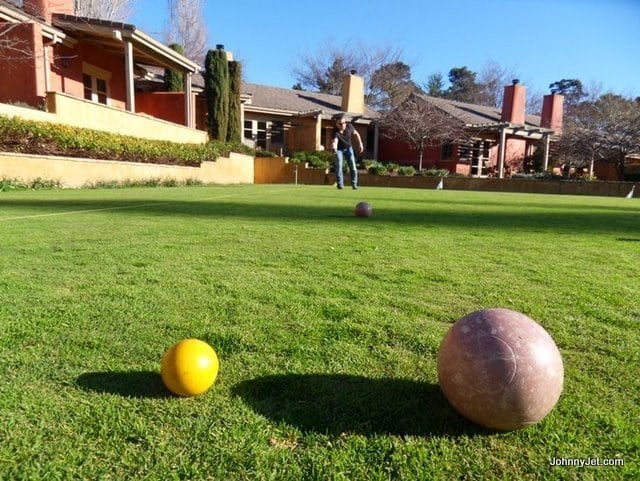 7.    Bocce and Croquet courts: Any time a place has a Bocce and Croquet court you know it's going to be fun to visit and this is no different. The staff even brought wine for the players to sample.
8.    Maid Service:  When I left my clothes on the floor like a slob because I was in a mad rush to go out for the day, I was shocked (happily) to find that when I returned, the maid had folded my clothes for me!
9.    Indoor and outdoor fireplaces: The lodge has indoor and outdoor fireplaces in and near the lobby which a lot of couples traveling together circle to tell stories and keep warm.
10. Restaurant: The hotel has a restaurant that serves really good food so it's perfect for the times you don't feel like getting in your car and driving.
Good To Know:
-The lodge has a pool that's heated to 80F year-round.
-There's a small workout room but it doesn't have machines. Just bikes, treadmills and dumbbells. They also have bottles of water, headphones and fresh fruit.
-The ceiling in my room creaked at night
-The pillows on the bed were too soft so when I mentioned it at the seminar they brought in some new ones.
Bernardus Lodge; 415 W Carmel Valley Road, Carmel Valley, CA; Tel.: 831-658-3400