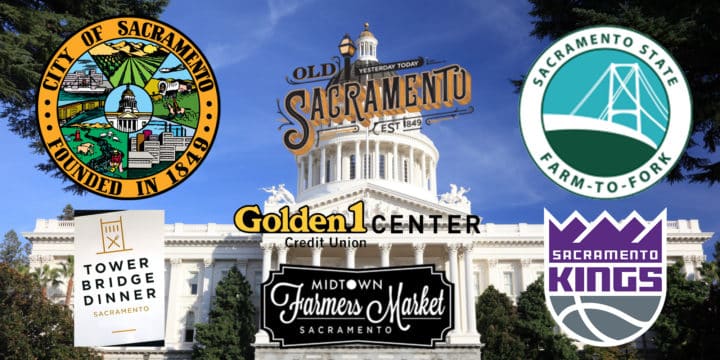 There's a lot more than just politics going on in California's state capital these days. For those aiming to spend some time visiting Sacramento, here's what's cooking in the farm-to-fork capital—and where to spend your time:
1. Food
If food is a determining factor in the overall success of your stay while traveling, you're in luck. As the largest agricultural producer in the nation, Sacramento is surrounded by farms and has some of the best eateries on the west coast. The proximity of local farms to restaurants allows chefs the opportunity to buy fresh produce every morning and determine the day's menu based on their produce purchases. Here's a long list of restaurants in Sacramento.
Whether you're in town for business or traveling with family, one restaurant you should visit for certain is Mulvaney's B&L. Proprietors Patrick and Bobbin Mulvaney have spent their lives crafting a community based around the goodness of food and the results of their efforts can be seen throughout Sacramento. As they put it best, "Mulvaney's B&L is many things. We're a restaurant that specializes in hand-crafted New American cuisine, a farm-to-table devotee that celebrates the efforts of the growers, ranchers, brewers and winemakers who are our neighbors, purveyors and friends." Great people.
Old Soul Co. is a great place to spend some time having coffee, enjoying something from the bakery, or both. The locally owned boutique coffee roaster, bakery and artisanal hot spot is in the hip Midtown area of Sacramento.
2. The farmer's markets
Tuesday, Wednesday, Thursday, and Saturday you'll find arguably the best farmer's markets offered in America. As chefs, locals and visitors stroll through a sea of produce it's hard not to notice the vibrant colors of the fresh produce jumping at you from every direction. The farmers providing the food adventure are always willing to fulfill your curiosities by proving samples of everything they offer, so don't be afraid to ask. It's a remarkable display of pride and passion at every turn.
3. The Farm-to-Fork celebration
There's no place for foodies and wine-lovers like Sacramento in September. The region's Farm-to-Fork celebration—taking place September 14-24, 2017—highlights the area's culinary scene with daily restaurant specials, farm dinners, street fairs, and other exciting events. One standout event is the Farm-to-Fork Festival on September 23rd, featuring food, wine, and beer vendors along with farm displays, kids' activities, cooking demonstrations, live music, and more.
And if you're in town for Farm-to-Fork, try to attend the event's most popular fundraiser: the Tower Bridge Dinner. This fantastic event serves as the Farm-to-Fork celebration's finale, with hundreds of diners enjoying a locally sourced dinner at one of the region's best-known landmarks. Guests at the family-style meal are treated to a dinner that highlights a collaboration between Sacramento's farmers and chefs. The dinner is also the Farm-to-Fork program's most important fundraiser, with ticket proceeds going directly to fund the free annual Farm-to-Fork Festival and other related program events throughout the year. Get tickets here.
4. The Citizen Hotel, Autograph Collection
Built in the illustrious California Life Insurance Building, The Citizen Hotel is a great place to hang your hat while visiting Sacramento. Centrally located in downtown, The Citizen provides great accommodations at an affordable price point and has become the popular spot among visitors accustomed to the high-end amenities provided for today's modern traveler. An Autograph Collection hotel, The Citizen offers several room rates and hotel specials as well as Marriot Rewards points.
There are a lot of great spots to start your day at in Sacramento, but here, there's no reason to leave the hotel for breakfast. Located in The Citizen is Grange, a local farm-to-fork restaurant that also provides a great lunch and dinner menu. Since I started my days there I'd have to suggest you do, as well.
5. The Golden 1 Center
Home of Sacramento Kings professional basketball team, the Golden 1 Center also hosts concerts, conventions, and other sporting and entertainment events. Completed in 2016, the 100% solar-powered arena in the heart of downtown is a short walk from The Citizen Hotel and prides itself on having a one-of-a-kind, hyper-local food and sustainability program for a world-class sports and entertainment venue.
7. The Crocker Art Museum
For art enthusiasts, The Crocker Art Museum features the world's foremost display of California art and is renowned for its holdings of European master drawings and international ceramics. Consisting of two buildings—the Historic Building and the Family Pavilion—it's a great collection and very easy to get to.
8. Old Sacramento
This historic 28-acre Old Sacramento district located next to the Tower Bridge on the Sacramento River is home to dozens of locally owned and operated shops, restaurants, tours, and railway excursions. If you or the kids have a sweet tooth, you're certain to get you sugar fix filled by one of the many candy shops located in Old Sacramento.
9. The California State Railway Museum
The California State Railway Museum is worth the price of admission (adults $12; ages 6-17 $6; kids 5 and under free). Originally I wasn't slated to visit the museum, but since it's located in Old Sacramento I found the time to pop in—and I'm glad I did. This little gem is home to 225,000 square feet of exhibits and beautifully restored railroad cars and locomotives that illustrate railroad history in California and the west.
10. The State Capitol Building
The Capitol Building is always an option if you're looking to soak up some California history with a chaser of the state's working seat of government. Art and history tours are offered to both small and large groups. Check the website to find out about tour times, building security, parking, how to get here, and other information related to planning your visit to the Capitol.
---
For more on Sacramento, check out visitsacramento.com.