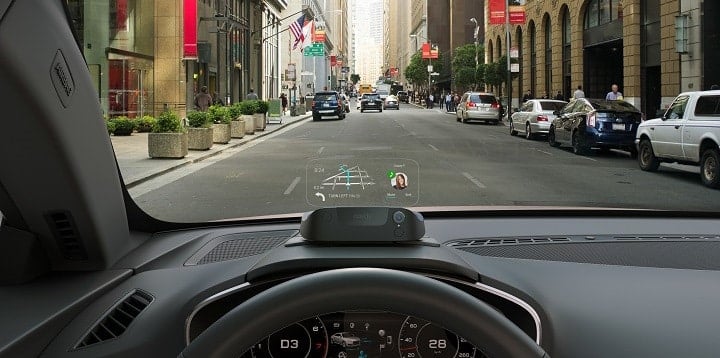 When the good folks over at Navdy offered to send me a device, I jumped at the chance to try it out. Before I even turned it on, I knew it had to be good since it was featured as one of Ellen's 12 Days of Giveaways gifts in early December. I know … it's almost embarrassing that I watch Ellen but it's one of my wife's favorite shows and once I walk into the room, I get sucked in thanks to Ellen's kindness, humor and generosity … the world could use more Ellen.
If you don't know what Navdy is, they call it 'fighter pilot technology for your car'. Recognizing the fact that our smartphones are integral to our lives but that it's illegal to use them while driving, Navdy offers up a solution. The Navdy Head-Up Display (HUD), a display mounted on your dash, means that you can stay connected to your phone while keeping your eyes on the road. Since Ellen gave Navdy away on day 10 of her giveaways, I thought I'd give 10 reasons why you should get Navdy.
1. It makes driving safer
Instead of looking down at your phone or the GPS screen in your car, you can look straight ahead, keeping your eyes on the road, since Navdy's Augmented Driving device projects a transparent image and information directly in the driver's line of sight.
2. It works offline too
The Navdy system is powered by Google Maps so if your phone is out of cell range, its own GPS chip and local storage of maps mean drivers won't lose their navigation. It provides up-to-date traffic conditions, directions to help you find faster routes and estimated arrival times.
3. It comes with a dial
The Navdy Dial straps on to your steering wheels and makes scrolling, zooming and navigating the menus fluid. The dial allows you to receive calls, listen to messages, control music, receive calendar reminders and stay connected to the apps on your phone. It also allows you to access Siri and Google Now. So you won't have to hunt through rows of buttons or look down to poke at a touch screen while driving.
4. You can use hand gestures
The sensor on the front of the display can detect when you quickly swipe your hand left or right in front of Navdy. Its user interface incorporates hand gestures to accept calls or a message with the wave of your hand. When a call comes in, you can see the name of the person calling and if you want to answer it, just wave your hand.
5. It displays your speed
Instead of looking at your dashboard, you can look straight ahead to see what you speed is since Navdy connects to your car and can show your speed and RPM.
6. It can recommend nearby gas stations
One of the cool things that Navdy Dash can do is detect when you are low on fuel and automatically recommend nearby gas stations.
7. Navdy uses your car's audio system
You can connect your music to Navdy's audio system and if your car doesn't have one, then Navdy uses your phone's speaker or microphone. It's easy to control your music from the display, whether you connect to your car stereo using Bluetooth or a cable.
8. Set up is easy
I'm not the handiest person around but setting Navdy up really is easy. All you need to devote is 15 minutes in your car and you will get it done thanks to Navdy's simple step-by-step video tutorial. An added bonus is that you don't need any tools to complete installation.
9. It works with any car
Instead of paying thousands of dollars to upgrade your car or installing a navigation system, you can just add Navdy. It costs just $33 a month with 0% financing or $599.
10. It's portable and easy to store
Sadly, in a lot of cities these days, you can't leave anything of value in the line of sight while you're parked on the street. Since Navdy isn't cheap, I appreciate the fact that you can quickly store it in the glove box or take it with you.
On top of all of that, Navdy's customer service is awesome! Every day for the first week or so, you will get an email from them with step-by-step instructions highlighting each function so you will get to learn how to use it even better and maximize all of the device's many functions.
For more information, check out Navdy.com  and/or watch this promotional video.
Compatible with iOS 9 and 10, and Android Jelly Bean (4.1) or newer.
This post is sponsored by Navdy.
Save