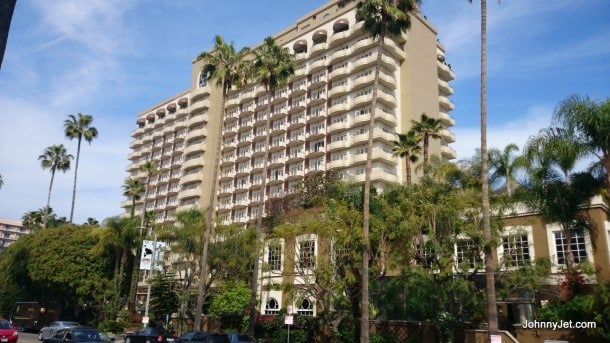 "Now I'm going to pour tequila on your belly." This was the last thing I expected to hear while getting a massage in Los Angeles at the Four Seasons Los Angeles at Beverly Hills Hotel. That wasn't the only surprise from this luxury hotel, where you're pretty much guaranteed to see an A-list celebrity every time you visit.
The Four Seasons Los Angeles at Beverly Hills has been around since 1987. The 285 guest rooms and luxury suites were renovated in 2010 and it's regarded as one of the best places to stay in Los Angeles. Recently, my wife Natalie (@NatalieDiScala) and I had a chance to spend a couple of nights. Here are 10 great reasons to stay at the Four Seasons Los Angeles at Beverly Hills:
1. Stars and dignitaries stay here
Every time I go to the Four Seasons Los Angeles at Beverly Hills, whether for dinner, drinks, a work function or to spend the night, I see big Hollywood stars. On this particular trip, I spotted Ray Romano at the valet, Ricky Gervais having lunch by the pool and Kaley Cuoco from the Big Bang Theory making a low-key exit from the hotel. Oh, and Benjamin Netanyahu, The Prime Minister of Israel, was staying there, too. I didn't see him but I did see the serious security detail, including secret agents, police, and bomb sniffing dogs everywhere. In the past, I've seen Robert Duvall, Sean Penn, Ryan Seacrest, and Jane Krakowski.
If the Four Seasons Los Angeles at Beverly Hills is good enough for them, then it's good enough for me!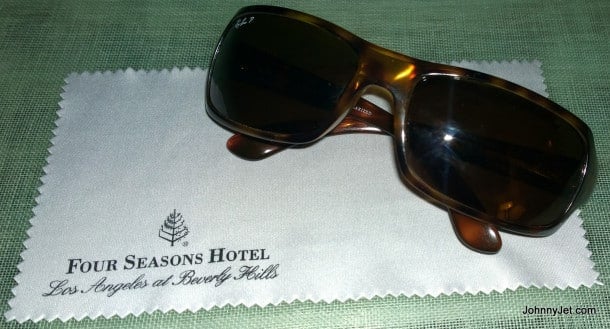 2. The service
Like any five-star luxury hotel, it's reasonable to expect flawless service and that's just what you'll get. But what I wasn't expecting was for the maid to leave a branded eyeglass cloth cleaner underneath the sunglasses I left on my desk. That special (and helpful) touch was worthy of a tweet!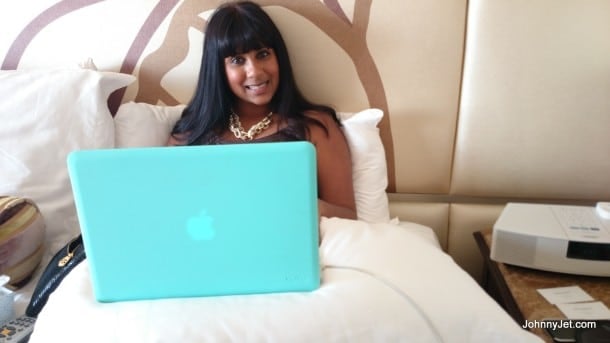 3. Comfortable beds
One reason why I love staying at a Four Seasons hotel is that they have ridiculously comfortable beds. The duvets are the perfect weight so I can sleep without being too hot.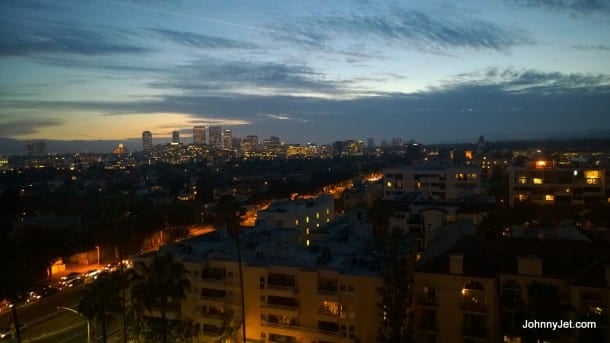 4. Balconies
All the rooms here feature step-out balconies with great views of either their gardens, Los Angeles or Beverly Hills.
Good to know:
-Basic internet (in-room wireless or wired) is free. If you want high speed to stream or download large files, it costs $18.95 for up to three devices.
-Guests are given free bottles of water at turndown.
-There's coffee (espresso), tea, muffins and fruit in the lobby, daily from 5am to 8am.
-The fitness center is open 24 hours, has bottled water, fresh fruit and even complimentary workout clothes and shoes if you forget yours.
-Rooms come with an in-room Digital Fitness Program with celebrity trainer Andy Clay, with more than 200 workout and yoga videos. Guests can also request resistance bands and yoga mats to be delivered free of charge.
5. Spa
The hotel has a small spa that's nothing too fancy but they have talented masseuses and creative treatments. For example, the Punta Mita Retreat starts with a margarita scrub (this is where the tequila comes in), an all-natural exfoliating treatment blending pure essential oils of lime, orange, apple, and tangerine with tequila, sunflower oil, and sea salt. Afterward, guests rinse off and relax with the healing, detoxifying effects of the Punta Mita massage, which uses tequila and sage oil.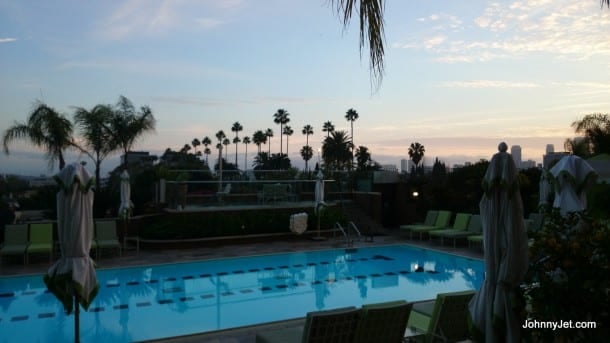 6. Pool
The hotel pool is on the fourth floor on a tropically landscaped terrace so you feel like you are anywhere but in the center of one of the world's largest cities. There are also six poolside cabanas available for rent.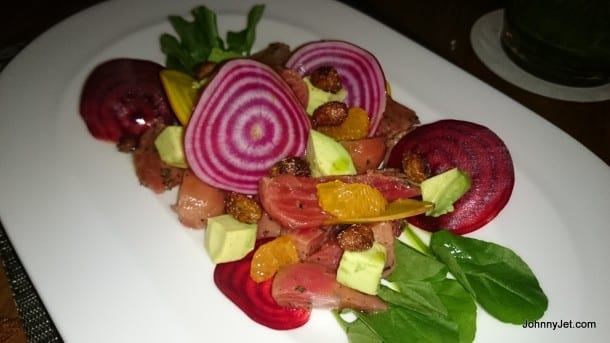 7. Dining
If you want to see a celebrity but can't afford to stay at the Four Seasons Los Angeles at Beverly Hills, then book a table at the on-site restaurant Culina Modern Italian. Pretty much every time I've been in there, I've seen a celebrity but I can guarantee you will see one during awards season. Even more important than this is that the food is good! Culina's chef is Mette Williams who hails from a Food Network Show and has worked with Wolfgang Puck at Spago, Cut, and Postrio, and she opened Soho House.
8. Chauffeured car service
Want to feel like a movie star? Have one of hotel's luxury cars drop you off and pick you up on Rodeo Drive. They don't charge for the ride as long as it's within a two-mile (3.2-kilometer) radius of the hotel.
9. iPad 2 in the room
Each room comes with an iPad 2 (don't steal it or they will charge you $800), where guests can order in-room dining, place housekeeping and wake up call requests, and more.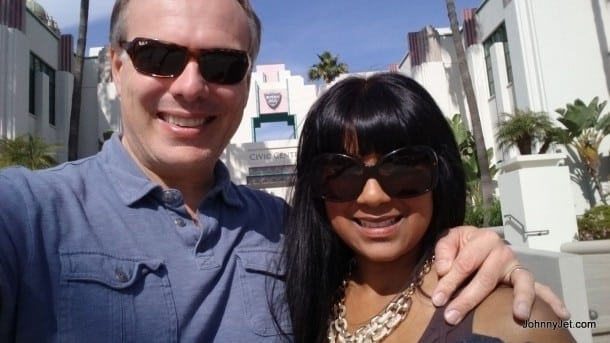 10. Location
One of my favorite parts about the Four Seasons Los Angeles at Beverly Hills is that it's centrally located so you can walk into the heart of Beverly Hills, as it's less than a mile away (or take the car service if you don't feel like walking or plan on doing a lot of shopping!) Natalie and I walked into Beverly Hills and visited a new luxury candy boutique for adults called Sugarfina. You'll definitely feel like a kid in a candy store in this chic boutique! Check out Natalie's review for more information.
As you can see, the Four Seasons Los Angeles at Beverly Hills is a special place to stay, have dinner and drinks, spot celebrities and get a spa treatment. Tequila on your belly, anyone?