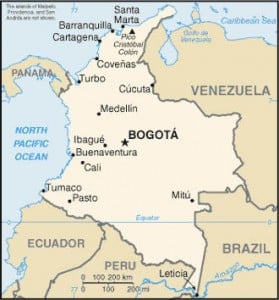 Medellin pronounced "Meda-jean" in Colombia, South America is a vibrant city located in a valley about 626 miles northeast of Bogotá and about an hour and a half from the Amazon.  There has been an enormous educational, cultural, social, and urban transformation in Medellin.
Today about 2 million tourists visit this city each year, a city that was once non-existent with tourism in the 1990's due to the Colombian druglord Pablo Escobar.  The city has year-round spring-like temperatures, gorgeous flowers, and surrounding mountains that reminded me at times of the glittering Hollywood Hills as I stared off in the distance from my boutique hotel room (www.bhhoteles.com) from the 8th floor in the southern part of Medellin. Across the street from the BH Hotel was a large shiny fancy mall, one of 40 new shopping malls in Medellin.  Truly a developing city of the old and the new, Medellin is the second largest city in Colombia after Bogotá.
Two special city events tourists may like to take part in include the Flower Fest and Christmas lighting, where 53 parks in the city are decorated with lights and ornaments.  Medellin is also known for its fashion. Fashion week is in July and many important designers come from Medellin.
The above ground cable system or Metro cable has transformed some of the most violent and poor areas. The people who live high up in the hills are now integrated into city life since what was once a 3-4 hour excursion takes about 30 – 45 minutes on the Metro cable.  Some interesting tidbits I learned is that where you live in Medellin determines how much you will pay to live. Also, certain days people can not drive after a certain hour, so traffic is reduced.  Residents receive a number and with that number you can't drive on a certain day after say 5:30.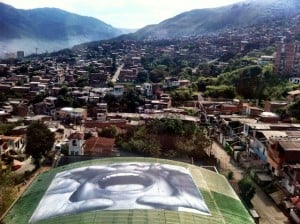 If you plan to travel to Medellin, Colombia in South America, make sure you speak Spanish, have a translator, are with a friend who speaks Spanish, or with a travel group.  The hardest part of my very first experience in South America was not knowing the language.  Most people did not speak English, even on my airplane Copa Airlines or the airport. I forgot what this can be like since most trips I have been on in the last ten years included places where people still know some English.
Besides the Botero Collection at the Antioquia Museum and Botero Square (add link from other article) and the incredible sensory food experience at the restaurant Il Cielo (add link from other article), I encourage an adventuresome traveler visiting this developing city to check out the following cultural highlights:
Explora Park – a great place to even take kids.
This park has transformed what was once a crime ridden violent, poor area.   Explora is one of the most modern parks in Latin America. Its 236,720 square feet of indoor construction and more than 161,000 square feet of outdoor public areas are home to some 300 interactive experiences to choose from, like outdoor experiments for kids to help them understand numerous science concepts.  The Park includes exhibition halls, Colombian-culture themed rooms, children's salon, television studios, an auditorium for 3D movies, and an impressive aquarium. The mayor believes if you have a musical instrument in hand, you won't have a weapon in hand. A second park we visited called Parque de los Deseos or Wish Park included an elevated ground for stargazing, a planetarium, and concert hall.
Botanical Gardens (Botanical Garden Joaquin Antonio Uribe)
This living museum is dedicated to science, conservation, sustainability, and education, houses the most surprising  variety of plants, flowers, and birds in the world. Have lunch at the fabulous scenic restaurant In Situ that uses the herbs right from their garden to provide a variety of Colombian fare with a modern twist.
Pueblito Paisa – Cerro Nutibara
This composite replica of a typical Antioquia small town includes a cobble-stone square, fountain, church and rectory, mayor's office, barber shop, and one-room school house.  Perched on top of Nutibara Hill, Pueblito Paisa has a magnificent view of the