Today marks a milestone for KLM Royal Dutch Airlines. In its KLM mobile app, the airline has introduced an augmented reality (AR) feature that lets users check that their carry-on luggage is of approved size. Anyone with a camera on an iOS smartphone (for now; Android may be next) can take advantage, from anywhere, for free.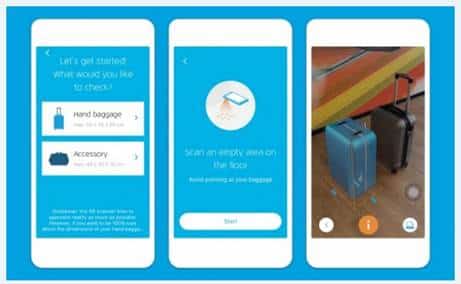 The super-cool AR service works like this: Inside the free KLM app, you add your flight information. Once you're in the hand baggage check section of the app, you simply select whether you plan to bring hand baggage (aka a carry-on) or an accessory. With your selection, you'll see a transparent-(KLM) blue, virtual suitcase appear on your screen. Just rotate the virtual suitcase until it covers your bag on your phone's screen. This virtual bag, of course, is of the maximum dimensions allowed in carry-ons on your flight, so if your bag is bigger than the virtual bag, it won't pass.
Here's a short how-to video:
In addition to the hand baggage check, the KLM app also includes a 360-degree virtual Dreamliner aircraft to explore, regularly updated flight information, flight booking, online check-in, a place to download boarding passes, seat selection/reservation, flight rebooking, and access to several digital airport maps. It even allows you to activate a digital voucher for a snack or meal if your flight has been significantly delayed!
I'm sure there are travelers out there that will next want a feature that lets them confirm the size/weight of their checked baggage with an app. Maybe one day!